A New Skyline Emerges in Sinuiju
Commercial satellite imagery shows construction is progressing on six large buildings on a riverbank in Sinuiju, and more could be on the way. The buildings, one of which can already be easily seen from China, will create a more cosmopolitan look to the city when viewed from the opposite bank of the Yalu River.
The project occupies three large city blocks immediately behind the Sinuiju Ship Factory and was first reported by NK News in mid-May. Since then, construction has begun on two additional buildings.
At the northern end of the site, three large, circular buildings are now several stories high and around 25 meters in diameter, while the southern end includes three long buildings that are aligned to look like a wave.
Figure 1. Construction work in Sinuiju City.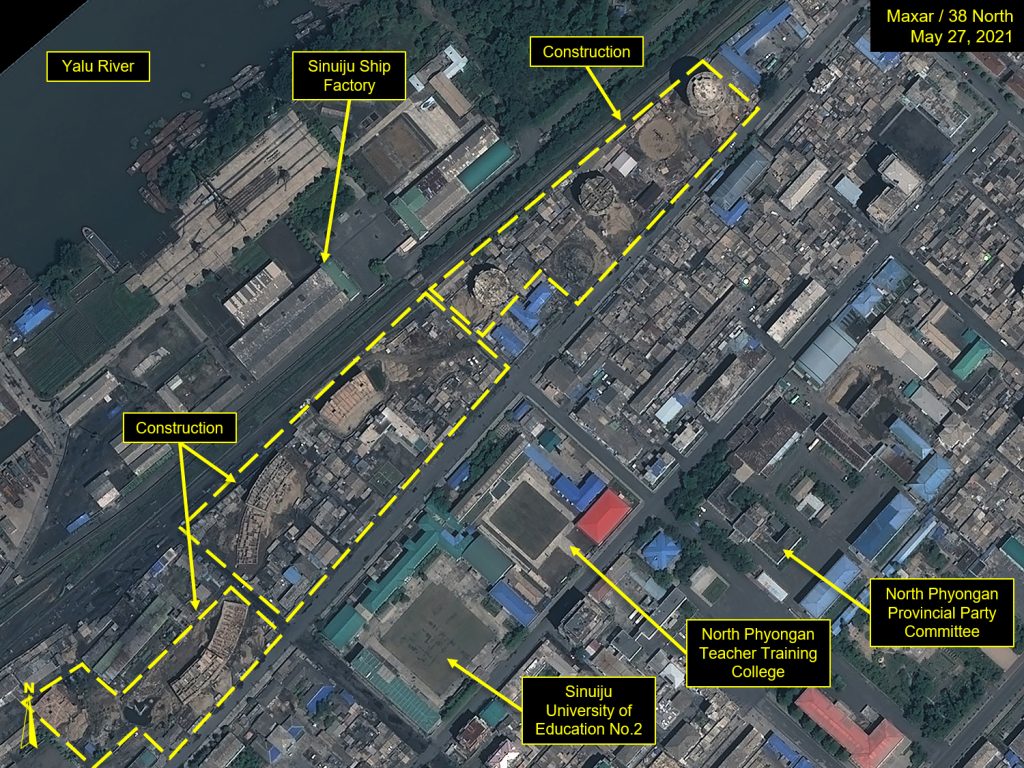 A video uploaded to a Chinese social media site last week shows the northernmost building is around 15 stories high.
Figure 2. One of the new apartment buildings seen in a video uploaded to Chinese social media.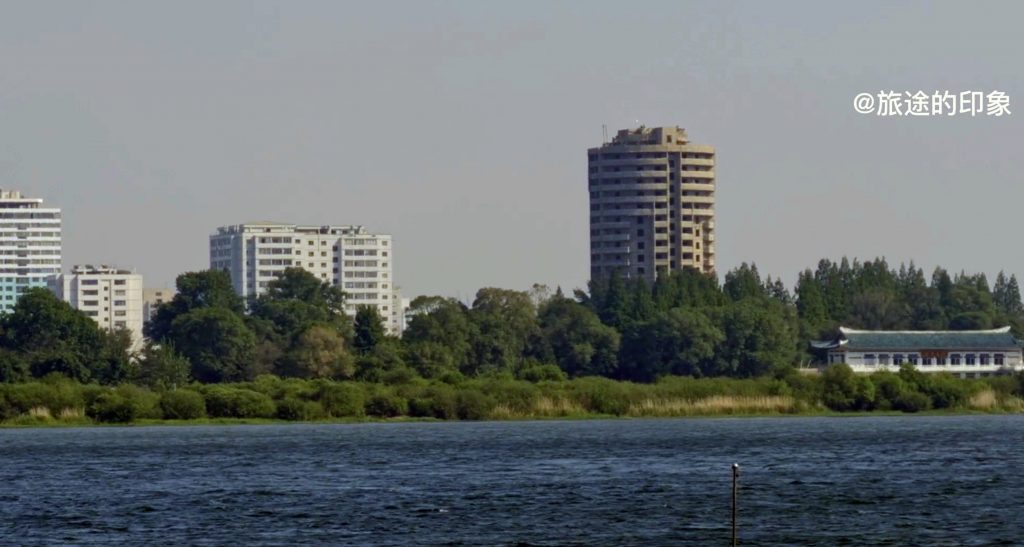 Between the three circular buildings, which appear to be apartment buildings, two areas of ground, each approximately 25 meters in diameter, have been cleared, hinting that two more buildings might be planned.
Figure 3. Three large, circular buildings are under construction, and ground has been cleared for possibly two more.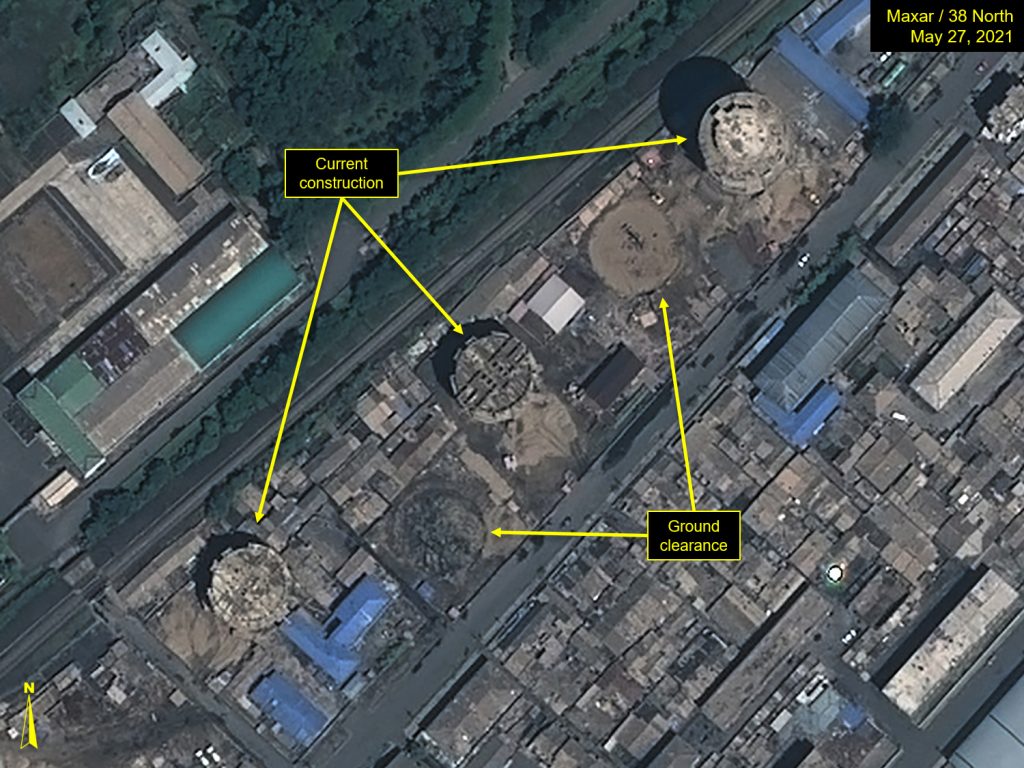 In the two blocks just south of this construction site, work on three additional buildings, each around 40 meters in length, began around October last year. In the last month, two more buildings have been constructed alongside two of the original three to create a wave shape when all are viewed together. Additional ground clearance at either end of the wave hints that more construction may be planned here too.
Figure 4. The three buildings connect together in a wave shape.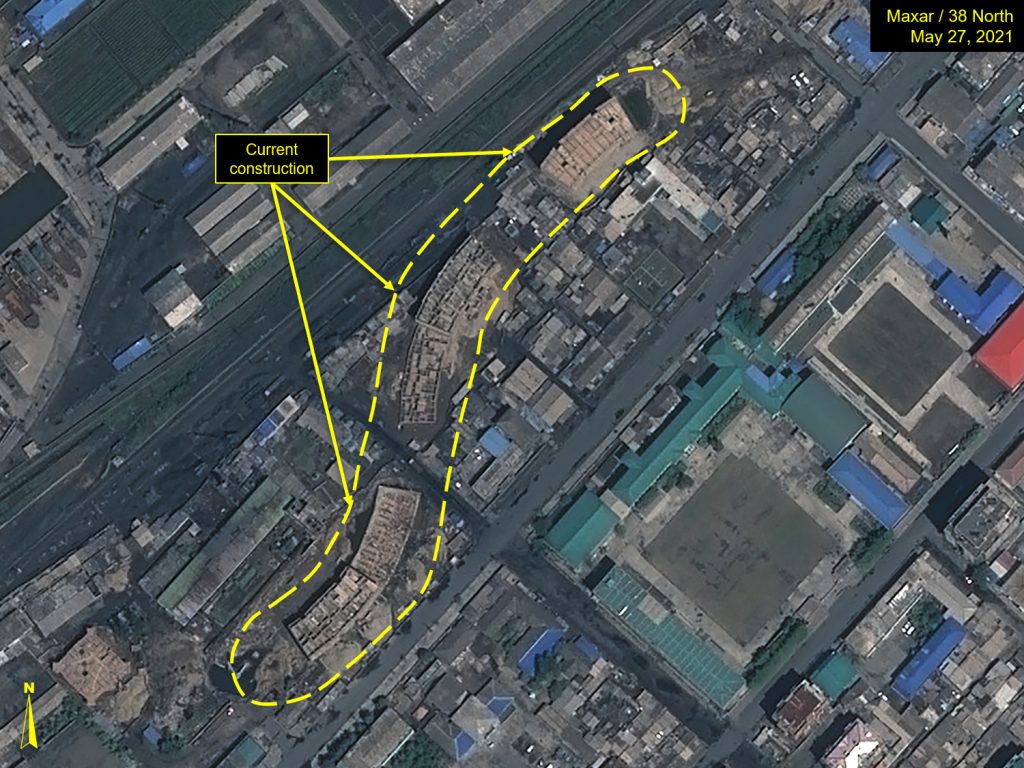 The new buildings are directly across the Yalu from Dandong and will change the Sinuiju skyline when viewed from the Chinese city. While nothing like the dense tower blocks of Dandong, the new apartment buildings will give Sinuiju a slightly more metropolitan look.
In March, 38 North reported on the numerous redevelopment plans proposed for Sinuiju over the years and how little has come to fruition. An ambitious plan unveiled in 2018 shows Sinuiju transformed into a city of high-rise apartment blocks. The current construction would represent only a fraction of that planned redevelopment.
Border Trade
Sinuiju is the country's largest border trading point with China, and recent developments have also focused on improving that link. A large site is under preparation close to a new four-lane road bridge that already links China and North Korea but has yet to open. Building construction has yet to begin on the new site, so for now, trade remains focused on the Sino-Korean Friendship Bridge that first opened in the 1940s.
In an image from May 27, the customs yards on both the Chinese and North Korean sides of the river appear quiet, with no traffic seen crossing the bridge between the two countries. While the status of bridge traffic or cross-border movement in general cannot be concluded by a single image, this image is consistent with reports that significant trade has not yet resumed with China since its suspension last year due to COVID-19.
Figure 5. Quiet customs yards in China and North Korea.