Sinuiju City: Big Plans, Little Progress
In mid-November 2018, Kim Jong Un inspected a vast diorama of redevelopment plans for Sinuiju City, a major city along the Sino-DPRK border. The model depicted a larger, more modern Sinuiju with plenty of high-rise buildings, grand avenues, a sports district and lots of industrial space.
But more than two years later, little has changed in one of North Korea's most important border cities. So, what happened?
Figure 1. Kim Jong Un examines a model of the Sinuiju redevelopment master plan in Pyongyang in November 2018.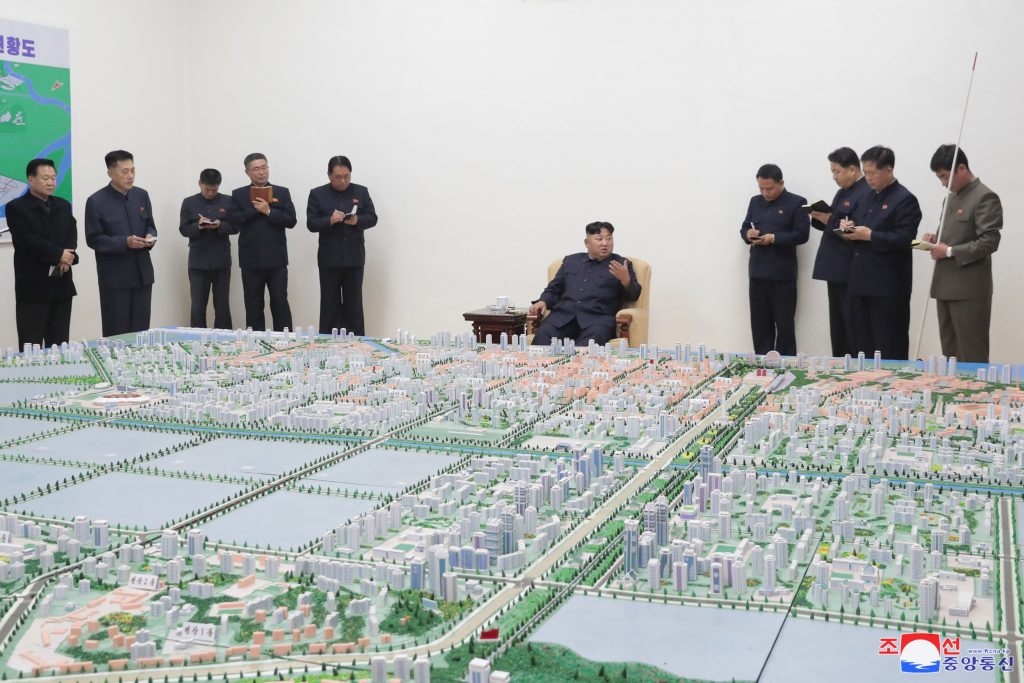 Feedback on the Master Plan
When Kim inspected the plan, he had plenty of feedback for the designers. State media reported several paragraphs of Kim's "wisdom and expertise" in urban planning and said he set a deadline of "a few months" for the designers to resubmit the master plan to reflect his instructions.[1]
Those instructions included, for instance, making the statues of Kim Il Sung and Kim Jong Il at the center square as "the axis" of the city, building new high-rise apartment buildings along the river and main roads and installing an abundance of parks around the city.
Figure 2. Kim Jong Un examines a model of the Sinuiju redevelopment master plan in Pyongyang in November 2018.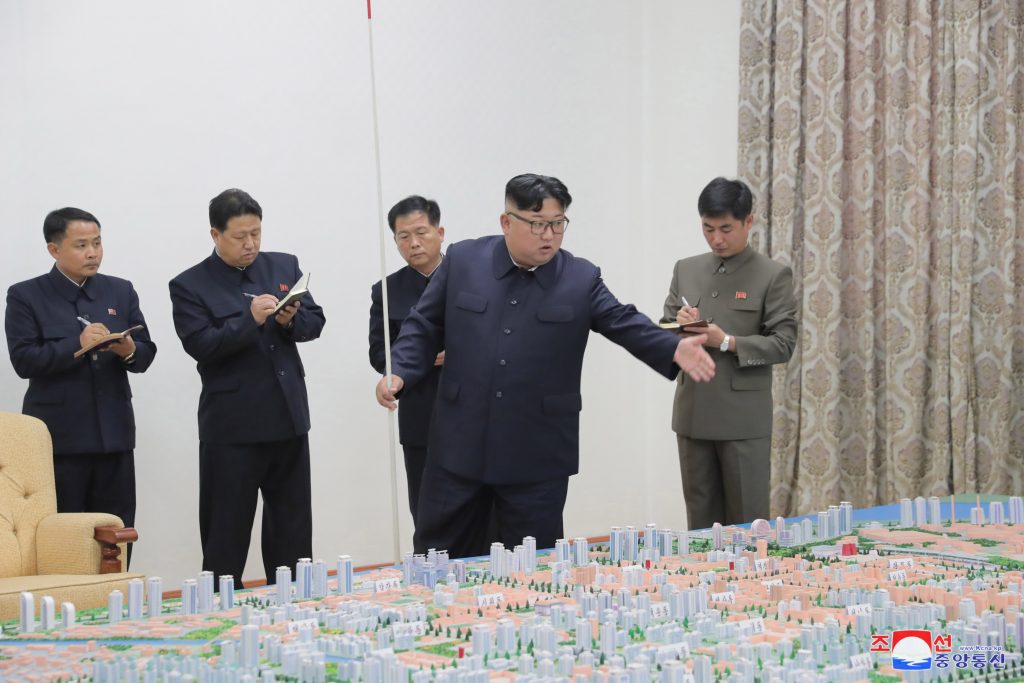 At the time, there was no clear time frame for the project specified, except that Kim stressed the "need to gain good fruition within a few years to come."[2]
However, that report was the last time the redevelopment would be featured in state media. Moreover, there was no mention of Sinuiju in Kim's priorities outlined at the Eighth Party Congress, and little progress appears to have taken place.
Construction Work
Predictably, one of the first changes made was to the area around the square that features the statues of the two Kims and the main railway station. In June 2020, the square and two roads leading from it were repaved.
Figure 3. Overview of Sinuiju Station, June 15, 2020.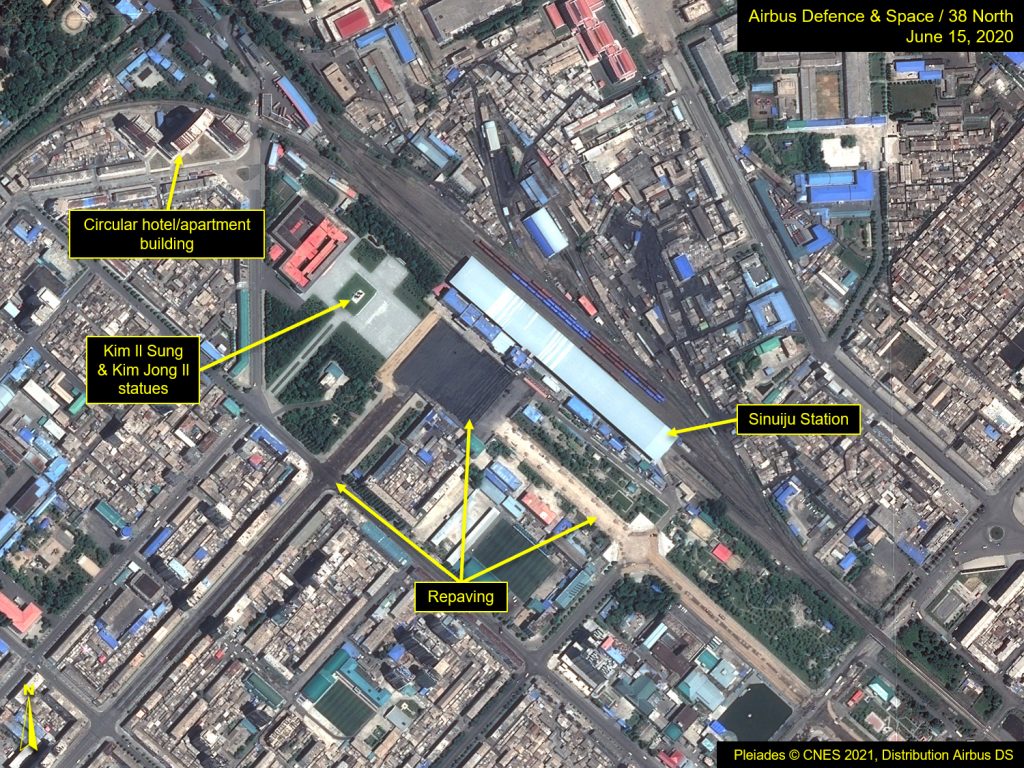 In 2018, before the master plan was unveiled, a unique circular-shaped building began rising between the statues and the Yalu River, which forms the border with China. The building was first reported to be a hotel, but later articles said citizens had been assigned or bought apartments in the building.
The building's construction had been watched with curiosity for months from the Chinese side of the river. After its completion, it was clear from North Korean TV images the design and location were intentional: When viewed from the square, it cleverly resembles a rising or setting sun behind the two leaders.
In large letters, the phrase "일심단결," or "single-hearted unity," is plastered on the top of the building.
Figure 4. A new building appears behind states of Kim Il Sung and Kim Jong Il in Sinuiju, seen on Korean Central Television on April 15, 2020.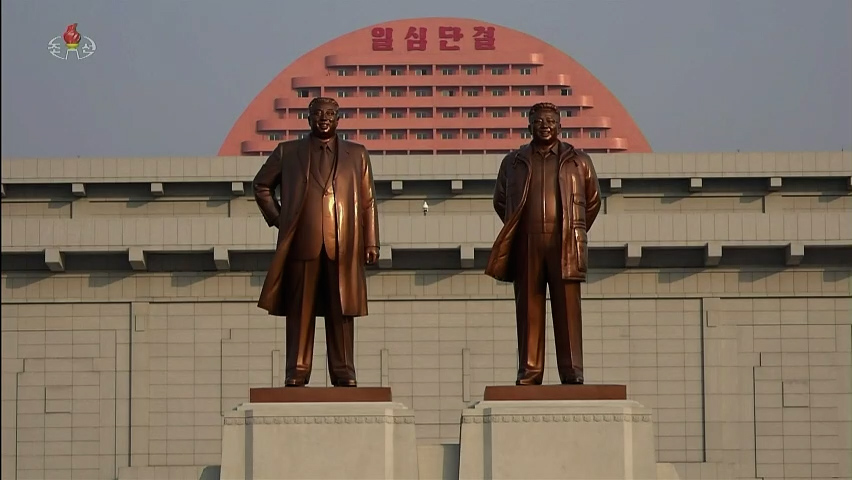 Nearby, the Sinuiju Youth Open-Air Theatre that had been under construction since mid-2018 was completed in late 2020.
Figure 5. The Sinuiju Youth Open Air Theater, shown on Korean Central Television on December 7, 2020.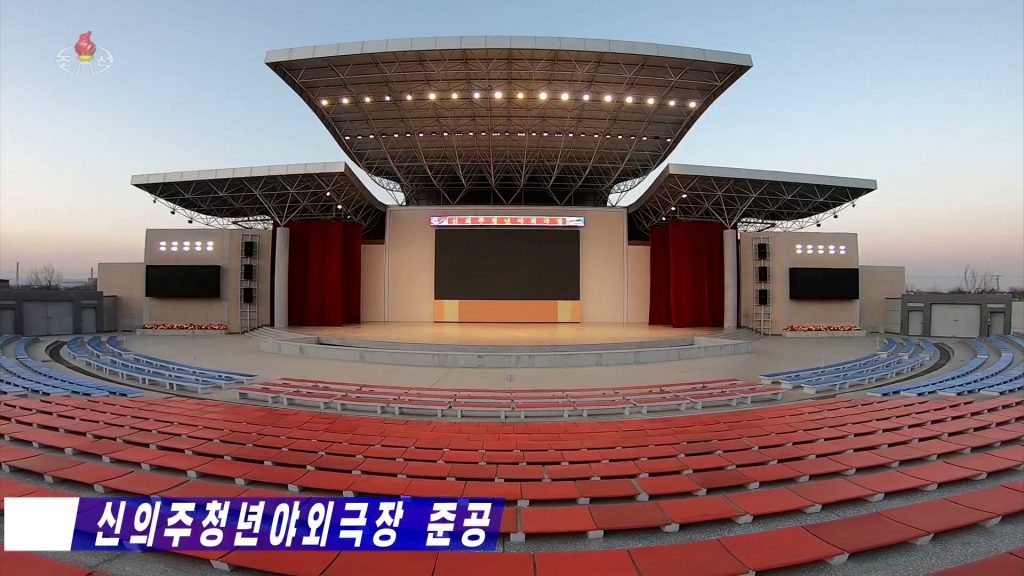 More recently, work began in a large industrial area that sits between the railway station and river. The area was largely demolished and cleared in 2019 and sat vacant until mid-2020, when construction of several new buildings started.
This area is served by multiple rail spurs, and the buildings that have been completed appear industrial in nature, similar to other long, warehouse-like structures in the vicinity. Several new buildings on the edge of the industrial area look more like conventional office buildings and are likely geared toward administration or support.
Figure 6. New construction in large industrial area, March 2, 2021.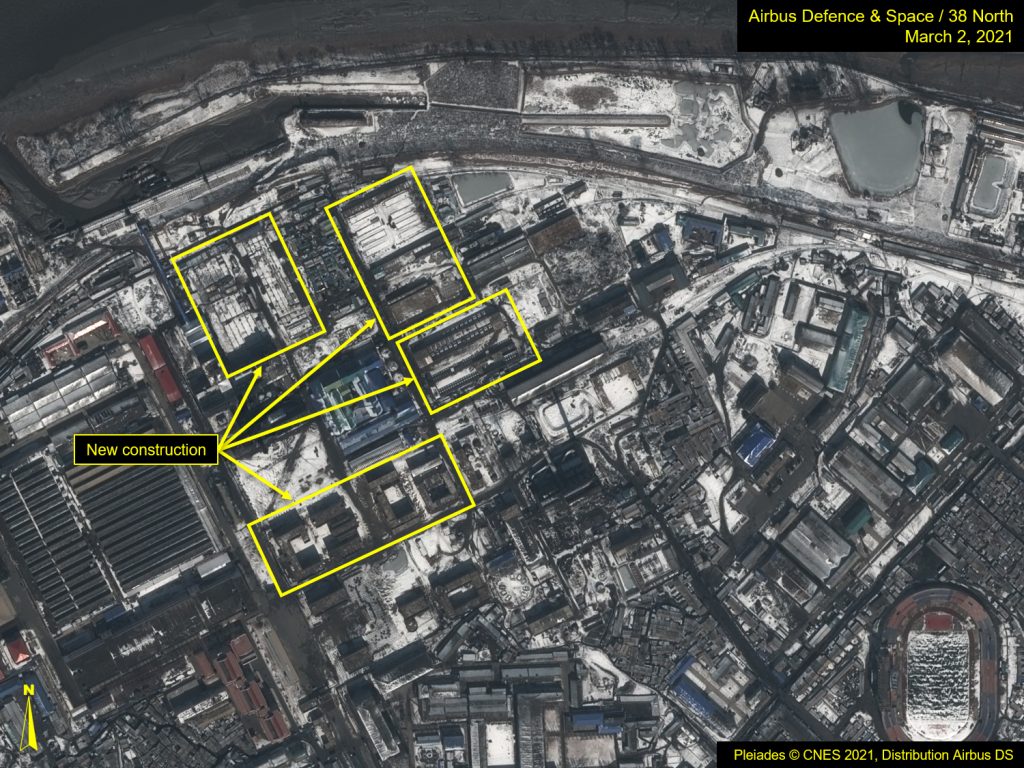 Work on a major project south of the city at the North Korean landing of the $350 million New Yalu River Bridge was ongoing throughout 2020, although it appears to have stalled over the winter, with little progress made since November of last year.
The bridge is a significant upgrade over the existing link to China and has sat unused for years. That could finally be changing. In 2020, a connector road from the bridge to a North Korean highway intersection was completed, and work also began for what is expected to be a new customs and immigration area.
But a considerable amount of work needs to be done before the new connector can take over from the old bridge and customs facility. It is possible that it could be completed in 2021, but if that is the plan, we would expect to see work restarting soon and progress at a rapid pace.
Figure 7. Sinuiju-bound lane paved in 2020.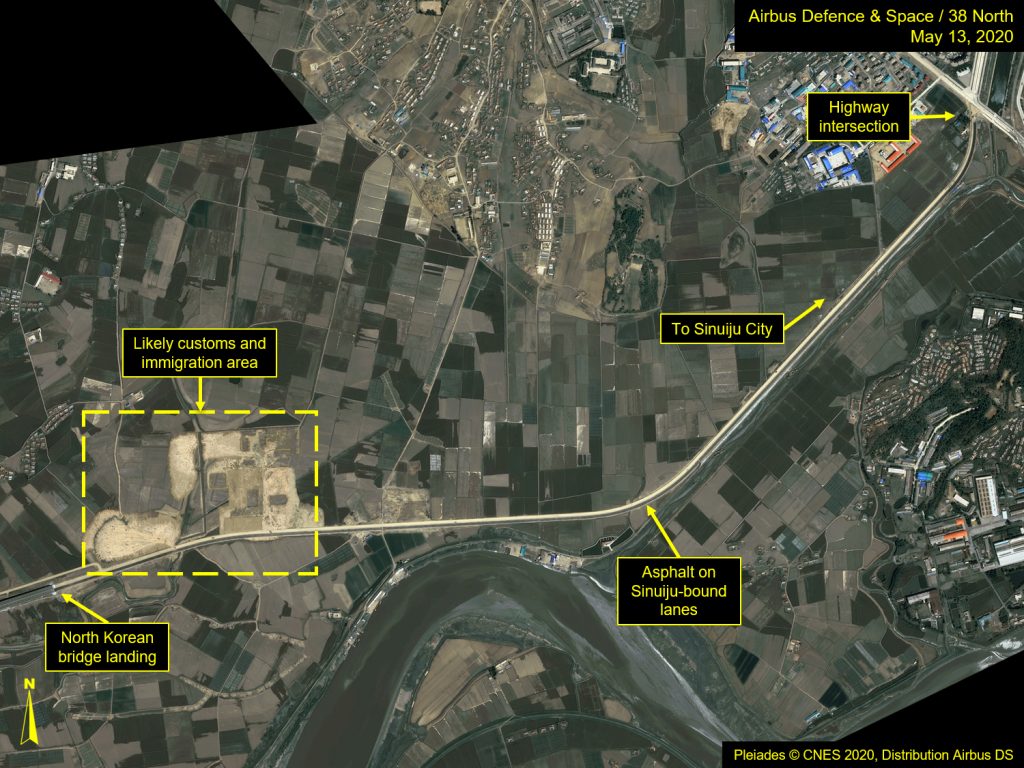 Construction Speed
The lack of major progress in the Sinuiju redevelopment project contrasts with speedy construction work at other sites around the country.
North Korean builders constructed hundreds of homes and new apartment buildings in the space of a few months in late 2020 to replace those destroyed by summer typhoons. And other major projects such as the Wonsan-Kalma Tourist Zone and Pyongyang General Hospital saw rapid construction when they began, although neither has been completed.
It is tempting to conclude this is yet another project delayed by the COVID-19 pandemic, but that doesn't explain why little progress was made throughout 2019.
Economic sanctions have also had an impact on the North Korean economy, but encouraging Chinese day-trippers appears to be one of the motivations for the project, and tourists were flooding in throughout 2019 and until the border closure in January 2020.
Development Projects
The redevelopment plan is the latest in a string of projects proposed for the region that either never got off the ground or failed to live up to their original goals.
Many of these are discussed in depth in two articles by Théo Clément:
This included the ambitious Sinuiju Special Administrative Region plan that would have turned the area into a largely autonomous region of North Korea, which eventually was replaced with a similarly grand master plan for the Sinuiju International Economic Zone. There were also plans for a special economic zone encompassing Hwanggumphyong and Wihwa Islands, both of which require basic infrastructure to even begin despite being announced in 2011.
Figure 8. Sinuiju International Investment Guide.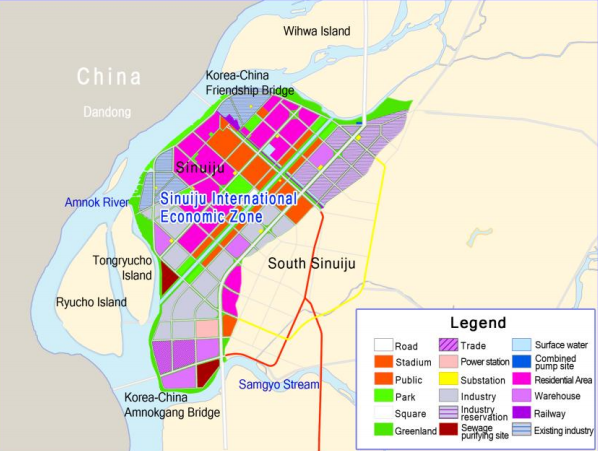 What all of these have in common is a desire for the Sinuiju region to benefit from its proximity to China as a base for labor and manufacturing, in addition to being a gateway to the North Korean economy.
What's Next
The Sinuiju redevelopment project, if it still exists, does not appear to be a national priority. During his speech in January at the Eighth Congress of the Workers' Party of Korea, Kim Jong Un called for 50,000 new apartments in Pyongyang and redevelopment of the Komdok mining area, but did not mention Sinuiju at all.
Without national assistance, the project is probably too much of a financial burden for the city to take on itself. According to one report, money was an issue with just one building: the new circular apartment building. Traders who were allowed to buy units were required to pay in advance in US dollars because funds to complete the project were short. If city leaders are financing the project themselves without national assistance, the going may be tough.
Work around the new bridge and presumed customs area will be a key indicator for the year ahead. If that project can get completed and open, it could substantially increase trade capacity between North Korea and China and inject money into the local economy. Although infrastructure will do little on its own, it will need to be accompanied by increased access to the North Korean economy if it wants to recruit investment from Chinese companies.
---
[1]

"Supreme Leader Kim Jong Un Guides Master Plan for Construction of Sinuiju," Rodong Sinmun, November 16, 2018.

[2]
---