Hwangtho Island: No More Target Practice
Commercial satellite imagery indicates redevelopment is underway of a small island off the coast of Wonsan, historically used as a training base by North Korean specialist infiltration teams. New buildings, a new road and a possible observation point have been constructed on this traditionally undeveloped island over the past two years, although it is unclear whether they will serve civilian or military purposes.
The island, called Hwangtho-do (황토도), is only two kilometers from the Wonsan-Kalma Coastal Tourist Area (Zone), and work is currently underway to build a structure on the island's highest point.
Figure 1. Wonsan and Hwangtho Island.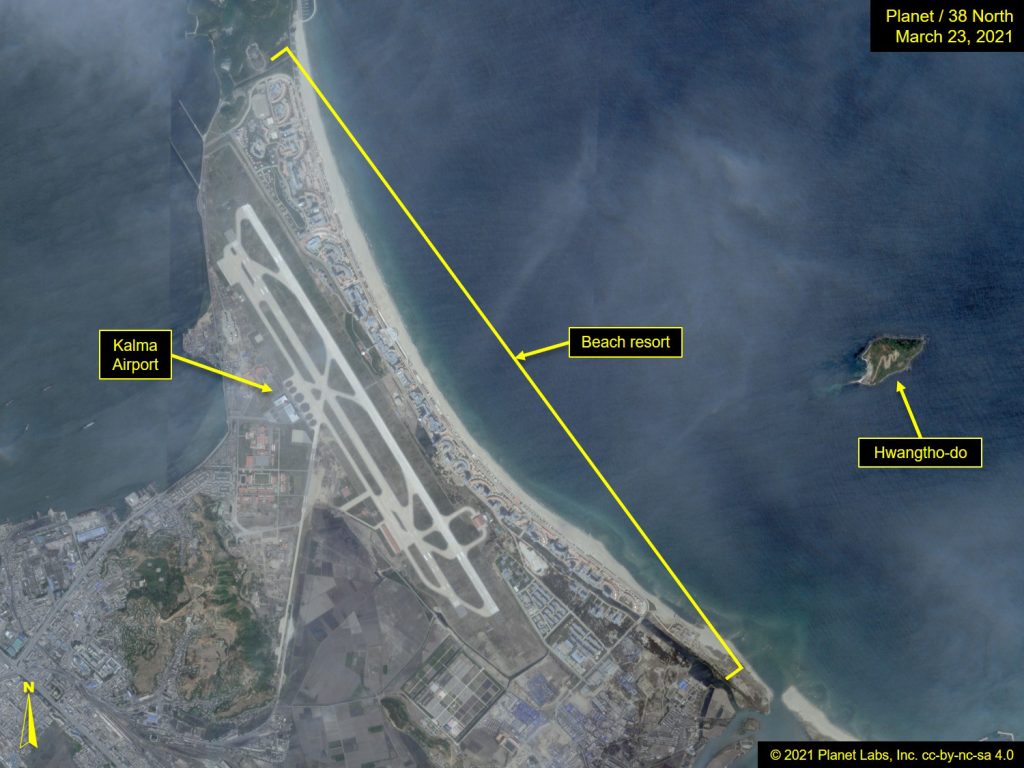 Hwangtho Island was largely undeveloped throughout the 2000s, consisting of only a small port with a covered pier. It was used as a training base for North Korean units that aided spies in covertly traveling and/or gaining access to South Korea. The Wonsan unit is responsible for assisting infiltration operations along the east coast of the Korean Peninsula from the border to Busan.
Around 2011, the island started being used for bombing and shelling target practice, with craters appearing throughout the north side of the island. In 2014, a large target circle was outlined on the hillside. During this period, the few buildings on the island fell into disrepair.
Figure 2. Craters and a target circle on Hwangtho Island.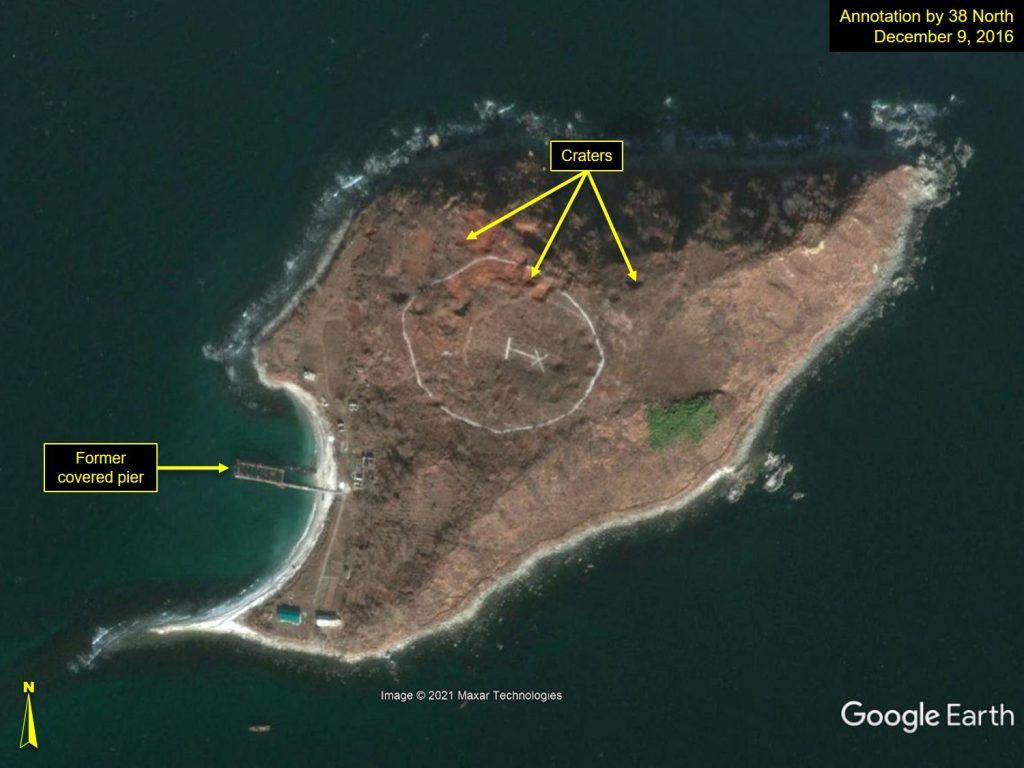 In December 2016 and April and August 2017, Kim Jong Un guided artillery drills that involved shelling and bombing Hwangtho-do and another island five kilometers to the north.[1] In the August drills, North Korean special forces arrived on Hwangtho-do by rubber boat.
Images broadcast on Korean Central Television (KCTV) clearly show the shell of the covered pier on the island.
Figure 3. North Korean special forces land on Hwangtho Island in August 2017.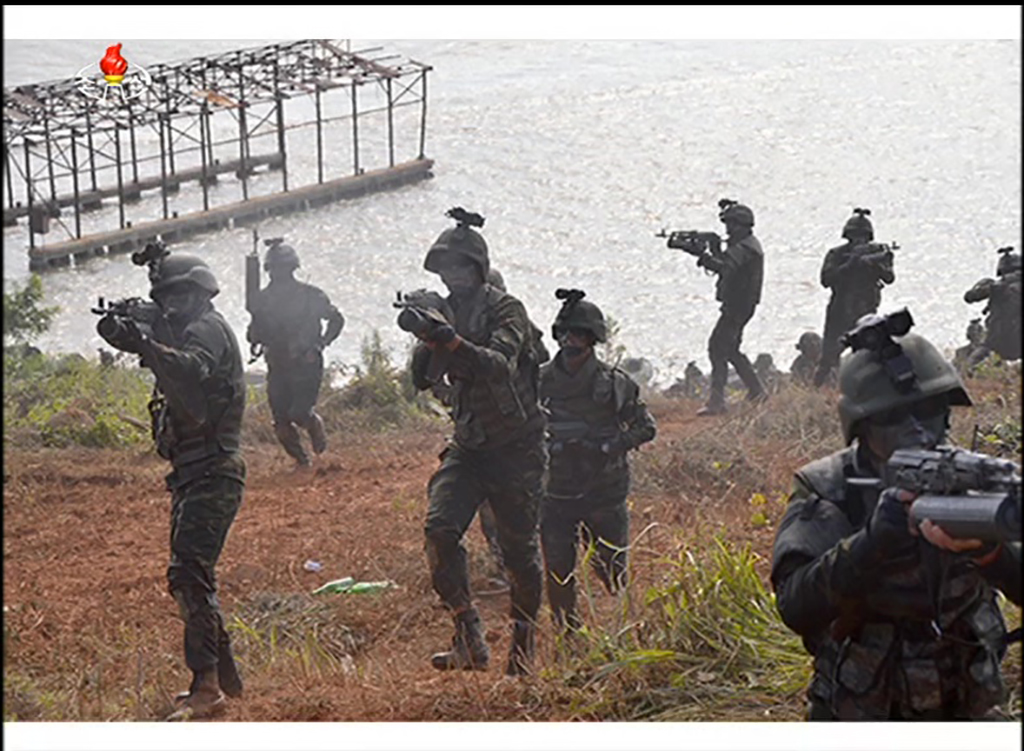 Little change was observed on the island until the fourth quarter of 2019 when construction began on a new building near the pier and a new road was built leading to the highest point on the island. The building was completed in 2020, and the road was paved earlier this year.
On the top of the island, a circular foundation was observed in the first half of 2020, and construction on a building began in the second half.
On December 13, 2020, the Minju Choson (Joson) newspaper reported on its front page about construction projects run by the Kangwon Provincial People's Committee. It noted several work units were "striving to finish the remaining construction targets such as the Hwangtho Island seawall and pier, which have reached the deadline of completion."[2]
Construction of this circular building has progressed in 2021. Its location at the highest point on the island suggests it may serve some observation purpose, although it is unclear whether that is for civilian sightseeing or naval or electronic observation, such as a radar installation.
Figure 4. Construction work on Hwangtho Island.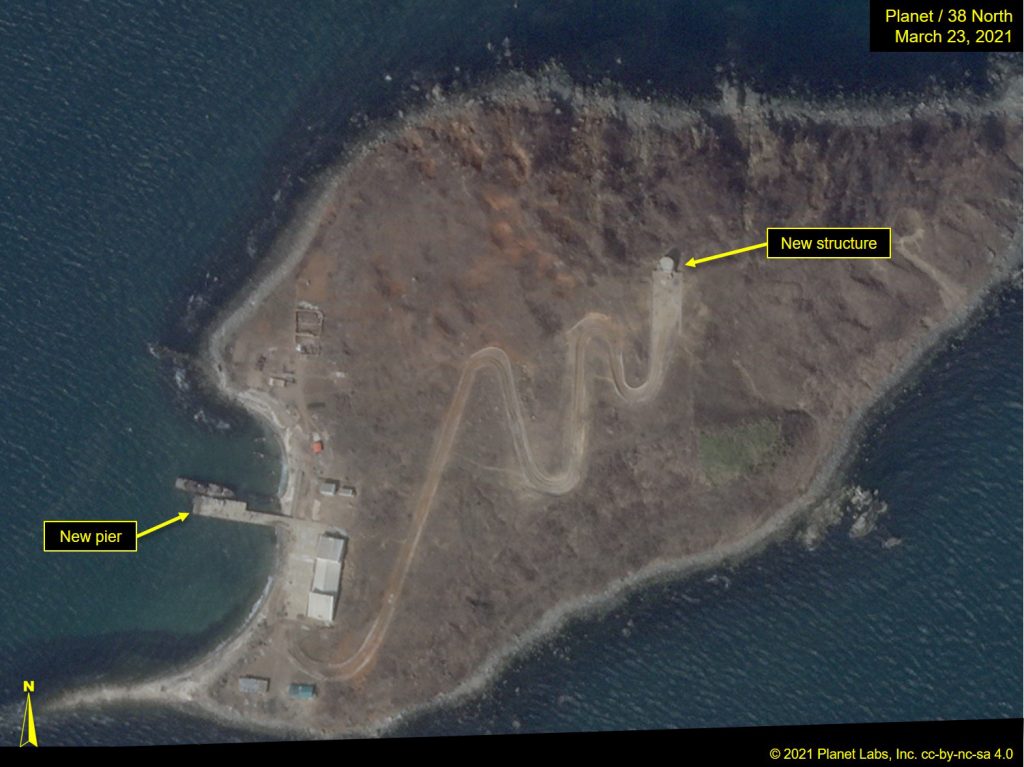 ---
[1]

See: "Kim Jong Un Guides Intensive Striking Drill of KPA Artillery Units on Front," KCNA, December 2. 2016; Lauren Suk and Ben Westcott, "North Korea marks anniversary with massive artillery drill," CNN, April 25, 2017, https://www.cnn.com/2017/04/25/asia/north-korea-artillery-drill/index.html; and Dagyum Ji, "Kim Jong Un supervises simulation of attack on South Korean islands," NK News, August 26, 2017, https://www.nknews.org/2017/08/kim-jong-un-supervises-simulation-of-attack-on-south-korean-islands/.

[2]

Quote translated from Korean to English. See "중요대상건설에 총력을 집중 강원도인민위원회에서," Minju Choson, December 13, 2020.
---