Kim Carefully Nudges the Dialogue Door Open Wider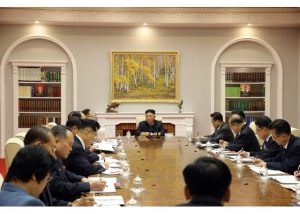 Kim Jong Un's comments on US policy at the ongoing party plenum[1]—a notable shift from the heavily domestic agendas that dominated the series of meetings in the last few months—build on North Korea's messaging since the Eighth Party Congress that it is keeping the door open for reengagement.[2] Don't forget, this is only a brief North Korean media readout, not the full text of Kim's speech at the plenum. But the state media's mention of Kim analyzing "the newly launched US administration's policy trends on our Republic" and presented "on-target strategic and tactical responses" for the future was a signal to both internal and external audiences to not be surprised if and when Pyongyang starts taking steps toward engaging Washington.[3]
The question is, do Kim's remarks nudge the door open a bit more than previously? The brevity and carefully crafted language of the summary leave much to be desired in terms of all that Kim actually said at the meeting. But a careful reading of the report suggests that Kim's comments mark some progress from Pyongyang's previous messaging, and that it may be gearing up for engaging Washington. The "when" most likely will be determined by North Korea's domestic timetable, barring extraordinary external developments.
The reference to the Biden administration as "the newly launched US administration," a neutral term by itself, took on a slightly positive note, given the conspicuous omission of the term "hostile policy" and use of the word "dialogue" in Kim's comments. US withdrawal of "hostile policy" has consistently been North Korea's precondition for resuming diplomacy with Washington since the breakdown of the Stockholm working-level talks in October 2019, a position that Kim himself reaffirmed in his January report to the Eighth Party Congress and First Vice Foreign Minister Choe Son Hui reiterated as recently as March.[4] Kim's specific reference to "dialogue" is a step beyond his January Party Congress report, where he left room for diplomacy with the US but fell short of mentioning the word. Kim set no bar for US to jump over, in contrast to usual North Korean demand for withdrawal of "hostile policy" before engagement was possible. In fact, he gave weight to Choe Son Hui's March press statement, where she indicated that "dialogue" may be possible when certain preconditions are met.
In this passage:
"Comrade General Secretary emphasized that [we] should be prepared for both dialogue and confrontation—be even more fully prepared for confrontation in particular—in order to safeguard our state's dignity and interests in independent development and reliably guarantee a peaceful environment and the security of the state."[5]
The formulation "prepared for both dialogue and confrontation" is routine and is in line with the "principle of power for power and goodwill for goodwill" toward the US stipulated in Kim's Party Congress report. In fact, his call for "reliably guarantee[ing] a peaceful environment" seems to qualify and to a certain extent dilute the emphasis on being "fully prepared for confrontation."
In this sentence:
"… while mentioning further enhancing our state's strategic position and proactive role and creating a favorable external environment on [our] own initiative, Comrade General Secretary clarified that [we] should concentrate efforts on responding to and coping with the constantly changing situation sharply and promptly, and managing the situation on the Korean Peninsula in a stable manner."[6]
Kim's emphasis on raising the country's "proactive role" and "creating a favorable external environment on [our] own initiative" could be the most important signal of North Korea preparing to reengage the US. It appears to suggest that Pyongyang cannot wait for that "favorable external environment" to develop on its own and will create one on its "own initiative."
The term "favorable external environment" reflects North Korea's longstanding position that a good external security situation is key to the success of its economic initiatives and economic development. Although North Korea has a range of options to build a "favorable external environment"—for example, it has made it clear that forming a united front with socialist countries, namely China, is one—it also understands that improved ties with the US are key to achieving that goal. This, coupled with Kim's mention of stable management of the situation on the Korean Peninsula, loops back to his call for preparation for dialogue with the US.
---
---