Nampho Naval Shipyard: Second Submersible Test Barge Still Out of Water
Commercial satellite imagery of Nampho Naval Shipyard from July 21 indicates that the second of North Korea's two submersible test barges has remained on the repair ways since last November. In the past few months, there has been activity around both test barges—the other at the Sinpho South Shipyard—which appears to have been for either maintenance or a possible refitting to prepare the barges for handling a new generation of submarine-launched ballistic missiles (SLBMs).
Test Barge Activity
In early November 2020, North Korea moved its second submersible test barge out of the secure boat basin at Nampho, where it had been berthed since late 2019, onto a nearby marine repair/building way. No activity was observed around the test barge in December 2020 or January 2021, probably due to the winter cold. However, by February, a large, traveling gantry crane had been positioned over the barge, presumably to support maintenance activity or a refit process.
On several occasions, a small portal jib crane was also observed near the barge, although the purpose is unclear. By March, the traveling gantry crane had been repositioned away from the barge, suggesting that the work had been completed (while the gantry and portal jib cranes could have traversed back and forth, over 20 sequential images suggest that was not the case). However, since then, the barge has remained on the repair/building way, rather than being returned to the secure boat basin.
This activity at Nampho predates similar activity at the Sinpho South Shipyard, where the original submersible test barge also underwent repairs or modifications starting around April of this year. Although in that case, the barge was returned to the secure boat basin shortly after the work was completed.
Figure 1. Overview of the submersible test barge on repair ways.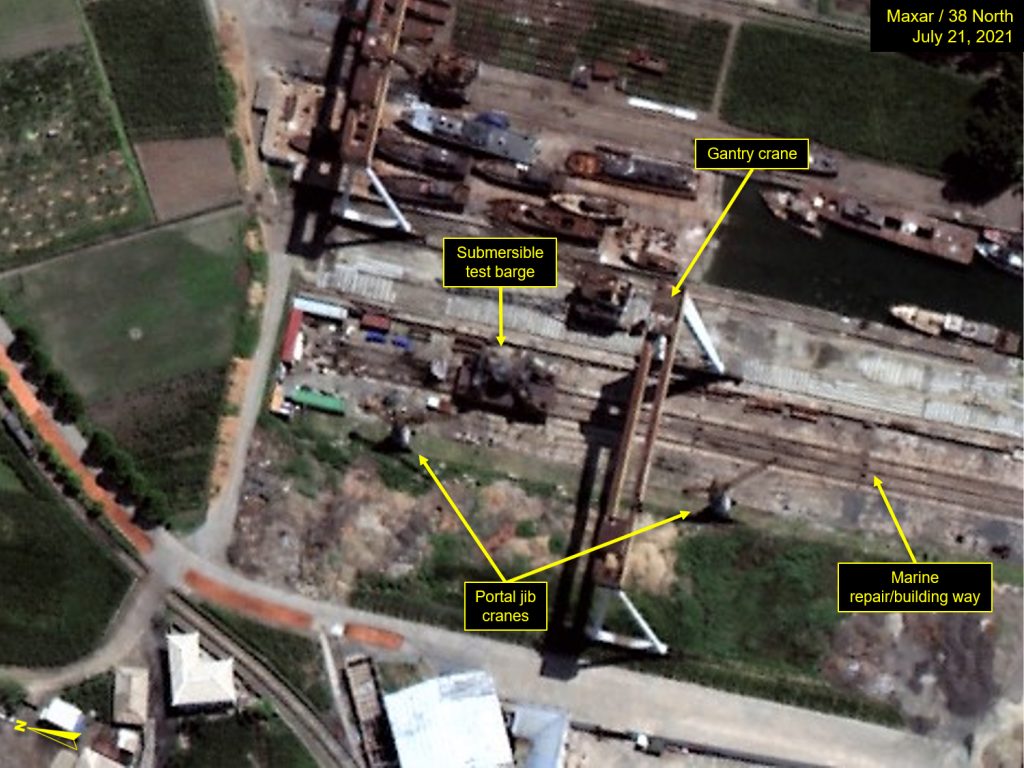 Secure Boat Basin Activity
Since the Nampho submersible test barge's removal from the secure boat basin, activity at the basin has been minimal with approximately a dozen small vessels and a floating crane continually observed within the basin. In addition, between six to eight small craft have been nested directly in front of the basin's entrance and another dozen have been berthed to one side. This practice has been observed in past years during the winter months, but the craft have normally departed with the arrival of spring and defrosted waterways. However, this was not the case during winter 2019 and spring 2020—the change in pattern probably due to COVID-related protocols.
Imagery from July 21 revealed the mix of vessels within the basin had suddenly changed with the arrival of a NONGO-class Surface Effects Ship (SES) and a NAMPO-class Corvette (light frigate). Both vessels had previously been observed at the naval docking area immediately to the east of basin. The purpose of their relocation is unclear.
Figure 2. Overview of Nampho Secure Boat Basin.