Implications of North Korea's January 14 and 17 Short-Range Ballistic Missile Launches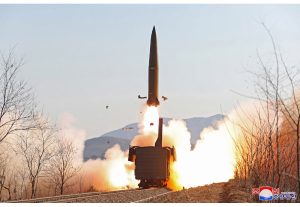 North Korea's launches of two rail-mobile KN-23 short-range ballistic missiles (SRBMs) on January 14 and two road-mobile KN-24 SRBMs on January 17 show continued progress in deploying these solid-propellant missile systems, as well as continued interest in rail-mobile missile deployment. But even if they turn out to be sufficiently accurate (their guidance method is unknown) and deployed in significant numbers, these systems would provide only an incremental increase to the large, longstanding North Korean SRBM threat. Although not accompanied by explicit North Korean political messaging, the timing of the KN-23 launches clearly was intended in part as a riposte to new US sanctions, and the launches implicitly message foreign and domestic audiences of Pyongyang's defiance, military strength and technological achievements.
Launch Details
Second round of rail-mobile KN-23 SRBM launches. On January 14, the Republic of Korea (ROK) reported the launch that afternoon of two SRBMs, 11 minutes apart, from northwest North Korea near China. The missiles reportedly flew about 430 km at an altitude of 36 km and a speed of Mach 6, apparently impacting on an island off North Korea's east coast.
The next day, the Democratic People's Republic of Korea (DPRK) released a brief statement terming the launches "A firing drill for checking and judging the proficiency in the action procedures of the railway-borne missile regiment of North Phyongan Province." According to the statement, "The regiment received a firepower mission at short notice from the General Staff in the morning on Friday [January 14] before swiftly moving to the firing ground, and precisely struck the set target in the East Sea of Korea with two tactical guided missiles." The drill reportedly fed into a discussion of how "to set up proper railway-borne missile operating system across the country and to find out ways for further completing our style fighting methods with the railway-borne missiles."[1]
The statement was accompanied by photos of a KN-23-type solid-propellant SRBM lifting off from a railcar and of an apparent missile warhead striking an island. Two KN-23s were previously launched from a railcar on September 15, 2021.
Fourth round of road-mobile KN-24 SRBM launches. On January 17, South Korea reported that two SRBMs were launched, four minutes apart, from Sunan Airport in Pyongyang. The missiles reportedly flew around 380 km at an altitude of 42 km (Japan reported a 300-km range and 50-km altitude), striking an island off North Korea's east coast.
On January 18, North Korea released a brief statement announcing a "test-fire [that] was aimed to selectively evaluate tactical guided missiles being produced and deployed and to verify the accuracy of the weapon system," which "precisely hit an island target."[2] A photo released with the statement, and subsequent photos released on North Korean TV, showed a KN-24 (Hwasong-11Na) solid-propellant SRBM launched from one of two canisters mounted on a tracked road-mobile launcher, and an explosion on an island. Three previous rounds of dual KN-24 launches were conducted on August 10 and 16, 2019, and March 21, 2020.[3]
Implications
There are several implications to take from these two sets of launches. They include:
While North Korea continues to show advancements in its missile capabilities, these launches send an implicit political message as well. It is interesting that the North Korean statements about the KN-23 and KN-24 launches were confined to technical and operational matters. That said, the North's claim that the January 14 afternoon KN-23 launches were ordered that morning—the same day that the DPRK Foreign Ministry issued a statement criticizing US January 12 sanctions against six North Korean individuals for obtaining missile technology and asserting that Pyongyang would not abandon its "just right" to "bolster up the national defence capability"—strongly suggests those launches had a political component.[6] And like most North Korean missile activities, recent launches implicitly message the international community and the North Korean public that Pyongyang is defiant, militarily strong, technologically capable and competently governed.
Moreover, North Korea's recent threat to consider restarting "temporarily-suspended activities" (i.e., long-range missile and/or explosive nuclear testing) suggests missile testing will continue.[7] It remains to be seen whether that will include intermediate-range or intercontinental-range ballistic missiles, or whether the North continues testing only shorter-range missiles as it has since Kim's December 2019 public renunciation of the unilateral testing moratorium.
Note: North Korea fired two additional cruise missiles on the morning of Tuesday, January 25, 2022. An analysis of this latest launch is forthcoming.
---
---