North Korea's Dramatically Increasing Trade Deficit With China: A Short-term Trend or Longer-term Strategy?
After more than two years of isolation to try to stave off a COVID-19 outbreak in the Democratic People's Republic of Korea (DPRK, or North Korea), the resumption of at least limited train-based trade with China earlier this year was a welcome sign to most North Korea watchers.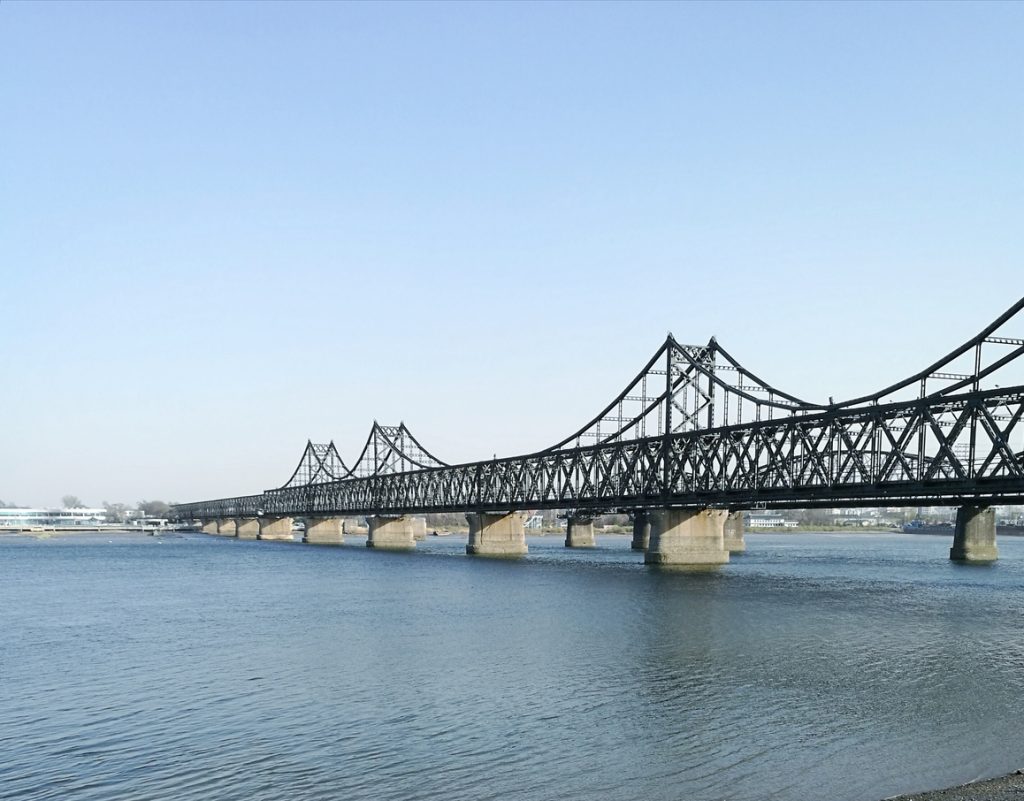 But when that trade was halted once again in late April, questions resurfaced about the potential impact of these trade disruptions on an already difficult economic situation.
It should be noted that North Korea's economy has not been all bad news since Kim Jong Un came to power in 2012. After he announced policies aimed at promoting the country's marketization, the number of markets in the country gradually rose, leading to economic growth and presumably increased purchasing power for ordinary North Koreans as well. However, the strengthening of sanctions by the international community in response to the country's WMD-related testing activities, along with the more recent pandemic control measures to limit the spread of COVID-19, have certainly taken a toll on the North Korean economy and have started to reverse what seemed to be some promising trends.
According to data from China's customs agency, for instance, China-DPRK trade equaled 318.04 million USD in 2021. This figure is approximately 41 percent less than the 539.06 million USD recorded in 2020 and only about 11 percent of the 2.78 billion USD recorded in 2019 before the COVID-19 pandemic hit. Moreover, it is just six percent of the five billion USD recorded in 2017, before stronger international sanctions were imposed.
As a result, some scholars have suggested that the prolonged closure of North Korea's borders and the resulting fall in trade is having an increasingly negative impact on the country's economy.[1] In short, the decrease in goods from China has negatively impacted the country's marketization process, along with government efforts to increase domestic manufacturing activities. Moreover, the lack of raw materials has led to slowdowns in production at factories, causing decreases in worker wages. This suggests that there has been an increase in the number of people facing challenges making a living.
This article examines the extent to which Chinese imports have proliferated in North Korea prior to the pandemic, especially in facilitating market activities and growth. It also questions whether this period of reduced trade with China may have longer-term effects, even after pandemic control measures are lifted.
Increased Autonomy Among North Korea's Companies Leads to the Expansion of Imports of Production Equipment and Raw Materials
China has long served as a supplier of goods for North Korea's markets. This, of course, was possible because China was able to reap economic benefits from the North to a certain degree.
Until recently, North Korea was a major importer of Chinese raw materials and production equipment. Chinese consumer goods and food continue to make their way into the country, but the volume pales in comparison to the amount of Chinese-made production materials and production equipment that was imported into the country before the pandemic.
Following revisions to the DPRK's Enterprise Law in 2013 and 2015, companies in the country were afforded greatly increased freedom to control their production activities.[2] As a result, many of them went to great lengths to import these aforementioned items from China. There was an increase in factories that received contracts from joint venture companies or trading companies, and main contractors or trading companies imported raw materials from China for domestic production.[3]
In addition, many Chinese-made consumer products were sold in North Korea before the pandemic. While there are more North Korean-made food products being sold in markets than Chinese ones these days, Chinese fruits, vegetables and eggs are still being imported. Most manufactured items, such as clothes, paper, stationery, cosmetics and home electronics to even condoms, are Chinese-made. Before the pandemic, the country imported electricity from China as well.[4]
China is also the source of a significant amount of foreign currency being brought into the country by individuals. There are reports that the Chinese yuan is used more than other foreign currencies throughout the China-DPRK border region and even other parts of the country.
Economic activity between North Korea and China has benefited more than just large companies and collective farms that import raw materials and equipment. A significant amount of these imports have spread to individuals involved in unofficial market activities. This has been a major factor in developing the country's small-scale manufacturing activities and service industry.
For example, Chinese lamb skewer restaurants have become very popular in North Korea, where the seasoned lamb meat and the special tables used for cooking and serving it are imported from China. Other examples include most of the chemical materials used in making methamphetamines and Chinese condiments used by street merchants who sell various snacks.
North Korea Reacts to the Decline in Official Trade With "State-led Smuggling," Yet This Won't End Economic Troubles
China has long played a major role in terms of trade with North Korea, but recently China-DPRK trade figures have fallen. The size of North Korea's total external trade (excluding inter-Korean trade) in 2020 fell by 73.4 percent (to 8.6 billion USD) compared to the previous year. This has been the lowest level since 1990. Given that China-DPRK trade makes up a significant portion of the DPRK's external trade, it is possible to roughly surmise how much bilateral trade has fallen.
Moreover, North Korea's exports fell by 67.9 percent (to 89.3 million USD) in 2020 compared to 2019 due to international sanctions and the closure of the border as a result of COVID-19, while imports also fell by 73.9 percent (to 7.7 billion USD). The country's 2020 bilateral trade deficit fell to 6.8 billion USD compared to the trade deficit recorded the year before of 26.9 billion USD.
Table 1. Yearly Trends in North Korea's Imports and Exports (in USD million)
North Korea's trade activities with China can be divided into multiple categories: 1) official trade sanctioned by both governments; 2) smuggling sanctioned by the North Korean authorities but not the Chinese authorities; and 3) smuggling by companies and individuals without permission from North Korean authorities.
Most of the goods listed in Table 1 fall into the "official trade" category. However, there was a large and diverse amount of goods traded via the other two routes until smuggling by companies and individuals was thoroughly shut down following the outbreak of COVID-19. This led to a significant increase in the amount of "state-led smuggling," which is smuggling that has been sanctioned by the North Korean authorities but not the Chinese.
Amidst this shift, there has been an increase in transshipments between Chinese and North Korean vessels. According to a report by the United Nations Security Council North Korea Sanctions Committee Panel of Experts, North Korea conducted 636 instances of illegal exports of coal in 2020, leading to, at minimum, the export of 4.8 million tons of coal.
According to a Daily NK source in China late last year, there were dozens of trade transactions between the DPRK and China on the open seas off Nampho in early November. According to the source, the ships would proceed with the transshipments after turning off their automatic identification systems (AIS) before making contact in the high seas.
However, experts believe that state-led smuggling does not help the civilian economy. They say that while North Korea's COVID-19 prevention measures may have prevented the spread of the virus, it has been almost fatal to the country's external trade.[5]
Indeed, there have been concerns that the border closure is having an even more negative impact on ordinary people's lives than what sanctions have imposed.
Has North Korea Abandoned Trade to Focus On Self-sufficiency and Domestic Production?
There have been signs of a considerable upward shift in grain prices following the downturn in China-DPRK trade over the past three years. The increase in grain prices suggests that everyday citizens are feeling the negative impact of the decline in bilateral trade.
According to Daily NKmarket price data, one kilogram of rice cost 5,100 KPW in Pyongyang, 5,300 KPW in Sinuiju and 5,500 KPW in Hyesan as of April 1, 2022. When compared to rice prices in the spring (early March to early May) over the past three years, this year's prices are the highest.
Presumably, DPRK authorities are not happy about this upward shift, given that they have worked hard to stabilize grain prices over the years. That said, the regime might see this situation as a chance to begin reducing its overall level of trade with China, wanting to reduce dependence on China in the longer term.
Indeed, amid the pandemic, the North Korean government has continued efforts to increase the domestic production of goods that would normally be imported. It has indicated a desire to eliminate "reliance on others" and what it terms the country's "import disease." [6] As such, North Korea appears to be using pandemic measures to test out its "frontal breakthrough" to achieve self-reliance.[7] Some scholars suggest that the government aims to be as self-reliant as possible by fully mobilizing all of its internal resources for economic construction.[8] Others point to the temporary reopening of the China-DPRK border to allow for limited trade as a sign that there is a higher likelihood now than in recent years that China-DPRK trade will restart once concerns about COVID-19 abate.[9]
That being said, it appears more likely that even if some level of trade resumes again, North Korean authorities will still limit the reopening of the border and continue to move forward with a restructuring of its trade sector to promote more Cabinet-level supervision over imports and exports. This impetus is underscored by the government's emphasis on achieving results in domestic production and encouragement of people to be more patriotic and loyal to the revolution despite the country's lack of resources. North Korean authorities are also making efforts to judge how loyal people continue to be toward the regime during this time of economic difficulty. They are paying attention to how people are expressing their frustrations and how best the current system of controls can manage public discontent.[10]
Conclusion
China-DPRK trade, which is an essential lifeline for North Korea's economy, has decreased significantly over the past three years. While the outside world must rely on mainly anecdotal reports regarding the economic situation in North Korea, this decline in bilateral trade appears to be an important factor in the country's worsening economic conditions. While the DPRK has and may continue to permit certain trade activities with China, its leadership might continue to restrict trade even after the stabilization of the COVID-19 situation, preferring instead to increase domestic production of various goods and reduce Chinese influence in the country.[11]
---
---