North Korea's Yongbyon Nuclear Research Center: Plutonium Production Continues
Recent commercial satellite imagery of North Korea's Yongbyon Nuclear Scientific Research Center indicates that, despite adverse weather conditions, plutonium production continues. The 5 MWe Reactor is still operating and has been since July 2021. It may be ready for a partial discharge of the reactor core, which could then be sent a few months later for reprocessing. Some activities are underway at the Radiochemical Laboratory (RCL), which could be related to waste handling or preparations for a forthcoming reprocessing campaign.
5 MWe Reactor
Despite heavy rains in recent weeks, discharge of cooling water from the 5 MWe Reactor—a key indicator of ongoing operations—is still observed. The reactor appears to have been operating since early July 2021, which means the reactor core may be ready for a partial discharge—an important step in recovering weapons-grade plutonium.
There are several vehicles located near the 5 MWe Reactor, which have been seen frequently at the site. Two semi-trucks are parked in front of the main entrance to the reactor building. One is a truck with a flatbed tractor-trailer, and the other is a blue-toned tank trailer that has been previously associated with the delivery of carbon dioxide (CO2). As often observed, there is a smaller cargo truck parked next to the end of a support building located across the street.
Figure 1. Vehicles and water discharge observed at 5 MWe Reactor.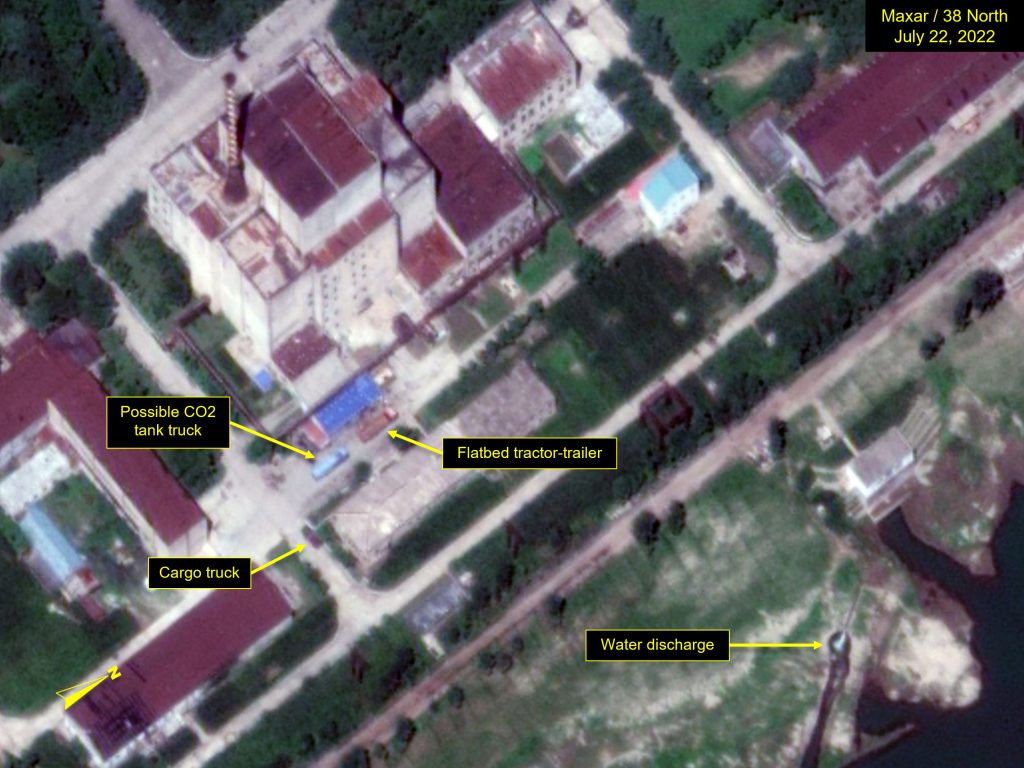 Radiochemical Laboratory
The emission of smoke from the Thermal (Steam) Plant, which was first observed in imagery from July 5, continues. The faint smoke plume suggests that the plant is not operating with full power but providing a limited amount of steam to the RCL. The purpose of this activity is not yet clear but could indicate treatment of radioactive wastes or preparations for a future reprocessing campaign.
Figure 2. Faint smoke emission visible from Thermal Plant.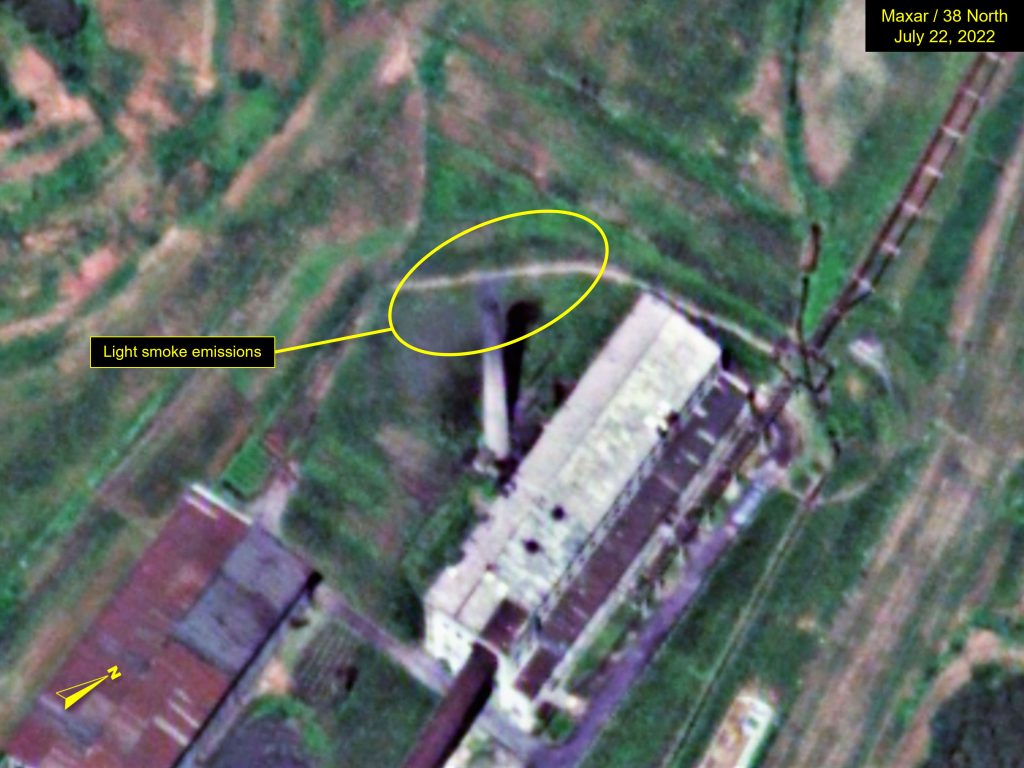 A small cargo truck is parked at the entrance to the spent fuel receiving building, and a tank truck is parked at the motor pool located immediately to the west. Other identifiable pieces of equipment or materials continue to be seen at each location. The significance of this increased vehicle activity is unclear.
Figure 3. Vehicle activity observed at Radiochemical Laboratory motor pool and spent fuel storage building.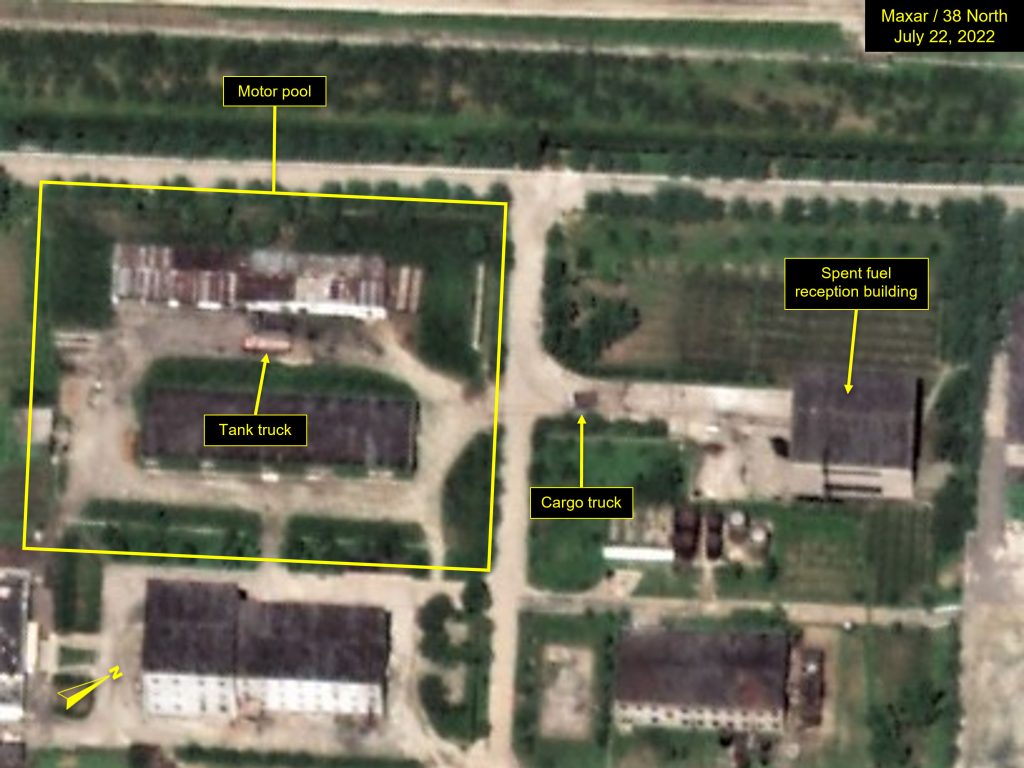 Building 500
Activity at Building 500, a suspected radioactive waste storage facility, continues. This was first noted in early July. So far, this activity has taken place just outside the central door to the building. Light-colored debris or materials are visible on either side of the access road to the center door. The pattern observed suggests the removal of material, as opposed to excavation, in preparation for building modifications. This would support the idea of interior work being planned or the removal of derelict equipment or materials.
Figure 4. Unidentified materials visible outside Building 500 entrance.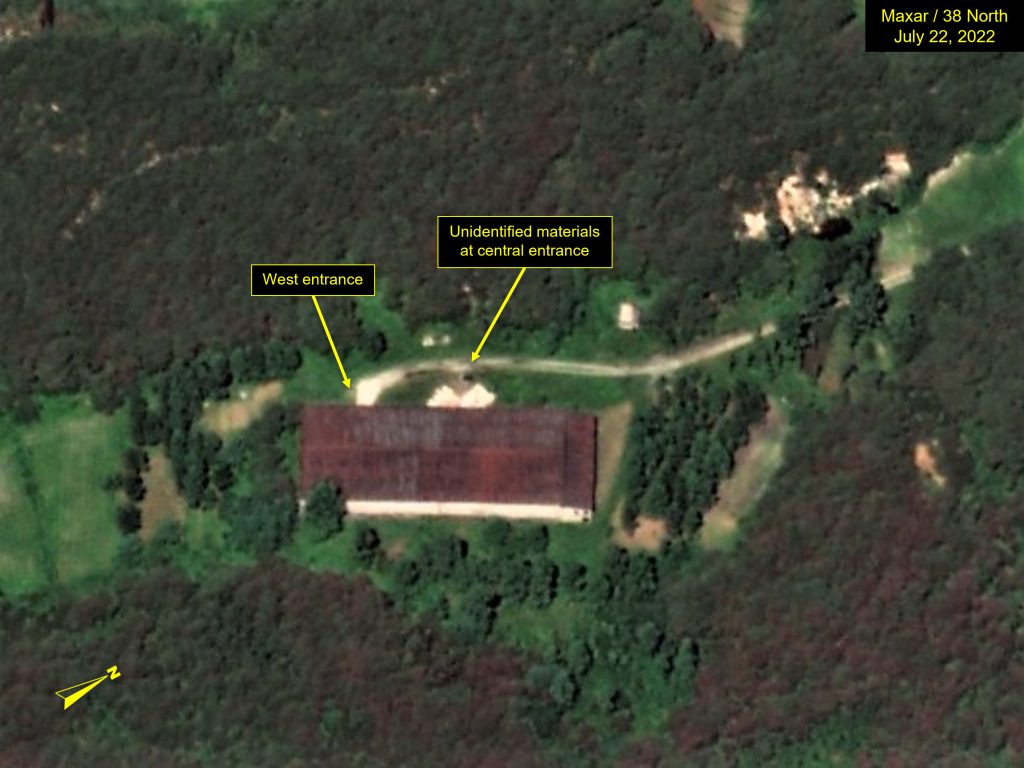 Uranium Enrichment Plant (UEP) Area
There is no apparent vehicle activity at the UEP nor any clear signatures indicating whether the plant is operating. However, vapor emissions are observed coming from the nearby Uranium Dioxide (UO2) Conversion Plant, which provides feed materials for possible production of uranium hexafluoride (UF6) for the UEP and manufacturing of uranium metals for the fuel rods of the 5 MWe Reactor.
Figure 5. Vapor emissions observed at UO2 Conversion Plant.