Spotlight: North Korea-Russia Transport Infrastructure
On September 6, the US Department of State said Russia's Ministry of Defense is "in the process of purchasing millions of rockets and artillery shells from North Korea for use in Ukraine." If true, this is just one of many signs in recent months of deepening cooperation between Russia and North Korea beyond normal political support. This may also indicate the beginning of larger movements of goods and people between the two countries in the coming months. While it is unlikely that commercial satellite imagery will capture these kinds of movements, it is worth examining the transportation infrastructure between these two countries.
The North Korea-Russia Border Infrastructure
While the vast majority of North Korea's 1,433-km northern border is shared with China, a small 17-km stretch borders Russia.
Due to its short length and remote location, tucked away in the very northeast of North Korea in the Rason Special Economic Zone, this border area normally gets little attention. The majority of trade goes from or through China to North Korea rather than Russia, and few defections are made across the Tumen River, which serves as the natural boundary.
There is no road bridge between the two countries, but there is one of only a handful of international railway routes connecting North Korea to mainland Asia. The 800-m-long Tumangang Friendship Bridge (Korea-Russia Friendship Bridge) connects the Russian railway network with North Korea, although the interconnection is not so simple.
North Korea uses the international standard 1,435-mm track gauge (distance between rails), but Russia uses a 1,520-mm gauge. This means Russian and North Korean trains cannot run on each other's tracks. As such, a dual track has been built that contains rails spaced at both the North Korean and Russian gauges.
Figure 1. The dual-track arrangement can be seen in this image from the Russian port operator, Rason Transnational Container Transportation JVC.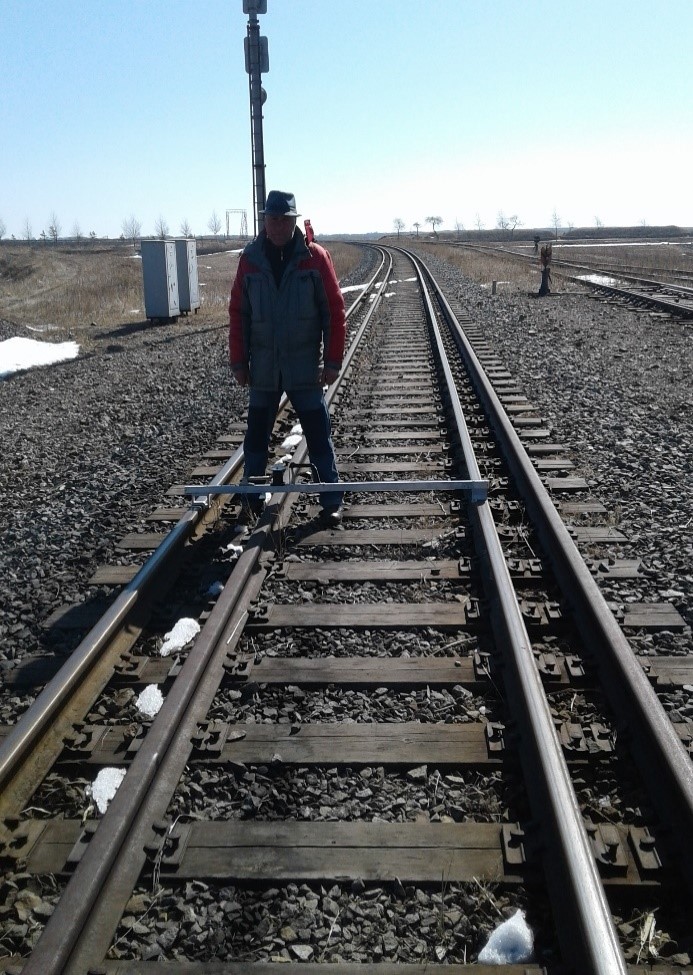 This track runs from the Tumangang Bridge for 54 km into North Korea to the port at Rason, where a Russian company operates one of three piers. The Rason Transnational Container Transportation JVC invested in the port in 2008 and took a 49-year lease on the pier. The port and railway line were opened in 2014 in the hopes of using Rason to serve the Russian Far East, especially during the winter when Vladivostok port is iced over, but Rason remains ice-free.
Figure 2. The Rajin-Khasan Railway Line.
Sale Route?
The logistics of any sale between North Korea and Russia will depend in part on the actual munitions in question. The US government has not provided details beyond "rockets and artillery shells." Rockets can come in many sizes, but many are small to be fired from multi-tube launcher vehicles, or hand launched by infantry. Assuming that is what is included in this sale, they will likely get packaged in boxes or crates and could be transported by several means.
Along the length of the dual-track railway line, there are a few places suitable for loading freight trains. The first and most obvious location is the RasonConTrans-operated pier number three, where Russian trains have already been loaded with material.
Figure 3. Overview of railway lines in the port at Rason.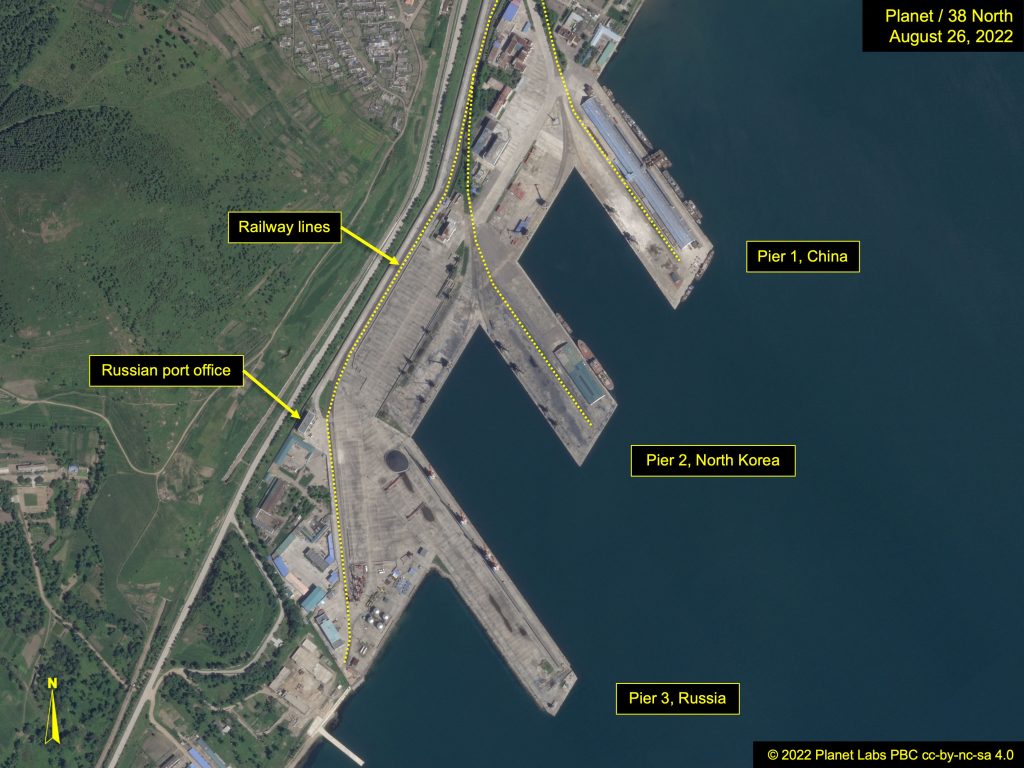 A second location is a recently built facility near the town of Tumangang, just inside North Korea. Improvements on an existing facility began in the second half of 2021, and it is presumed to be a quarantine center for goods entering North Korea from Russia, although it does not appear to have been used to date.
Figure 4. Recently built facility near Tumangang.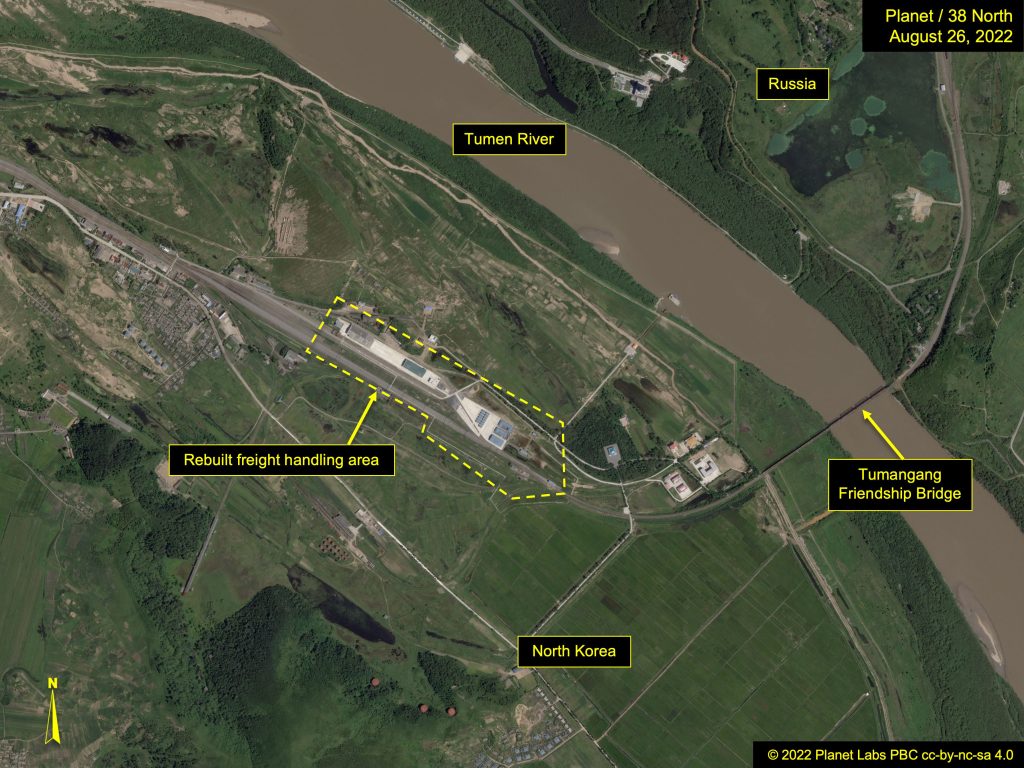 It is also possible shipments may take place via sea or air. The two countries share a short maritime border, and vessels can pass directly from North Korea to Russian waters without entering international waters.
Many of North Korea's civilian and military airfields can accommodate military transport aircraft. All jet-capable runways are at least 2,000 meters in length, and some are up to 2,800 meters. The main runway at Sunan International Airport in Pyongyang is 4,000 meters long and is dual-use, as is the airport at Wonsan with a 3,500-meter runway. If aircraft were to be used to transport munitions or other supplies in the future, it could be from anywhere in the country.
Conclusion
Due to the nature of the cargo and infrequent satellite imagery coverage available to the public, it will likely be difficult to detect specific shipments from North Korea to Russia. However, given the flurry of high-level messages between President Putin and Kim Jong Un pledging deeper bilateral relations and these early signs of military-to-military cooperation, we can expect to see an uptick in traffic on routes between the two countries in the coming months.