Parade Training in Full Swing
Commercial satellite imagery from January 21 reveals extensive parade preparations are underway, as a few state holidays draw near. This includes drills and rehearsals both in Kim Il Sung Square in downtown Pyongyang and at the Mirim Parade Training Ground.
Kim Il Sung Square
At the square, hundreds of marchers are observed practicing formations on the plaza nearest the grandstands located to the west. A separate formation of personnel is marching down the parade route, practicing a pass by the VIP viewing stand.
At the four corners of the plaza, four canvas partitions have been erected, and two additional partitions have been placed on the opposite side of the parade route, one on either side of the viewing stand area. These are temporary structures, probably erected to provide a degree of privacy to parade planners or host other activities as the practice for the forthcoming event.
Figure 1. Formations being practiced in Kim Il Sung Square.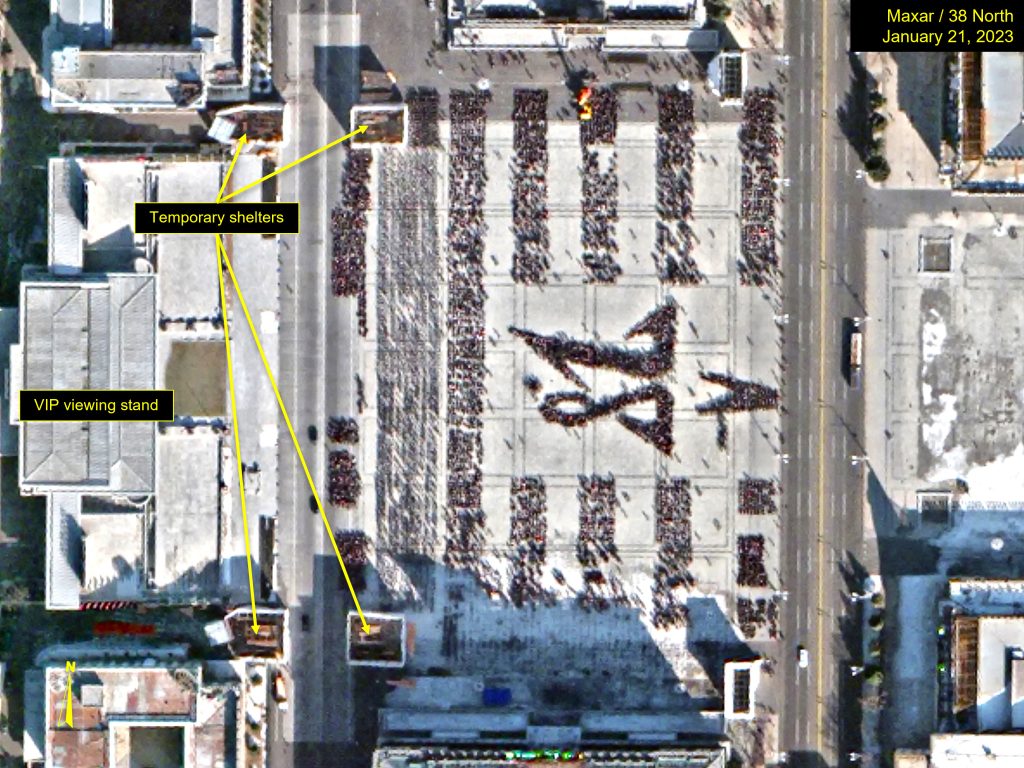 Mirim Parade Grounds
Parade training continues at the Mirim Parade Training Grounds, a facility purposely constructed for military personnel to practice routines ahead of major parades. The grounds provide a replica of the Kim Il Sung Square, including Kim Jong Un's viewing stand. Other features include the April 25th Hotel, used to house senior personnel during the training period—which can last weeks to months—as well as a secure vehicle storage facility, designed to house specialized heavy military equipment. Built in 2020, this storage facility helps conceal what kinds and how much heavy equipment will be featured in forthcoming parades. Last year, two additional hotels were erected in the northeast corner of the training ground. It is unclear whether they are operational, since approximately 30 large tents, presumably to house troops, have been erected in the inner courtyard of each hotel.
In the north-central part of the complex, there are two fields which serve as parking lots for troop trucks and buses used to transport the soldiers and personnel to the grounds. Currently, there are over 700 troop trucks present, meaning there are several thousand troops on site. These trucks first started arriving around December 6, 2022, and parade training had begun by December 9.
On imagery from January 21, 2023, thousands of troops have been organized into parade formations, although several groupings appear to be either dispersing or assembling, the former likely being the case.
Figure 2. Troops training in formation.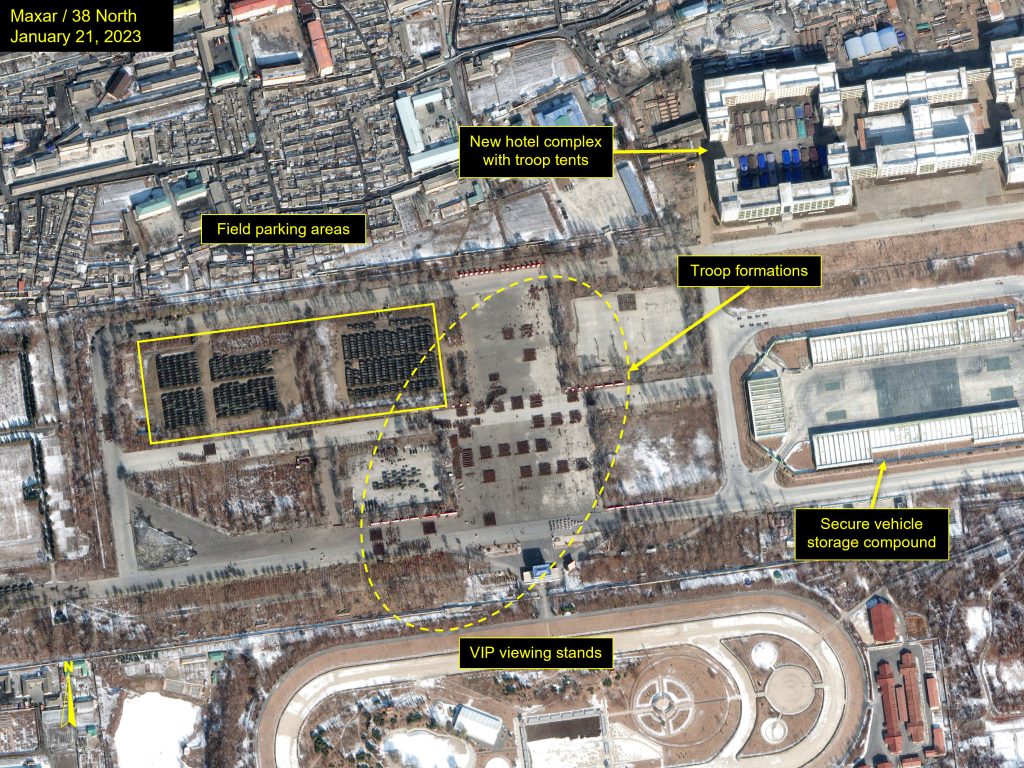 Figure 3. Close up of formations.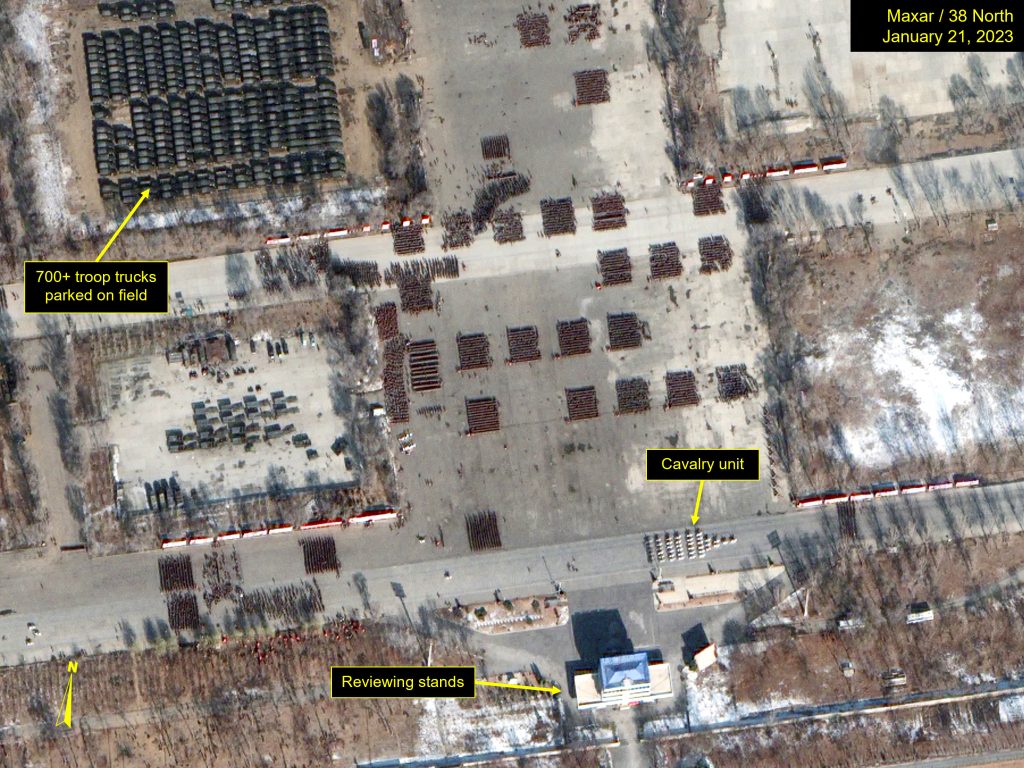 On the practice routes around the complex, a mix of vehicle and personnel formations can be seen moving about. This includes a mounted cavalry unit—the horses distinguishable by their shadows on the ground.
Figure 4. Close up of mounted calvary unit.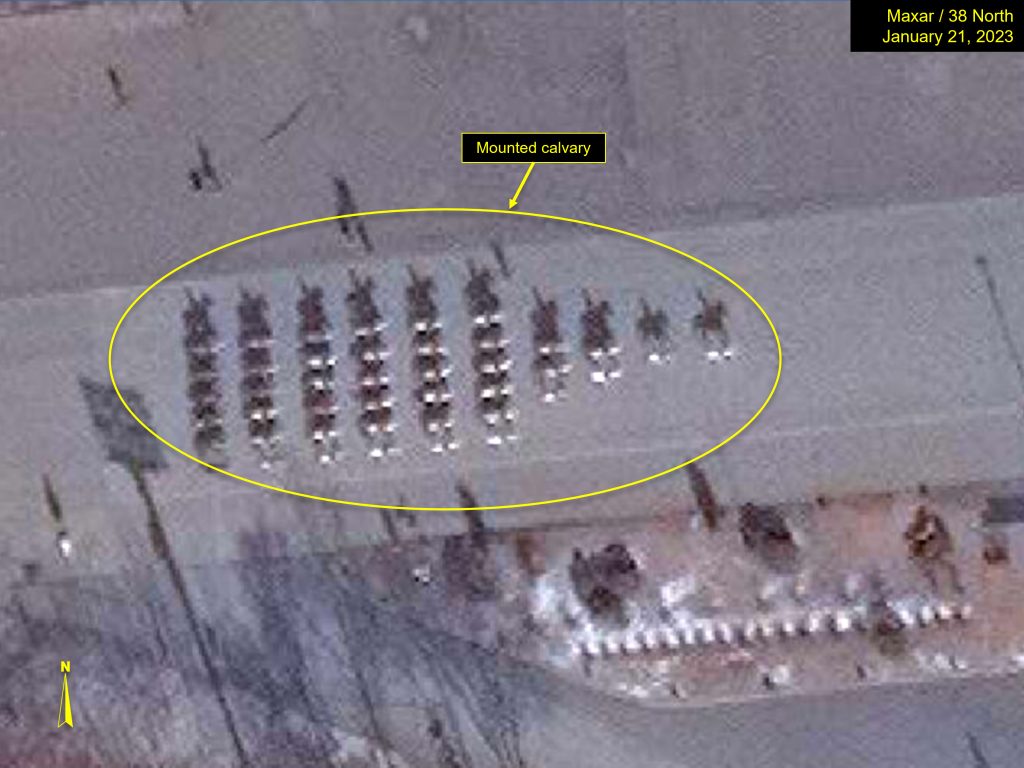 While no specialized vehicles are observed in the secure vehicle storage area, vehicle tire tracks abound, and a probable mobile crane can be seen the southeast entrance. Nearby is a covered object measuring 27 meters by 6 meters. In addition, four containers are located on a grassy area in the northwest part of the secure area, and another six are located in the northeast corner. While their content is unknown, these crates vary in length, some of which are large enough to house a cruise missile. At the northwest entrance, a curved, partially covered shelter, measuring approximately 21 meters in length has been added; its purpose is unclear.
Figure 5. Vehicle tracks and temporary structures observed at the heavy military equipment storage facility.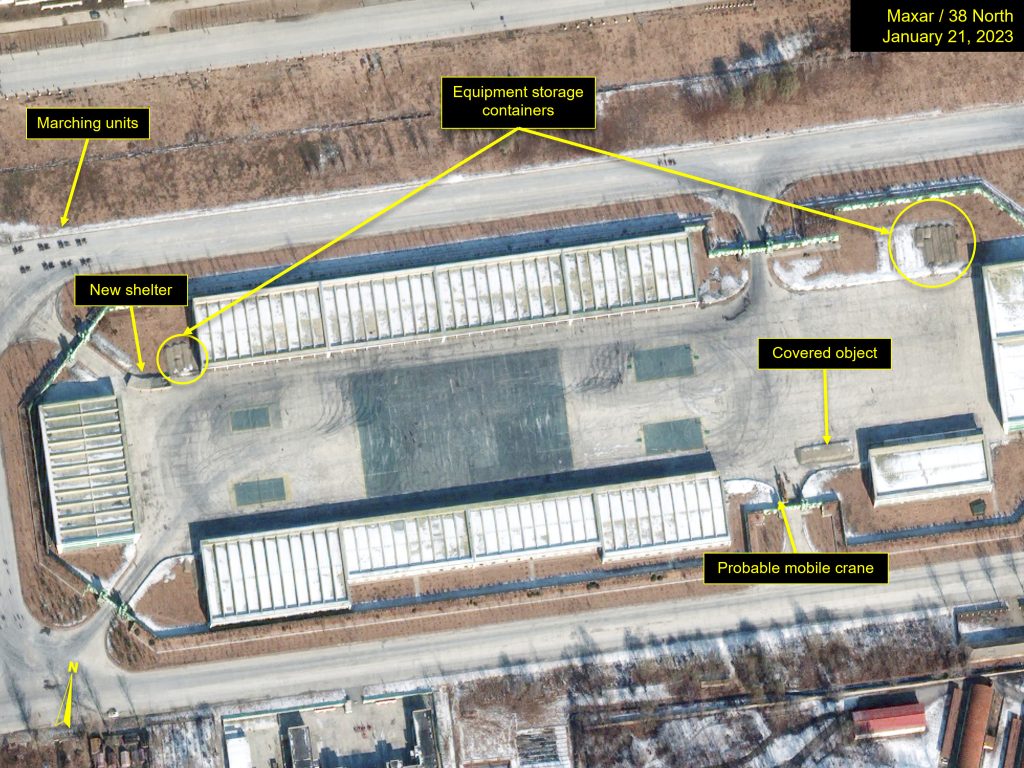 The activities seen at Kim Il Sung Square and at Mirim will likely continue up until the day of the official parade, which could be held on February 16, Kim Jong Il's birthday or "Day of the Shining Star."