Sohae Satellite Launching Station: New Construction Appears Along Coast
Recent commercial satellite imagery of the Sohae Satellite Launching Station indicates new construction is taking place at an area along the coast previously used for agricultural purposes. It is unclear what this new construction will amount to but it is likely part of the overall effort to modernize and enhance the satellite launch facility, per Kim Jong Un's goals set forth in March 2022.
Construction continues on the infrastructure connecting the secure launch facility down to the new port area, while work on the launch pad does not appear to be moving forward, at least not on anything observable.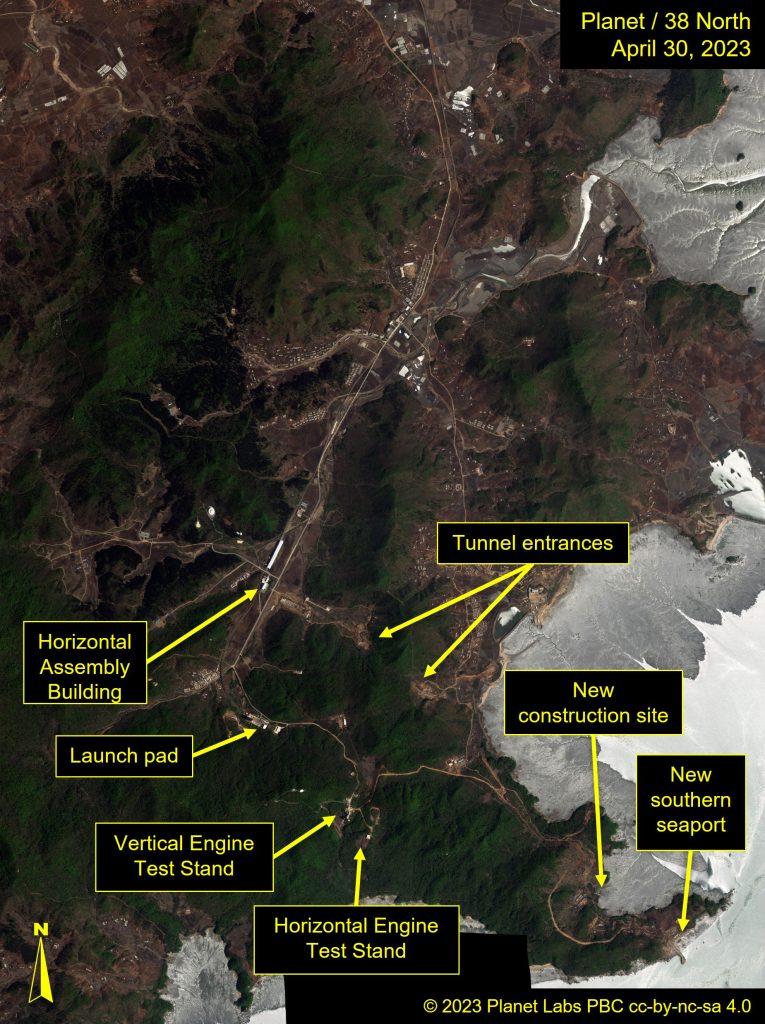 New Construction
The new construction site is about one kilometer north-northwest of the jetty construction that has been ongoing since October 2022. When finished, this new port area will likely be used to receive materials to be brought into a secure launch facility via a new roadway and underground tunnel.
At this new construction site, the agricultural buildings were razed about two-three weeks ago, and new construction began between April 19 and April 30. A little more than a week later, the first floor of one building appears nearly complete. Temporary worker barracks are also in place.
On April 30, several trucks were visible, hauling building material to the construction sites. Some trucks may be traveling from the building material piled on the apron of the Vertical Engine Test Stand (VETS) to the new construction site.
The specific purpose of this new construction is unclear. The shallows are exposed at low tide and extend 200 meters from the shore, so accommodating vessel traffic would be questionable and require considerable dredging.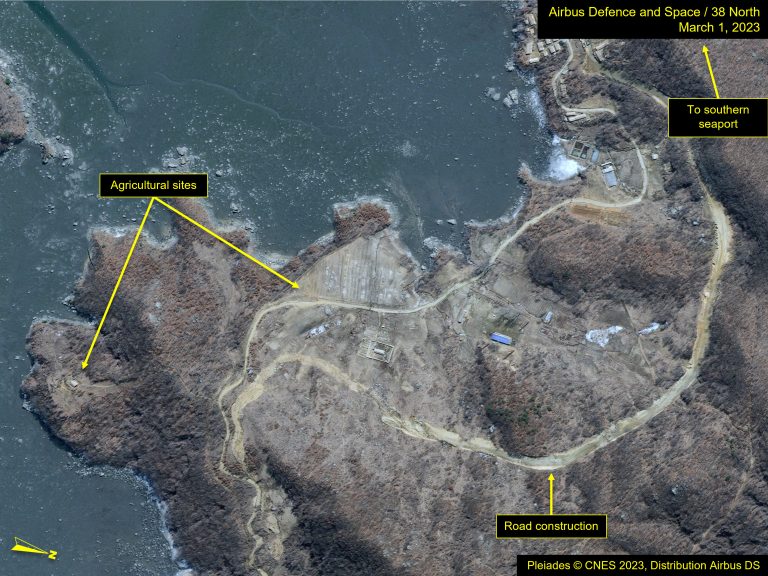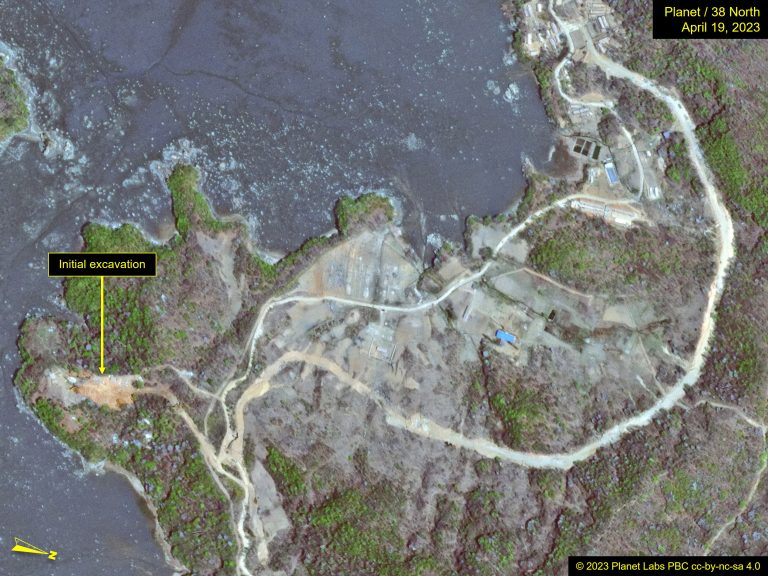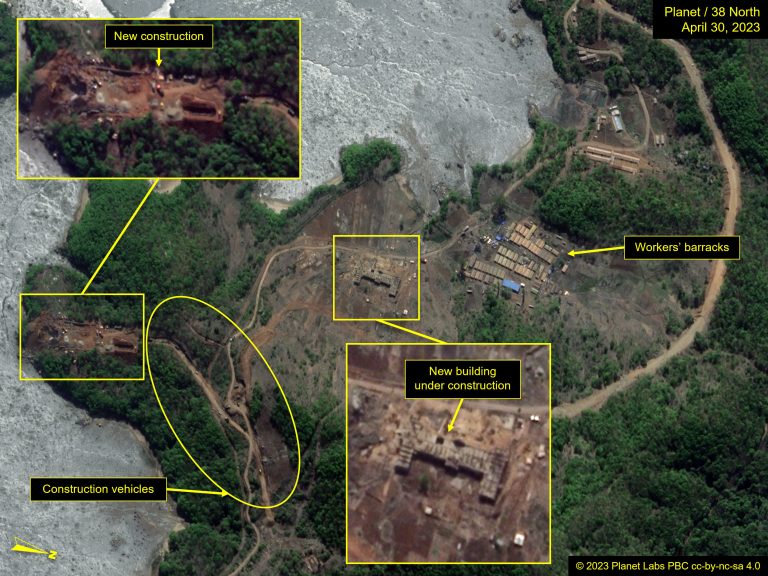 Other Activity
Construction of the underground tunnel continues, and several vehicles are observed outside the East and West Tunnel entrances. The support building at the West Tunnel entrance has a visible foundation along with walls and internal structures.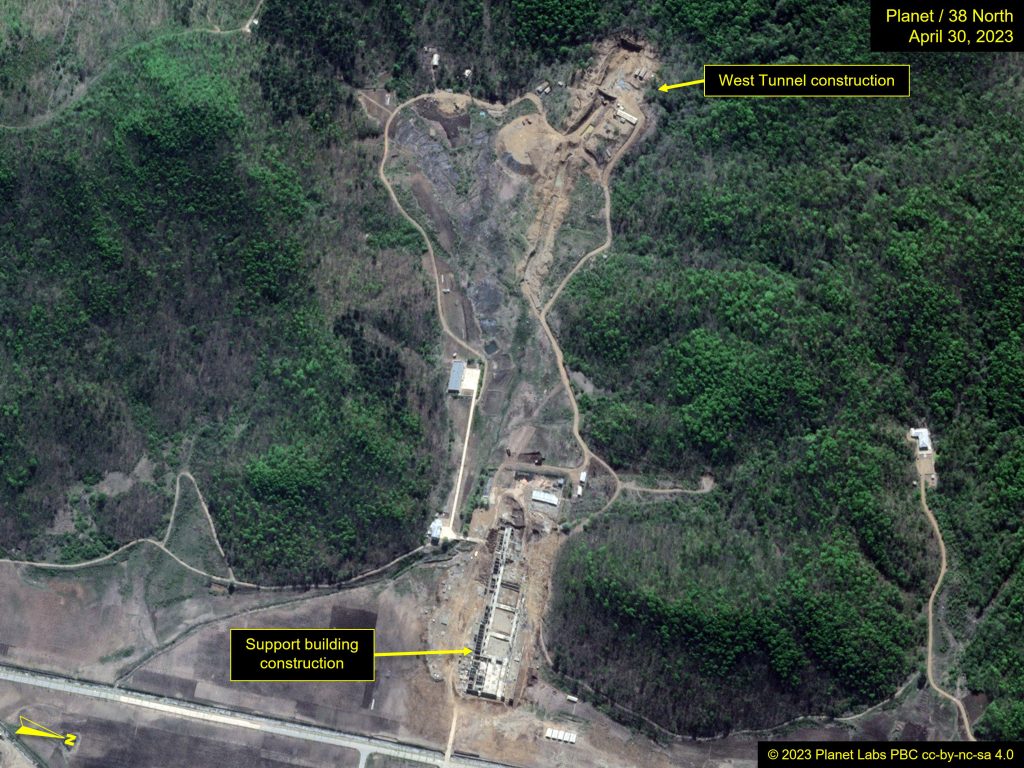 Between January and April 2023, no substantial developments have been observed at the launch pad. The gantry tower and wall sections remain stored on the pad awaiting installation, as they have been for several months now. Only minor vehicle and construction activity is noted at the Vertical and Horizontal Engine Test Stands.