Rice prices up in North Korea, market price data says. How bad is it?
By Benjamin Katzeff Silberstein
Asia Press reports that rice prices have "skyrocketed" in North Korea this month:
The price of domestic rice, which stood at roughly 4,500 won (about 0.53 USD) per kilogram for most of the year, began to rise in July, surpassing 5,500 won (about 0.65 USD) per kilogram by the end of the month.

Multiple reporting partners living in the northern regions of the country were asked to investigate the reason behind the rise in the price of rice.

A reporting partner living in a city in Hamgyong Province explained, "The rice merchants say that, 'domestic rice is scarce, so it is only a matter of time before it runs out'. The rise in price will likely continue from after the next harvest until the end of the year."

Still, rice is not disappearing from the markets. Imported Chinese rice is sold at stable prices across all markets.

Most of this Chinese rice, however, is old and was harvested some time ago. The North Korean government, though, continues to import the low-quality, cheap Chinese rice, favoring 'quantity over quality'.

Domestically produced North Korean rice, on the other hand, is not old and sticky. Due to its higher popularity, it is generally 5% more expensive than Chinese rice. This slight price difference was very stable and had remained unchanged over the last 20 years.

The cause of the domestic rice's scarcity and subsequent rise in price is presumed to be the effects of last year's heat wave and drought on production.
A rise from 4,500 won to 5,500 in only a few weeks is indeed quite noteworthy and potentially alarming. But what does context tell us?
I know very little about where in the country Asia Press sources its price data from, but I suspect it's primarily or perhaps even only North Hamgyong province. It does seem like this steep price rise may be a somewhat localized phenomenon. Looking at the Daily NK price data gives us a little bit of a clue. It hasn't been updated since July 23rd, so it may be that it will catch up and register similar shifts later on. But looking at the numbers for the past few weeks, prices in Hyesan have increased much more than in Pyongyang and Sinuiju.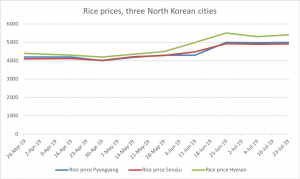 So this might, for various reasons, be a localized phenomenon.
It should also be noted that prices usually rise during the summer months, as the next harvest draws closer, and storage runs lower and lower. Prices last summer around this time were much lower than present, but in 2017, they were significantly higher. So I would caution against drawing any hard conclusions as of now, and hopefully the next report by Daily NK will tell us more.
View Original Article