Looking Forward: Unanswered Questions
Continued from:
"North Korea's Special Economic Zones: Plans vs. Progress"
Although the DPRK intends to continue rolling out new special economic zones, the control, purposes and locations of publicly announced zones are often changed ex-post, raising a concern that when a new zone is announced, key parameters are still subject to future alteration by the DPRK bureaucracy. For instance, when the Chongjin Economic Development Zone was first announced in 2013, it was reported that: North Hamgyong Provincial Chongjin economic development zone will be set up in areas covering part of Wolpho-ri, Susong-dong and Namsok-ri, Songphyong District. [1]
A map of the zone was published in 2014 which basically confirmed the inclusion of the previously specified locations.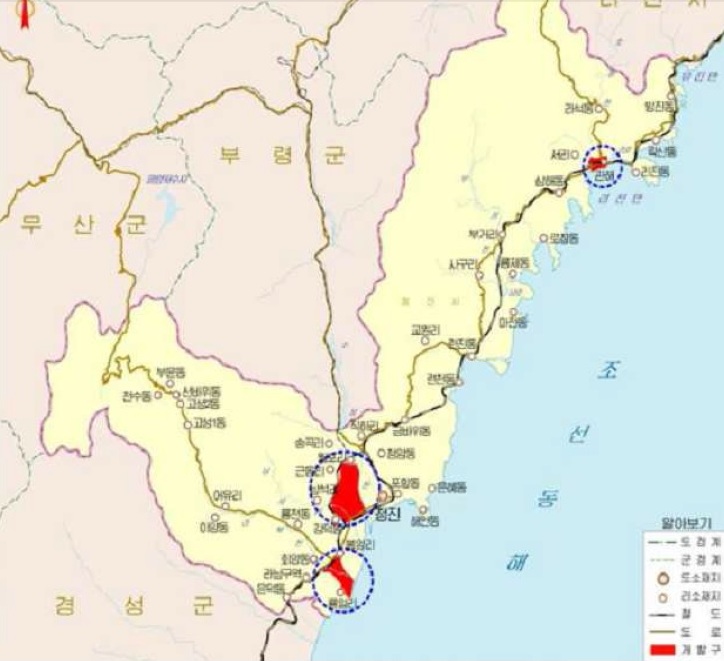 However, in 2015, the North Koreans released a revised map to potential investors which showed that the Namsok-ri area, which is surrounded by military bases, had been removed from the list; the Wolpho-ri area had been expanded to cover other areas in Songphyong District; and two new areas of Chongjin—Ryongam-ri in Ranam District and Kwanhae-dong in Chongnam District—had been designated part of the zone.
To date, none of the changes made to the makeup of the zone have been reported in the official media, so it is unclear what significance they carry, or what they mean for other "settled" development zones in the country. However, this example illustrates how North Korea's inconsistent SEZ policies and communication can erode investor confidence.
---
[1]
---