Securing Foreign Investment, 1990s
Continued from:
"North Korea's Exploration for Oil and Gas"
Building upon its efforts during the 1970s and 1980s, North Korea entered the 1990s determined to aggressively pursue foreign investment and assistance for oil and gas exploration. These efforts soon acquired the utmost urgency with the suspension of oil deliveries following the dissolution of the Soviet Union, the falloff in oil deliveries at favorable prices from China, and a period of national famine and economic collapse known as the "Arduous March." Securing overseas investment and services was extremely difficult as foreign companies—even small ones with high risk tolerance—were concerned over North Korean laws, uncertain of the profitability of such efforts and apprehensive of negative reactions from the international community.
North Korea sought to counteract some of these concerns by issuing statements and publishing data to indicate that foreign oil companies with technical assistance from Romania and China had identified vast oil reserves both in the waters off Sinuiju on the west coast and Wonsan on the east coast.[1] In an October 1992 press interview, Kim Chong U, chairman of North Korea's Committee for the Promotion of External Economic Cooperation (CPEEC), stated: "The results of drillings have confirmed that we have oil in the eastern and western seas."[2] These efforts bore fruit, and in November 1982, North Korea invited representatives from six foreign companies to Pyongyang to discuss investment and cooperation for oil exploration. Among these companies were France's Total Exploration, Australia's BHP, Canada's Kantek and Sweden's Taurus Petroleum AB. These discussions extended over three months and resulted in Taurus Petroleum AB signing an agreement to undertake full-scale offshore oil field development in the Korea Bay. This effort would begin by reviewing all earlier exploration and elastic-wave data—a process that was then estimated to take upwards of two years.[3] During February 1993, North Korea concluded a contract with Taurus Petroleum AB for full-scale oil field development in the Sohae Basin, where the probability of discovering oil or gas was considered highest.[4] Complementing these west coast efforts, North Korea also sought to secure investment and partners to continue oil and gas exploration off the east coast in the Tonghae Basin and on land in the Kilchu-Myongchon Basin.[5]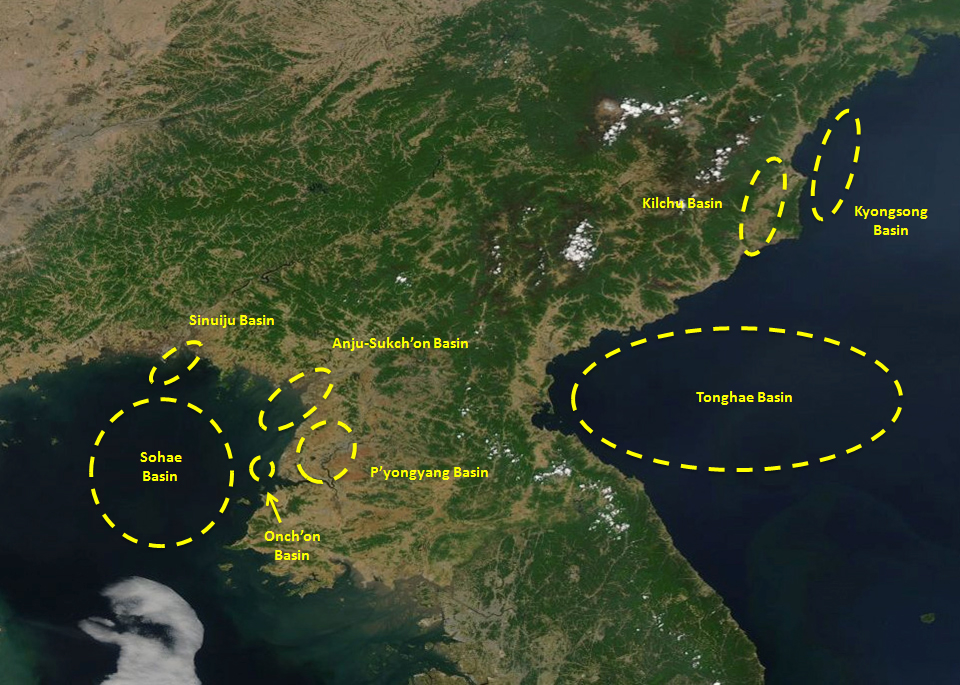 In an effort to calm foreign investors' concerns over developing disputes with China concerning the borders of economic exclusion zones in the West Sea, in December 1992, North Korean Vice Premier Kim Tal Hyon told South Korean businessmen that "…although we are in a dispute with China over oilfields, it is over now." [6] While his assertion was inaccurate, it indicated the importance North Korea had placed upon attracting foreign investment. Building upon this and other efforts to more easily attract foreign investment, the General Department of Oil Exploration was upgraded to the Ministry of Petroleum Industry in 1993.[7]
The deepening economic crisis and famine during this period spurred North Korea in 1993 to even reach out to South Korean and Japanese companies—including Lucky-Goldstar International Corp., Toyo Engineering Co., and Samsung—to finance and conduct offshore exploration in the Tonghae Basin off Wonsan.[8]
Domestically, an indication of the high priority assigned to oil exploration was seen in Premier Kang Song San's April 1994 speech to the 9th Supreme People's Assembly (SPA). In his address, Kang stated: "We will find more crude oil reserves by reinforcing exploration facilities and equipment, while making more investments in the crude oil industry sector."[9] That December, Kim Il Sung said: "If we explore the oilfields on our own strength, we can produce as much oil as we like. When people in other countries explore and produce oil, there is no condition that keep us from doing the same. Functionaries should convincingly strive to explore oilfields on their own."[10]
The majority of the international efforts would not come to fruition due to North Korea's economic collapse, its antiquated business laws and the political liability of doing business with the country. There were, however, some minor successes for small, aggressive companies willing to take on the risk. During 1994, the management team from Australia's Beach Petroleum visited North Korea and accepted an offer to acquire drilling permits for a 30,000 km squared oil exploration project in the Tonghae Basin. Subsequently, a delegation of four representatives from the North's Petroleum Industry Bureau visited Australia to examine a Beach Petroleum oil exploration site.[11]
During early 1996, the political atmosphere within Russia was right for the country to sign a protocol with North Korea that, among other things, provided for Russian assistance in exploring North Korean oil reserves. This arrangement reportedly constituted the first significant economic aid provided to North Korea since the collapse of the Soviet Union. This aid, however, failed to materialize in any meaningful manner.[12]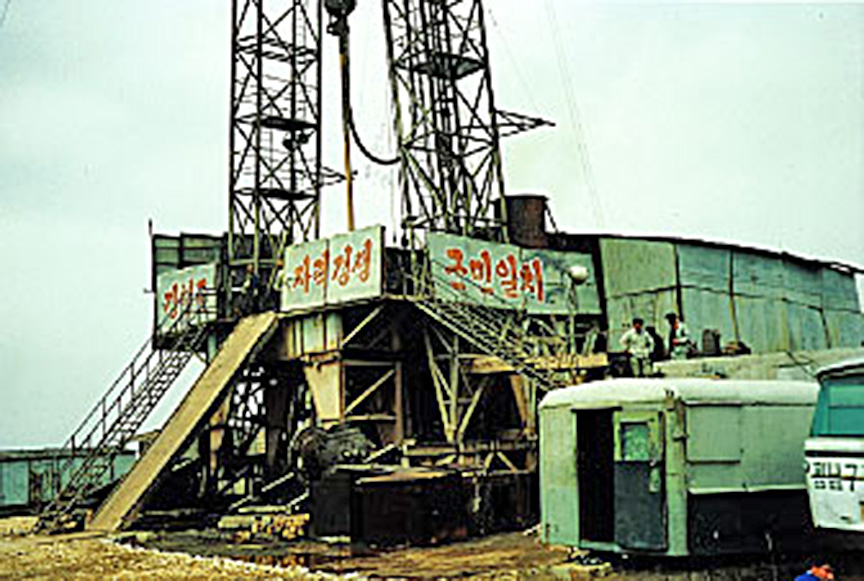 The following year, in June 1997, North Korea reported that it had succeeded in producing 450 barrels of crude oil per day from its "No. 406" well off of Nampo.[13] That same year, Beach Petroleum, which likely wanted to limit its exposure in North Korea, exchanged 25 percent of its North Korean interest to a Malaysian company, Puspita Emas Sdn. Bhd., in return for funding the costs of conducting additional seismic surveys.[14]
As a result of negotiations begun during the early 1990s, three small foreign oil exploration firms were reportedly conducting oil exploration in North Korea by the beginning of 1998: Sweden's Taurus Petroleum AB, Australia's Beach Petroleum and Canada's SOCO International Plc. In February, North Korea announced it was developing oil fields off Sinuiju and had entered into negotiations with a Taiwanese company for drilling rights in the area. Beach Petroleum acquired a concession to explore the continental shelf of Tonghae Basin, but the company withdrew from North Korea shortly afterwards.[15] In May 1998, SOCO International acquired a concession to explore 7,000 square kilometers that included both onshore and offshore areas of the Anju-Sukchon and Onchon Basins. SOCO began drilling operations using a local North Korean contractor operating an old worn-out Romanian-manufactured drill rig.[16]
Later in 1998, Hyundai Group founder Chung Ju-yung visited Pyongyang and, in the first of a number of meetings with Kim Il Sung, discussed numerous economic development projects, including the exploration for oil in the Korea Bay and East Sea. While a number of the projects discussed would ultimately see fruition and some degree of success, efforts at oil exploration failed to produce tangible results.[17]
By the end of the 1990s, North Korea had identified nine potential oil and gas basins of uncertain size and economic value:[18]
Anju-Sukchon, onshore to offshore
Kilchu-Myongchon, onshore
Kyongsong, offshore
Onchon, offshore
Pyongyang, onshore
Sinuiju, offshore
Sohae, offshore
Taeryong, onshore
Tonghae, offshore
Of the five foreign oil and gas firms that had been involved in three offshore exploration projects and one onshore exploration project in North Korea since 1994, none had endorsed the country's inflated estimate that it possessed between 58 and 73 billion barrels of oil in undersea reserves. In fact, none had confirmed any substantial and economically viable oil or gas reserves.[19] It was likely a result of these poor showings that, in 1998, the State Administrative Council dissolved the Ministry of Petroleum Industry.[20]
Return to last section: Nationwide Exploration, 1980s
Next section: Renewed Efforts to Attract Foreign Investment, 2000-Present
---
---