Kim Jong Un's Aunt Edges Further From the Spotlight
Since 2009, North Korea has held a single state funeral each year and named all of its top officials to the event's organizing committee, allowing outsiders a glimpse at an approximate top-to-bottom ranking of the country's elite. An individual's placement on the publicly issued annual roster suggests where that official stands in relation to others in the hierarchy, and unexplained disappearances can signal who may have recently left power—either by choice or force.
One of the lesser-noted exclusions from the 2015 state funeral committee—established in November following the death of Korean People's Army (KPA) Marshal Ri Ul Sol—was the name of Kim Kyong Hui, a sister and close aide of the late leader Kim Jong Il and the aunt of Kim Jong Un, the DPRK's current leader. Madame Kim played a key role in her nephew's 2012 succession, but more recently, has retreated into the shadows. South Korean intelligence officials have rejected reports of her death on multiple occasions[1] since her last public appearance in December 2013, when she served as a member of the state funeral committee for another senior official.[2] The last time she was reported and observed attending an event was in September 2013.
Under different circumstances, she may well have assumed a prominent role in Ri Ul Sol's state funeral last month. The late KPA officer acted[3] as a surrogate parent both to Kim Kyong Hui and her brother Kim Jong Il, creating lifelong bonds between them.[4] If Madame Kim were still a member of the Workers' Party of Korea (WPK) Political Bureau, her close relationship with the decedent would have given her very high placement on a state funeral committee; her name would have been one of the first in the call-out order on state broadcasting and one of the first listed in the state press. Kim Kyong Hui's absence from this year's funeral committee therefore means that she has effectively retired from the DPRK's political culture and is no longer a member of the country's leadership.
Kim Kyong Hui's lack of participation in this year's state funeral should be considered alongside the absence of Choe Ryong Hae, another missing elite official who supported Kim Jong Un during his hereditary succession.[5] The exclusion of these two figures, taken together, is a reliable indicator that Kim Jong Un no longer needs the regents who were installed to support his transition. His status as supreme leader and his internal political position are now established and secure, contrary to speculation that the upheavals within his inner circle are a symptom of instability within the regime. Yet, as Kim Jong Un has taken fuller control, his government has grown less predictable without the steadying hands of his confidantes.
Figure 1. Kim Kyong Hui in 1980.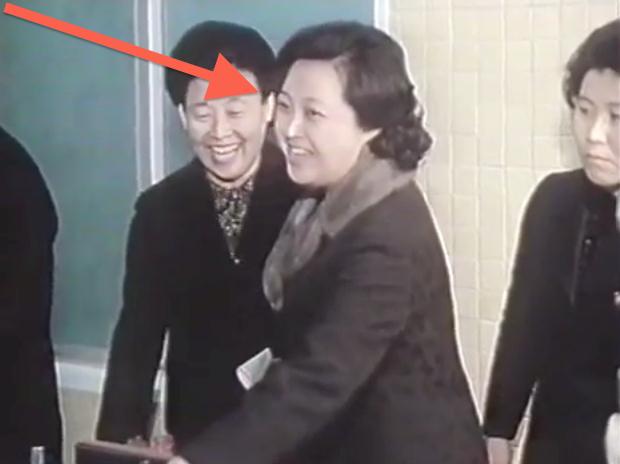 Figure 2. Kim Kyong Hui and Kim Jong Il in May 2009 at Tongbong Cooperative Farm.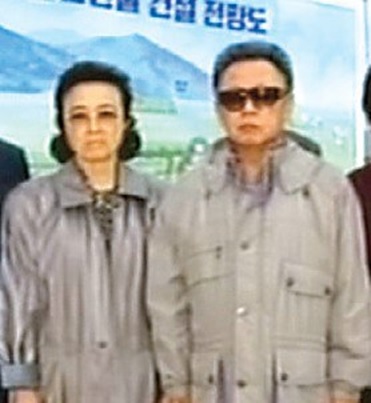 Pyongyang watchers have speculated intensely about Kim Kyong Hui's political stature and her actual role in the regime since she made her public comeback (after a six-year absence) in May 2009. It was that month that state media explicitly identified Madame Kim as a member of the leader's entourage in an on-site visit, granting her a level of exposure that may have been unprecedented in her four-decade career. A commemorative photo of her visit to an agricultural center with Kim Jong Il was telling: she stood beside her brother and the farm's managers, attired in a feminine version of his olive-tan jumpsuit and a gray jacket resembling his off-white parka. The siblings both wore sunglasses and held the same stern expression for the camera. The internal message of Madame Kim's public comeback was clear: she was to be considered roughly equal to Kim Jong Il, and should his health give out, she possessed the necessary authority to implement his final will and lead the transition to his successor. Kim Kyong Hui, after all, had proven her loyalty to her brother and her ability to wield power the previous summer, when Kim Jong Il suffered a major stroke in August 2008. While the leader was incapacitated and bedridden, Madame Kim moved quickly to ensure the continuity of her brother's power and his predominance in the North Korean political system. Along with Kim Jong Il's administrative secretary and fifth wife, Kim Ok, and to a lesser degree Jang Song Thaek and General O Kuk Ryol, Kim Kyong Hui ensured that documents submitted to the Suryong were processed, that certain decisions were ratified and that the Pyongyang Defense Command and Guard Command were placed on heightened alert in the unlikely event of a coup.
From then on, Kim Kyong Hui was a constant presence at her brother's public appearances, even if her presence was not chronicled or photographed. In addition to ensuring that all of the Suryong's instructions were implemented, she rallied elite support for Kim Jong Un's hereditary succession. In a symbolic appearance, she sat with Kim Jong Un at the Third Party Conference in September 2010, the dynastic heir's first massive public introduction outside North Korea.
It cannot be underscored enough that Kim Kyong Hui had always been fairly reticent in assuming a public role in the country's political culture. While she appeared in official family photographs alongside Kim Il Sung and Kim Jong Il, held senior positions in the WPK, attended political gatherings and even attended on-site visits (albeit unreported) with Kim Jong Il, her substantive roles were always behind the scenes. She owned foreign trading corporations, maintained ties to the DPRK's intelligence community and served as a hostess at elite banquets. Among the wives of senior DPRK elites, Kim Kyong Hui acted as the "queen bee." In this capacity, she regulated the personal affairs (such as marriages and job assignments) of members of the extended Kim family, and she held enormous influence over which elites interacted with one another in social and personal settings. While she and her husband Jang Song Taek once operated as a power couple under certain social auspices, they had separate power bases and different patronage networks in the regime. (Madame Kim wielded more actual power than her husband did prior to his 2013 execution.) She leveraged these roles and this power to usher Kim Jong Un into power four years ago, and she stuck around long enough to guarantee that Kim Jong Il's political will[6] was implemented (including the allocation of monies, ownership stakes in foreign trading corporations and the elimination of deadweight political functionaries).
In the fall of 2012, Kim Kyong Hui had a minor stroke which temporarily sidelined her from North Korean political life. By this time, she was already commuting between residences in Pyongyang and elsewhere in Asia, showing up for major state events or when her nephew needed her support. By the middle of 2013, she was transitioning into semi-retirement and largely serving as an adviser to Kim Jong Un. She and her husband Jang Song Thaek had long been estranged from one another, but they continued to appear next to one another in public until Jang's downfall in 2013.
Her role in Jang Song Thaek's arrest, dismissal and execution has been the subject of debate and discussion among Pyongyang watchers for the last two years. Whatever trespasses Jang actually committed must have been so severe that Madame Kim assented to her husband's removal from office and, probably, his execution. Despite their strained marital relations and whatever her husband had done to offend the regime, one can only fathom the mental pain she experienced at seeing the disgrace and death of someone she had known intimately for 50 years. It is safe to say that once that decision was implemented, Madame Kim faced the severe psychological trauma that often accompanies the death of a spouse, even an estranged one. Whether out of disgust, grief or an agonizing reappraisal of how she wanted to spend her golden years, Madame Kim left the country's political scene on her own quiet terms. She has vacated her previous political positions, with the exception of her nominal membership in the Supreme People's Assembly. While she traveled to her home country on a handful of occasions in 2014 and 2015, she has largely lived abroad.
Figure 3. Kim Kyong Hui (2nd right) and Jang Song Thaek (2nd left) in August 2012.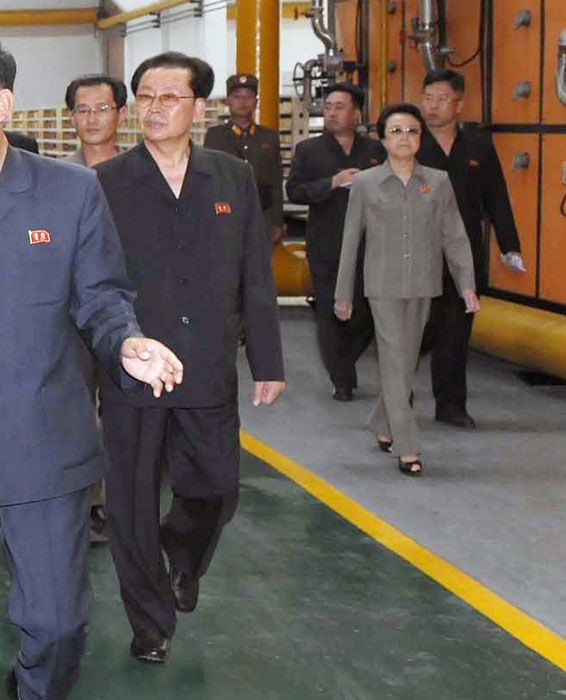 Kim Kyong Hui's quiet exit from North Korean political life contrasts with the very public downfall of her husband. It also flies in the face of the noisy speculation in South Korean and Japanese media about her health,[7] her personal life and, most importantly, her political standing within the regime. She continues to enjoy a revered status unlike any other figure in North Korea, with the exception of the three supreme leaders. It would have been next to impossible for her husband to face the firing squad without her assent, however reluctantly she might have given that approval. By signing off on his execution in spite of her own clout, Kim Kyong Hui proved that her nephew is firmly in charge.
Yet, outside inferences of regime instability are correct in one specific sense: the style in which the government forms policies and conducts its internal affairs has grown increasingly turbulent in the absence of Kim Jong Un's aunt and other close confidantes. Kim Kyong Hui's retirement from the North Korean political scene two years ago may have helped to clear the way for extensive personnel changes that have occurred since, and the absence of her steadying hand is apparent in moves such as Pyongyang's decision to cancel a limited concert engagement in Beijing by the Moranbong Band and Merited State Choir—a diplomatic slight to China with little conceivable benefit to the DPRK.
Were Madame Kim still on the political scene, she might have advised her nephew against taking such hasty actions. And while North Korea's internal political culture and the horse trading among its core elite seem volatile, external observers—especially government policymakers—should be wary about jumping to conclusions.
———————————-
[1] "Kim Jong-un's Aunt 'Not Poisoned,'" Chosun Ilbo, May 14, 2015, http://english.chosun.com/site/data/html_dir/2015/05/14/2015051401836.html.
[2] Tellingly, Kim Kyong Hui did not appear on a subsequent funeral committee in July 2014, an early indicator that she was drifting from the political scene.
[3] Cheon-lim Jae, Kim Jong Il's Leadership of North Korea (London: Routledge, 2009), 21-23.
[4] According to Kim Jong Il's official biography, "Kim Jong Il loved his younger sister with all his heart…his careful attention not to worry his father who was under the pressure of state affairs became maternal love and flowed into his sister's heart." Kim Jong Il Biography. Volume 1. (Pyongyang, DPRK: Foreign Languages Publishing House, 2005), 17.
[5] Madame Kim was Choe's primary patron for many years. If she were still part of Pyongyang's political scene, though, she probably could not have saved Choe from the round of re-education he is presumably now enduring.
[6] According to open source reporting and corroborated by two sources tied to the Kim family, Kim Kyong Hui was present when Kim Jong Il passed away in December 2011.
[7] ROK media have long speculated, with very little factual support, about Kim Kyong Hui's health with accounts pointing to back surgery, kidney disease, heart disease and depression. The most prevalent rumor, which has recurred in ROK media for over a decade, is that Madame Kim has Wernicke-Korsakoff Syndrome, a health condition commonly known as "wet brain" that is suffered by alcoholics. While Madame Kim was a prolific drinker at elite banquets during the 1980s, she reportedly abstained from alcohol consumption beginning in 2010.