UNSCR 2270: A Conundrum for Russia
The international community's relationship with North Korea has reached a bifurcation point that may have far-reaching consequences for the strategic positions of key national players. Specifically, the latest UN sanctions against the DPRK appear likely to substantially harm Russian economic and security interests on the Korean peninsula.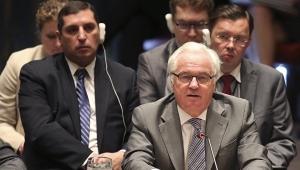 Since the early 2000s, Russia has grown used to managing North Korea's cycle of provocations, which has raised and eased regional tensions as reliably as seasons change. Yet the international community's strong unanimous reaction to the DPRK's latest nuclear test and rocket launch, reflected in the particularly robust international sanctions passed on March 2, may mean the tide has turned against Moscow.
Moscow's Grievances
Russian-North Korean relations appeared, until recently, to be trending in a positive direction, but Kim Jong Un has now even exhausted the patience of friendly countries, which see his most recent provocations as a threat to their interests in the region.[1] North Korea's latest nuclear test and satellite launch caught Russia in a double-bind; even as they harmed the DPRK's reputation among Russia's leaders and public, Moscow remained unwilling to significantly distance itself from Pyongyang. Lacking China's level of leverage over North Korea, Russia would only guarantee a reduced role for itself in any future Korean settlement by curbing its ties with the DPRK.
Therefore, Russia found itself in a precarious position in late February, when the United States submitted a draft UN Security Council Resolution (UNSCR) containing measures that were detrimental to vital Russian economic interests. Russia fell prey to a decade-old arrangement in which it has supported—often with some reluctance—measures on North Korea agreed upon by China and the United States. This practice backfired in the latest round, as no one had consulted with Moscow on proposals that clearly ran against its interests.[2] The final UNSCR contains a number of amendments introduced by Moscow, but it still will have an overall negative impact on Russian economic projects in the DPRK and on Russia's role in addressing the North Korean nuclear problem.
The resolution's financial restrictions will probably lead to a ban on ruble-based transactions between Russia and North Korea, a significant practice the sides had recently instituted in support of bilateral trade. The UNSCR may also obstruct plans for a new financial clearing house to facilitate transactions between the Russia and North Korea. In this scenario, Russian banks would stop dealing with North Korean counterparts, including those engaged in humanitarian cooperation.
Yet the implementation of Russian projects in North Korea is where the new resolution could prove most devastating. Its severe restrictions on North Korean mineral exports will undermine the DPRK's only means to compensate Russia for investments and deliveries, given the DPRK's scarce financial resources. This model was foundational to North Korea's economic relationship with Russia, and it constituted the basis for potential Russian projects in North Korea such as the construction of electric power stations and metallurgic plants.[3]
Russia had planned to re-export North Korean coal and iron, and it was interested in precisely the rare earth and non-ferrous metals targeted by the new resolution. China is likely to stringently enforce this export ban, given its interest in maintaining its current monopoly in the market for these minerals. The transit of coal also promised a return on a Russian Railways investment of more than $300 million in a rebuilt rail link between North Korea's Rajin port and Khasan in Russia. Though an eleventh-hour UNSC compromise will allow the rail line to remain in operation, its use will probably decrease as a result of new logistical difficulties. Moreover, South Korea's refusal to receive coal through that channel undermines the rationale for this trilateral logistics project, making its continuation doubtful.[4]
The resolution's requirement for all cargo entering and leaving North Korea to undergo inspection is bound to slow transportation, despite the vague definition of what constitutes an "inspection." This mandate also may increase costs from possible corruption, given on-the-ground realities in Russia. The UNSCR's impact on North Korean trade will largely depend on how the sanctions are implemented, especially by China. North Korea may well feel tempted to use Russia as a transit point, since the sea border between the two countries is still more or less open. A new pontoon bridge is under construction, although the prospects of its completion are no longer clear.
This analysis estimates that Russia's losses will amount to several hundred million dollars, based on an assumption that the value of its trade with North Korea now stands at roughly $1 billion.[5] The sanctions may preclude further opportunities for projects and trade. The limits and outright bans on North Korean exports of coal, iron and iron ore, gold, titanium, vanadium and rare earth minerals are likely to negatively affect the country's stated priority of economic revitalization. Subsequent delays in economic development will slow possible North Korean implementation of market-oriented reforms, decrease production and demand in its economy, and undermine any possibilities for Russian companies to enter the North Korean market as normal traders.
China's Position
Russia is also concerned with China's new, tougher stance toward North Korea. Beijing initially responded with restraint to Washington's proposed sanctions, denouncing Pyongyang while expressing readiness only to support sanctions that specifically targeted North Korea's nuclear and missile activities.[6]
Why did China's position evolve so greatly over several weeks of negotiations with the United States? Some experts believe that China hoped Washington would agree to resume negotiations, potentially offering North Korea a peace treaty in exchange for satisfactory resolution of the nuclear issue. One also cannot dismiss the possible influence of the official start to US-ROK talks on potential deployment of the Terminal High Altitude Area Defense (THAAD) system in the South. Beijing likely saw an opportunity to prevent or at least delay the deployment of a US missile defense system on the Korean peninsula by demonstrating more flexibility on sanctions against the North. It might have chosen this option despite the fact that it could be viewed as a weakness.
After meeting with Chinese Foreign Minister Wang Yi on February 23, US Secretary of State John Kerry claimed that "if we can get to denuclearization, there's no need to deploy THAAD." This possible US-Chinese understanding is relevant to Russia, which fears that fielding THAAD in South Korea would kick off the creation of a full-fledged anti-missile shield in the Pacific, ultimately undermining Russia's missile capability. The recent US-China compromise does not preclude such an in outcome in the long term. At recent foreign policy consultations, Russia and China noted the danger of an increasing arms race, especially missiles, as a result of the current developments.
The changes in China's position demonstrate some success of a US policy that aims to use China in efforts to effect North Korean regime change. China is thought to desire a North Korean government more willing to comply with international demands. Washington hopes to gain Beijing's assistance in changing North Korea's leadership, if not its political system, assuming that efforts to unify the Korean peninsula under South Korean rule prove unsuccessful. A pro-Chinese government in Pyongyang would have little incentive to be close to Russia. In addition, Washington does not rule out seeking additional Chinese cooperation by pressuring Beijing on some sensitive issues, potentially doing harm to Russian interests. The precedent for such US tactics is in place with the adoption of the latest UNSCR.[7]
A Possible North Korean Reaction to Sanctions
North Korea's reaction to UNSCR 2270 may be harsh, especially on the threshold of the 7th Congress of the Workers' Party of Korea (WPK). High-ranking North Koreans recently told this author that North Korean authorities may respond with "benign neglect"—essentially ignoring the new sanctions under the pretext that the DPRK has been surviving under such measures for years—but Kim Jong Un may react forcefully to avoid the risk of backlash from conservative forces in Pyongyang. Therefore, it is possible to expect new provocations, even some that may lead to limited military clashes on the Korean peninsula. North Korea's decision to launch several short-range missiles within hours of the UNSCR's adoption gives credibility to such assumptions.[8]
Pyongyang has some untraditional measures at its disposal, such as expelling diplomats who represent "guilty" countries.[9] Cyberattacks are also possible, and such strikes may not even be traced back to North Korea. In this latest change of political seasons on the Korean peninsula, the "winter" of tension may be unprecedentedly long and severe. Pyongyang could go so far as to freeze its UN membership, which would let it ignore any other measures by the UNSC.
A rise in tension and possible provocations during US-ROK joint exercises on the Korean peninsula could easily lead to another crisis for Moscow to deal with. Additional nuclear tests and missile launches could also begin to affect security of Russia's Far East. However, any further countermeasures would further undermine Russia's economic interests in the region. This would strain its relations with North Korean leadership as well, decreasing the possibility for dialogue.
Conclusion
By allowing the adoption of a UNSC Resolution that buries Russia's largest and most important projects in the DPRK, Moscow appears to have shot itself in the foot. And unlike China, Russia will receive no political compensation for its economic losses. The sanctions may erode Russian relations not only with the DPRK, but also with South Korea, due to Russia's initial reluctance to fall behind the latest resolution.
These measures will not speed up the resolution of the nuclear problem, which appears more intractable than ever. Yet if the current crisis eventually leads to nuclear discussions with North Korea, Russia could find itself in a weaker position at resumed Six Party Talks—or even face outright exclusion from a new negotiation format.
————————————————-
[1] Russia admits that the new UN Security Council countermeasures are a necessary reaction to North Korea's flagrant violations of earlier UN resolutions. But Moscow strongly opposes any additional unilateral sanctions and stresses that no sanctions should be so extreme as to destabilize the economic situation in the DPRK, potentially risking heightened instability near Russian borders.
[2] Some critics contend that the resolution was intentionally crafted to drive Russian economic interests out of North Korea. Even so, Moscow faced accusations of slow-walking the adoption of the widely supported measures, possibly just to its status as a veto-wielding UNSC member.
[3] The energy and metal industries have been the most important fields of cooperation between Russia and North Korea.
[4] Moscow had expected a South Korean consortium including POSCO, Hyundai Merchant Marine and Korail to join the project, which the RasonKonTrans joint venture is carrying out on the Rajin-Khasan transit route. These hopes have now vanished.
[5] This figure accounts for trade through third countries. Do not be fooled by statistics that place the amount at about $100 million.
[6] China stressed that ordinary North Koreans should not be affected, and it emphasized the need to prevent any humanitarian crisis resulting from an excessive rise of economic pressure and isolation. It reiterated the need for dialogue and talks to tackle the nuclear problem of North Korea.
[7] Dealing with China on the Korean issue unexpectedly became a tough exercise for Russia, not least because of China's growing frustration with North Korea's behavior. Beijing has recently grown increasingly suspicious of both Russian actions in the DPRK and North Korean attempts to gain bargaining power over China by playing the "Russia card." These sentiments might have contributed to China's reluctance to take Russian interests into account while discussing the latest sanctions.
[8] Recent appointments of hardliners to several key positions suggest some tightening of the North Korean political line: Ri Myong Su, head of the Korean People's Army (KPA) General Staff; Rim Kwang Il, first vice-chief of the KPA General Staff and Director of the Korean People's Army (KPA) General Staff Operations Bureau; and Kim Yong Chol, WPK Secretary and Director of the United Front Department in charge of policy towards South Korea.
[9] The precedent for such a move was set during the crisis on the Korean peninsula in 2013.