How to Use Sanctions as a Lever, Not Just a Hammer: A Proposal for Phased Sanctions Relief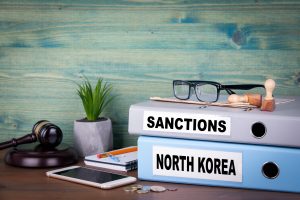 The Trump administration's "maximum pressure" campaign has led to a dramatic escalation in the scope and enforcement of US and international sanctions against North Korea over the course of the past year. These enhanced sanctions have not yet led to an economic breakdown in North Korea, and economic pressure was certainly not the only factor prompting Pyongyang to shift to its current course of diplomatic outreach earlier this year. However, as talks with North Korea move forward on both the North-South and US-DPRK tracks, the phasing and structure of sanctions relief and any economic aid packages will be a critically important issue, requiring close coordination between the US, South Korea, and China, among other actors.
Credible offers and implementation of sanctions relief and other economic inducements in return for North Korean compliance with its commitments to denuclearization will be crucial for diplomatic success. A sanctions relief package should also be designed to encourage North Korean marketization and its eventual integration into the global economy, while creating clear disincentives to backsliding on nuclear or other diplomatic commitments. To meet these goals, such a package would need to proceed in carefully designed stages, commensurate with progress toward denuclearization.
Initial Steps—Sustaining Momentum for Dialogue
The start of a sustained negotiating process could be accompanied by various sorts of confidence building measures, as well as enhanced efforts to address humanitarian needs in North Korea. Due to the breadth of the UN sanctions regime, as well as the US Treasury Department's North Korea Sanctions Regulations (NKSR) and other unilateral sanctions policies, some minor adjustments to the existing sanctions regime would be necessary to facilitate these initial actions. These adjustments could be made without providing immediate economic relief to Pyongyang, and without fundamentally altering the architecture of US or international sanctions.
Humanitarian Aid
A good place to start might be steps to increase humanitarian assistance. Although neither US sanctions laws nor UN Security Council Resolutions are intended to restrict the activities of humanitarian agencies operating in North Korea, in practice they have made the delivery of humanitarian assistance quite complex. The recently revised NKSR prohibits US NGOs from forming "partnerships" with any branch of the North Korean government, effectively requiring them to go through the complex and time-consuming process of obtaining a specific license from the Treasury Department's Office of Foreign Assets Control to operate in the country. UN Security Council Resolution 2397's prohibition on the export of machinery, transportation vehicles, and metals to North Korea has also caused complications for humanitarian work. Easing and streamlining the regulations and procedures that allow humanitarian agencies to operate in North Korea, at both the UN and US levels, would be an easy signal of good faith.
Financial support for humanitarian programs in North Korea would also be a good first step in a post-summit environment. Funding for the treatment and control of tuberculosis (TB) and multi-drug-resistant tuberculosis in North Korea is urgently needed, given the extremely high disease burden in the country and the Global Fund's recent decision to end its support for TB and malaria treatment there. Providing technical assistance to support North Korea's reforestation efforts (a project in which Kim Jong Un has shown a strong personal interest) would also help to address a major environmental concern and mitigate the impact of seasonal flooding. However, while there is a continuing need for targeted food and nutritional assistance to vulnerable populations in North Korea, the resumption of the Sunshine-era policy of unconditional food and fertilizer aid to North Korea would be a mistake, as it could serve to prop up the ailing state-controlled distribution system and hinder the process of marketization.
People-to-People Exchanges
In addition to the provision of humanitarian assistance, the promotion of cultural, educational, or other sorts of people-to-people exchanges could also be used as a low-cost way of signaling goodwill and providing a positive atmosphere as in-depth negotiations take place, even as the broader framework of economic pressure remains steady. Facilitating these exchanges might similarly require tweaks to the sanctions regime and related regulations, such as dropping the ban on the entry of North Korean nationals to the United States and easing restrictions on US travel to North Korea.
Using Phased Incentives as Leverage
At the next stage, significant North Korean steps toward denuclearization could trigger limited relief from UN sanctions, opening the door for targeted (and readily reversible) economic engagement.
As Pyongyang reaches certain milestones in rolling back its nuclear program, the UN Security Council could adopt a new resolution temporarily lifting the prohibitions or caps on North Korea's trade in commercial goods, allowing Pyongyang to resume the limited export of coal, seafood, and textiles and to import certain metals, fuels, and machinery. This resolution could also include a snapback provision—structured roughly along the lines of the mechanism created by the JCPOA with Iran—which would allow the United States to unilaterally re-impose all UN sanctions if Washington believed North Korea was cheating on an agreement. Alternatively, a UN resolution providing sanctions relief to North Korea could be structured with a sunset clause tied to a deadline for the next stage of North Korean actions on its nonproliferation commitments; sanctions would, therefore, be re-imposed after a set period unless the Security Council agreed that Pyongyang had made sufficient progress in the interim.
An interim sanctions relief resolution would leave the current UN sanctions on finance, shipping, and commercial investments largely intact, since these aspects of the sanctions regime are either inherently more proliferation-sensitive or less readily reversible than merchandise trade. During this interim phase of sanctions relief, the unilateral US sanctions authorities created by the North Korea Sanctions and Policy Enhancement Act (NKSPEA) could also remain in place, with the threat of US secondary sanctions encouraging third-party compliance with those aspects of the UN sanctions regime which remain active.
Additionally, if initial sanctions relief was limited to commodity-based trade, it could have the advantage of keeping North Korean trade closer to its borders, and less likely to be routed through the international financial system. In turn, this might help small-scale North Korean entrepreneurs, while still limiting the activities of the state-run trading companies which have the connections and sophistication to operate globally (and which mix commercial trade with proliferation-linked activities).
Inter-Korean Engagement
In conjunction with a Security Council resolution to provide temporary and targeted sanctions relief, the UN's 1718 Sanctions Committee could also take measures to facilitate certain inter-Korean economic engagement projects. This could begin with an effort to reconnect and rebuild inter-Korean infrastructure—an early goal of the Panmunjom Declaration. South and North Korea could follow up on such an initiative with an agreement to turn the West Sea into a joint fishing zone, with other sorts of development projects, or with the resumption of commercial trade.
However, the resumption of inter-Korean commercial investments—including the re-opening of the Kaesong Industrial Complex—might have to be deferred until the end stage of a negotiation process, given how difficult it would be to pull out of such commercial ventures once again if talks were to fail. Similarly, it would be difficult for South Korea to implement the more ambitious cooperative ventures envisioned in the 2007 inter-Korean joint statement without becoming entangled in open-ended economic commitments which would not be readily reversible in the event of North Korean backsliding.
Nonetheless, an early re-opening of Kaesong might be made contingent on credible commitments from Pyongyang to allow the workers there to receive their wages directly and to permit linkages with the rest of the North Korean economy, thus letting Kaesong realize its potential as an agent of economic transformation. If North Korea begins a process of serious economic reform while denuclearization talks are underway—for example, routinely allowing enterprises in the country to provide workers with wages instead of ration coupons—then economic engagement could become a much more powerful tool, and should be wielded appropriately.
The End Game—Sanctions Relief, Economic Reform, and Integration
Ultimately, full North Korean compliance with the terms of the relevant UN Security Council resolutions on its nuclear and ballistic missile programs should lead to the termination of the sanctions created by those resolutions. The complete termination of US sanctions would likely require North Korea to take additional action on a host of non-nuclear issues such as human rights—NKSPEA sets high benchmarks for this—though indefinite suspension of US sanctions could be tied to more limited progress on these issues. Similarly, North Korea would likely have to reach a side deal with Japan on the abductee issue in order for Tokyo's unilateral sanctions to be lifted.
However, as far-off as this end-state might seem, if Kim Jong Un seeks the kind of economic growth that would eventually let North Koreans "live as well as others" (as he recently put it), complete denuclearization and the complete termination of sanctions would be necessary but not sufficient prerequisites. Fundamental reform of the North Korean economy, and its eventual integration into the global economy, would also be needed for the country to follow the remarkable growth trajectories of its neighbors in the region.
Therefore, even before sanctions are lifted, economists and experts from international financial institutions should engage North Korean technocrats in talks about economic policy and development, and thus help lay the groundwork for successful reform should North Korea choose to go down this path. If changes to North Korean economic policy toward greater transparency and market orientation move in sync with steps toward denuclearization, North Korea could ultimately be invited to join regional or international economic institutions such as the Asia Infrastructure Investment Bank, the World Bank, the IMF, and eventually the WTO—providing Pyongyang with the means to finance the reconstruction of its infrastructure and to fully participate in the global economy.
Shaping the Choices Ahead
In assessing the intentions behind Kim Jong Un's recent outreach, the question boils down to this: is he engaging only in a tactical ploy, seeking to defuse the short-term threats of an economic crisis and potential military action by the United States, and perhaps to drive a wedge between his adversaries in the process? Or is Kim pursuing a more fundamental strategic shift, belatedly following in the footsteps of China and Vietnam by opening up the North Korean economy, normalizing relations with the United States, and strengthening the foundation of his rule by delivering on economic growth? The weight of long experience tips the scales in favor of the first answer, but it would be unwise to foreclose the possibility of the second.
The adroit use of sanctions leverage would allow the US and its allies to advance their interests in either scenario. If North Korea is only seeking short-term benefits from negotiations, a coordinated approach from the US, South Korea, and China will be key to avoid being outmaneuvered, and the credible threat of snapback sanctions would provide a guardrail against Pyongyang's backsliding after making nuclear concessions.
If, on the other hand, Kim Jong Un has a genuine interest in radical changes to both his domestic and foreign policy, then a carefully calibrated regime of sanctions removal and economic engagement would be instrumental to accomplishing the dual-track policy of achieving denuclearization and enabling North Korea's internal transformation.