The Jian-Manpho Bridge: Another Failed Attempt at Economic Integration or One More Nail in the Coffin of "Maximum Pressure"?
As recent fieldwork interviews and press reports suggest, the opening of the Jian-Manpho bridge linking China and the DPRK reflects an increased Chinese willingness to openly engage with the North Korean economy. While the borderlands have a long history of failed economic integration projects, the simultaneous opening of a third economic cooperation corridor near Manpho (in addition to Sinuiju and Rason) and a sudden rise in bilateral agreements might mean Beijing's patience with "maximum pressure" is wearing thin and that Chinese businesses want to reestablish ties with Pyongyang before Seoul does.
Widening the Aperture on China-DPRK Economic Cooperation
Chinese businessmen seem to be anticipating either a progressive relaxation of sanctions or at least a tacit nod from Beijing to broaden economic cooperation with North Korea beyond trade. Colin Zwirko at NK News recently published a groundbreaking story about recent agreements between DPRK and Chinese companies to develop yet another special economic zone (SEZ) in the Sinuiju-Dandong area, with initial investments valued at $100 million dollars. By looking at the recent activity of several actors involved in this deal, I was able to gather fresh information on the DPRK's SEZ program. In particular, the recent opening of a bridge connecting the Chinese city of Jian (集安) and the North Korean town of Manpho (만포, 满浦) suggests that both the DPRK and China seem to be willing to open what would be a third economic cooperation corridor, in addition to the main Dandong-Sinuiju axis and the already existing Hunchun-Rason routes linking North Hamgyong Province with the Yanbian Korean Prefecture of Jilin Province. This was revealed during fieldwork interviews I conducted in Jian and the borderlands in 2018. Although reports about this new bridge are still sketchy, this development might have important consequences for the DPRK's SEZ program, its economic integration with China and, obviously, the impact of economic sanctions on Pyongyang.
Recent research on China-DPRK economic cooperation has shown that Chinese businessmen and entrepreneurs most often seek to minimize their footprint within the DPRK; for example, they strongly favor trade over investment[1] primarily because of North Korea's difficult investment climate and the potential incompatibilities between Chinese economic engagement strategies and the North's preferred economic development model. Indeed, as DPRK-China economic cooperation is run by small-scale, profit-seeking private companies established in the borderlands and northeast China, Pyongyang has few opportunities to develop its depleted infrastructure or shift from natural resources extraction to more value-added production, as Kim Jong Un has repeatedly called for.[2] Until the March 2016 UN Security Council (UNSC) Resolution 2270, the share of coal and unprocessed minerals in total North Korean exports nearly reached the 50 percent bar,[3] a situation that Pyongyang was ill at ease with, to say the least.[4]
Flooding the Zones
In order to escape from the unenviable situation of being a quasi mono-exporter of natural unprocessed resources towards an almost exclusive and rather self-interested trade partner, the DPRK has bet on the development of SEZs, especially after Kim Jong Un took power in 2011. In contrast with the SEZs that pre-dated Kim Jong Un (namely Rajin-Sonbong, Kaesong, Hwanggumpyong-Wiwha Islands and the Mount Kumgang Special Administrative Region), the remaining 24 SEZs opened between 2011-2017[5] were not developed in collaboration with foreign state actors, but are North Korean initiatives. Interestingly, these recent SEZs most often focus on higher value-added activities such as tourism, logistics and manufacturing based on comparative geographic advantages such as the availability of natural resources. It can be argued that instead of serving as "testing grounds" for further economic reform, as is the case with many SEZs, North Korean zones are most likely used as platforms for technological upgrading through foreign direct investment and technology transfers.
As interviews with North Korean officials unsurprisingly confirm,[6] China remains the most likely partner for these SEZs, although these initiatives have been met with skepticism by Chinese investors due to both the long history of failed deals between China and North Korea and the stringent sanctions regime, which bans the creation of joint ventures with North Korean companies. Prospects for future North-South economic cooperation might eventually—and paradoxically—offer Pyongyang leverage to obtain more investment from China, which is keen to maintain its difficult but unique relationship with the DPRK. No less than ten SEZs have been opened on the China-DPRK border, and seven are located near the most well-known China-DPRK trade routes—specifically, the Sinuiju-Dandong area, the Tumen River Area next to North Hamgyong Province and the Rajin-Sonbong SEZ. (The strategically located northeastern tip of the DPRK hosts no less than five SEZs.)[7] There is also growing evidence that China and North Korea have plans to open a third economic cooperation corridor in the Jian-Manpho area, linking Jilin Province with the North's remote and difficult-to-access Jagang (Chagang) Province.
Building Bridges
On the Chinese side, efforts to develop the landlocked Jilin Province have led to large infrastructure development, part of recent "revitalization plans" of the under-performing northeastern provinces of China. The Hu Jintao era "zhengxingdongbei" and "changjitu" programs, for instance, are aimed at enhancing transportation infrastructure to link large industrial cities like Shenyang or Changchun and peripheral/remote territories or the area, and the Yanbian Korean Autonomous Prefecture. As a result, the Chinese infrastructure build-up stops right at the border with the DPRK, setting the stage for future economic opportunities once the DPRK follows the Chinese-style "open and reform" model, as Christina Kim's "economy of anticipation" theory posits.[8] As part of this strategy, authorities in Jilin Province have developed linkages between the provincial capital Changchun and the city of Jian, which faces the North Korean city of Manpho. Once finished, the Jian-Tonghua highway will shorten travel time from two hours to around forty minutes,[9] which will not only help local powers turn Jian into a manufacturing hub for herb-based drugs,[10] but also facilitate economic integration with North Korea. While the old railway bridge linking Jian and Manpho is currently crossed up to twice a day according to locals,[11] a nearby two-lane bridge was opened in April 2019 following the construction of customs areas, housing and warehouses, and should be able to handle a larger volume of traffic.[12] On the other side of the border, construction at the end of the bridge is in progress, with large boards displaying an artist visualization of the future area.
Manpho and the Jian-Manpho bridge, June 2018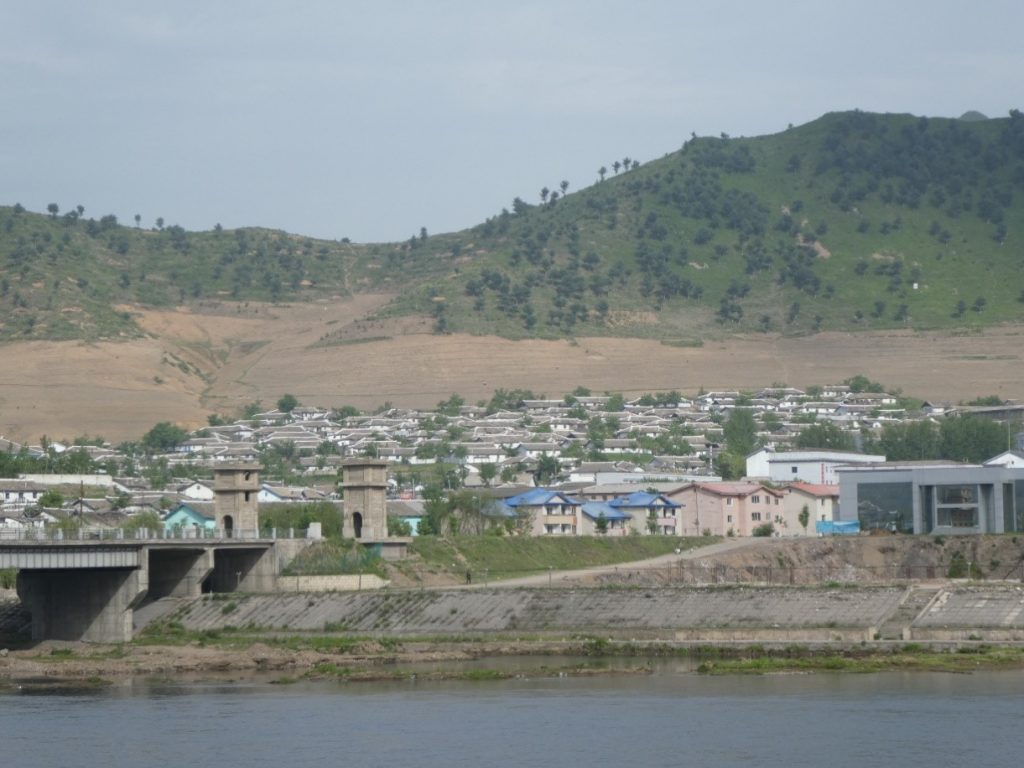 Close-up of the customs office, June 2018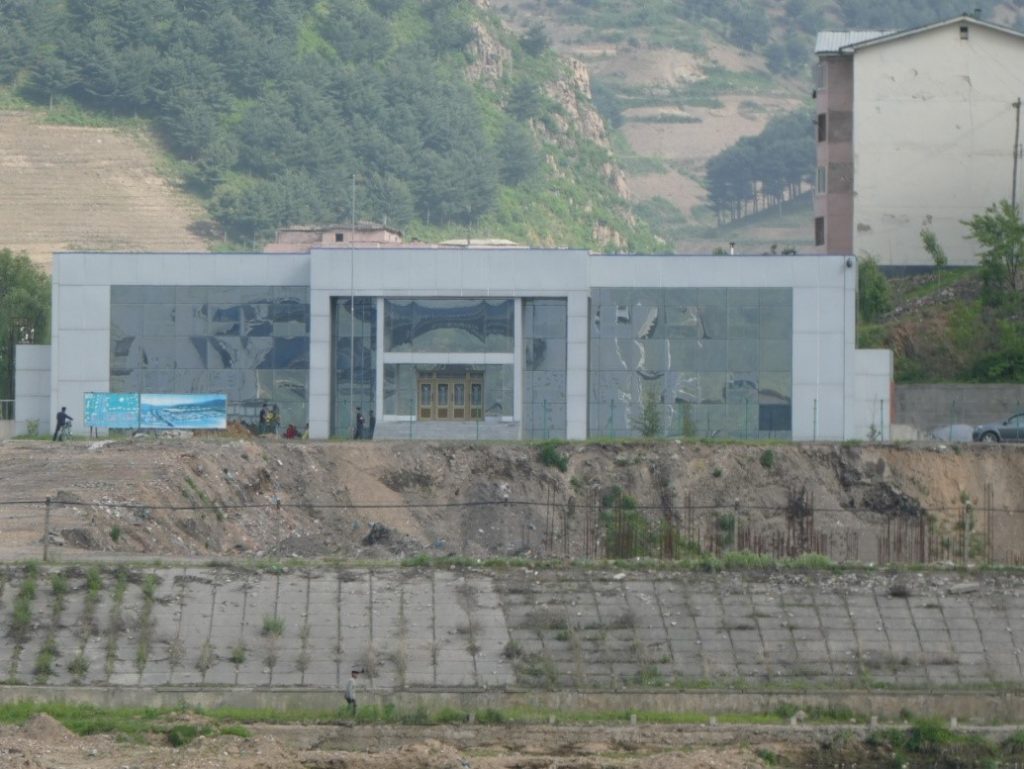 Although several existing bridges have been expanded, the creation of a wholly new bridge, to my knowledge, is unprecedented in recent times. DPRK publications depicted by Chinese businessmen on social media show that North Korean authorities have plans to turn this area into another hub for cross-border cooperation. Wiwon, a small city about 80 km downstream of the Yalu River, was designated as an SEZ in 2015, with a sectoral focus on mineral resources processing. The same year, parts of the Manpho area were designated as an "economic development park" (경제개발구/经济开发区), the North Korean term for post-2013 SEZs,[13] with the apparent intent of developing the area as a trade and tourism hub. Recent social media posts also show that the Manpho Economic Development Zone actually covers three different parts of the Manpho area: the Mita-ri (미타) area facing Jian's "new city," the Boldung Island (벌등도) between Mita-ri and Jian, and the more remote Posang-ri (포상) area in the southwest. These areas form only one SEZ, but do not have the same sectoral focus: the Posang-ri and Boldung Island parts of the SEZ apparently will be dedicated to light industry and tourism, while the Mita-ri area will likely focus on medicinal drug processing, putting it in direct competition with Chinese facilities on the other side of the river. Notwithstanding the remoteness of the area and the lack of useful information available on these projects, the fact that North Korean central and local authorities are trying to attract Chinese investments and technology to directly compete with Chinese businesses underscores divergent North Korean and Chinese approaches to bilateral economic cooperation.
Boldung Island development plan, edited by "Dali Shijiao"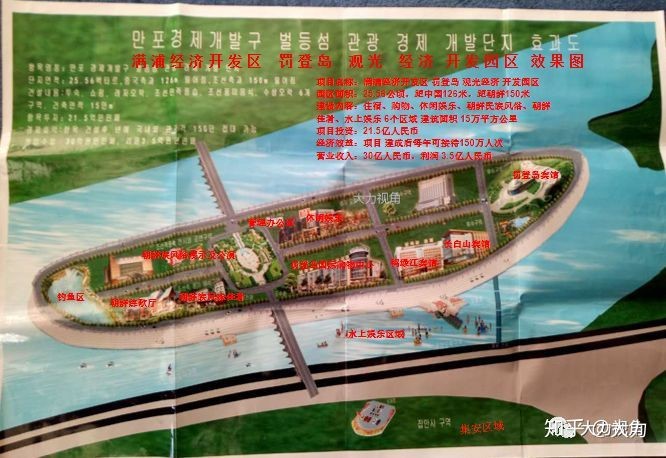 Mita area development plan, edited by "Dali Shijiao"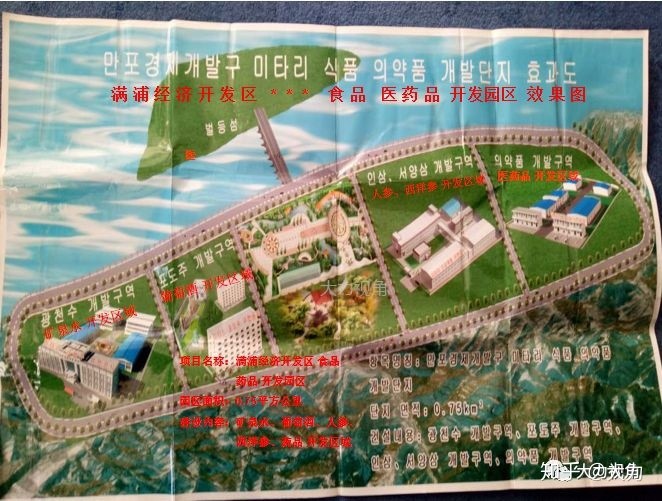 Posang-ri area development plan, edited by "Dali Shijiao"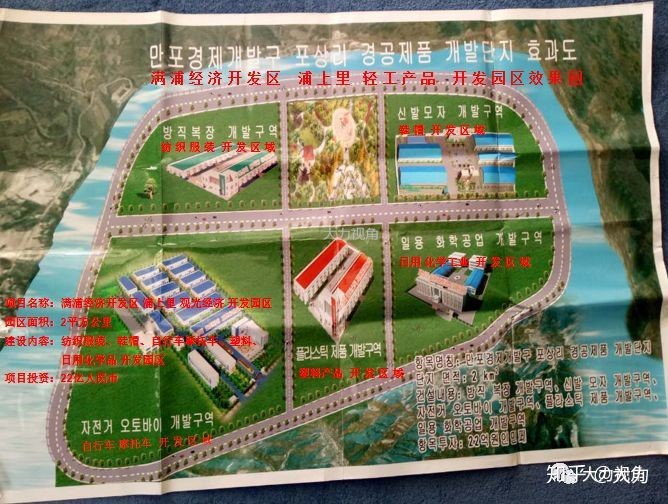 When the cross-border bridge was officially opened in April 2019, it brought Chinese tourists to the DPRK, following an established pattern of very short-term—most often visa-free—cross-border trips by Chinese interested in visiting the opposite bank of the river. However, interviews with the business community in Dandong and Tumen suggest that these trips often provide a way to engage in small-scale trade, therefore creating potential opportunities for smuggling sanctioned products. The choice of Jian as a new border-crossing point makes sense as it supplements an existing rail bridge, is located in an area that already hosts North Korean businessmen and is far away from other cross-border economic cooperation corridors.[14] However, the economy of Jagang (Chagang) Province remains heavily focused on mining, heavy industry and defense-related production facilities, which raises questions about China's strategy. As research has shown,[15] economic cooperation programs are often led by local authorities rather than by Beijing, and the new bridge might simply be a result of Chinese overinvestment in infrastructure, the current remedy to sluggish economic development in the northeast. In the current context, however, the relative importance of this project suggests that it has at least a tacit nod from Beijing, and thus constitutes a political signal that China is ready to enter the North Korean market, should sanctions be lifted.
Conclusion
The months that followed the Singapore Summit saw visible increases in plans for China-DPRK cross-border economic interaction. Besides further development of the SEZ in Sinuiju, plans to open a trade market in Hoeryong have appeared on the Chinese web. Moreover, Chinese companies are actively preparing investment bids to coordinate efforts to develop the road infrastructure leading to the Wonsan area, Kim Jong Un's pet project to attract tourists. While these projects do not violate[16] UNSC sanctions for the time being, their actual implementation would require sanctions to be lifted or open sanctions busting by Chinese companies. However, if this planned PRC-DPRK economic engagement succeeds, it could pose significant challenges for competitors like South Korea to achieve meaningful economic integration with North Korea—an outcome that breeds anxiety in Seoul. In fact, given the sudden rise in economic cooperation projects following the Singapore and Hanoi summits, it is quite likely that Chinese companies—with or without government approval—will not have the patience to wait for Moon to convince the Trump administration that it should, at a minimum, relax sanctions to allow inter-Korean economic cooperation to move forward.
---
---