The North Korean Economy: The Pyongyang General Hospital and Kim Jong Un's Health Care Strategy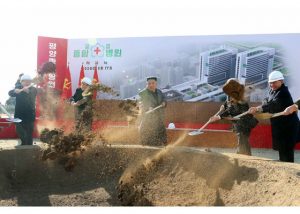 The construction of the Pyongyang General Hospital (PGH) is part of Kim Jong Un's overall propaganda efforts to cultivate an image of a leader who prioritizes raising people's living standards above all other goals.[1] But beyond that, the new hospital, with expectations of installing modern equipment, is part of Kim's larger emphasis on science and technology as a key part of his economic strategy. And while this kind of highly publicized prestige project will not directly benefit the majority of the population, it signals his desire to deliver top-class health care and other public services to the people. Given the current state and functioning of the North's health care system, however, a significant share of hospital operations will likely be paid for by fees and private funding, despite North Korea's claim to provide free care for all. North Korea will likely move further toward some sort of formally market-based structure for health care over the coming years.
Pressure for Rapid Construction
Construction of the flagship PGH is proceeding fast, but with considerable difficulty. The pressure for speed is concerning since it often leads to shoddy construction and dangerous workplace conditions. On April 14, 2020, 38 North reported that satellite imagery showed a clear outline of the entire building of the Pyongyang General Hospital, only one month after construction started.
The government attaches a great deal of symbolism to the project, having emphasized that it must be completed by October 10 of this year, the 75th anniversary of the founding of the Korean Workers' Party. At the March 17 groundbreaking ceremony for the hospital, Kim Jong Un gave a speech highlighting how central it is to finish construction by the deadline. He emphasized, as North Korean media continuously has, that people from around the country contribute to the construction by collecting materials, projecting an image that the hospital belongs to the whole country, and not just to those in Pyongyang. The Twitter account "@coldnoodlefan", likely connected to the North Korean government, posted pictures on April 27 showing trucks from localities all over the country bringing construction materials, driving home the message that the hospital is the project of the entire country and not Pyongyang. In his speech, Kim also emphasized caution and quality in construction despite the tight deadlines, two objectives that are likely difficult to square.
At the same time, grassroots reporting suggests considerable difficulties and challenges ahead. Daily NK has reported on shoddy working conditions at the site, and many reportedly worry that the tight deadline may lead to worksite accidents and fatalities. Soldiers working at the construction site reportedly steal food from neighboring houses to feed themselves. Nor is it clear exactly how hospital construction is funded. Kim stated in his speech that it would take precedence over other construction projects, but it is still very expensive and comes at a time when the government is already particularly short of incoming revenue. The government also reportedly ordered organizations that need to use state money, such as the bureau in charge of the hospital construction, to use recently issued public government bonds instead of cash to pay for construction materials from factories.
Kim Jong Un's Public Health Focus
Despite these difficulties, the PGH construction project is not surprising in context. For several years, North Korean media has touted a growing emphasis on health care. It remains doubtful, however, that any of this is making a noticeable difference for the majority of the population. The framing portrays Kim's commitment to raising the overall living standard of the people, which is also consistent with the priority placed on science and technology.
This emphasis is not only a feature of propaganda, however. According to one practitioner with experience from the North Korean health care system from the last four to five years, North Korea has begun domestic manufacturing of medical equipment and implants at relatively low cost, but still apparently of comparably decent quality. For example, the country has started manufacturing medical implants such as artificial knee joints and spinal fixation implants, and equipment such as a prototype CT scanner.
Indeed, medical equipment manufacturing appears to have been an area of relative priority for the state and Kim Jong Un. According to KCNA, the Ryugyong Dental Hospital, Jongsong Pharmaceutical General Factory and the Taedoggang Syringe Factory were all built or renovated over the past few years. This reflects Kim's push for growth through science and technology rather than merely raw materials exports. Kim made on-the-spot guidance visits to several medical and pharmaceutical factories in the past two years, such as the Myohyangsan Medical Appliances Factory, where he went in late October last year.
These ambitions notwithstanding, it is unlikely that these public health initiatives, or the PGH, will radically change who can access health care in the country. The North Korean system is centralized around Pyongyang by design, and the idea is for model hospitals in the capital to receive more difficult cases from the provinces. However, most access to quality health care is highly contingent on political status and connections, and in many (or most) cases, the ability to pay for treatment. Even with the telemedicine system set up with the help of the World Health Organization (WHO) some years ago, which enables doctors in Pyongyang to treat cases remotely in the provinces, structurally, few doctors have enough of an incentive to work through the system because there is little possibility to get any sort of payment for providing the service.[2] Many public services that previously used to be cost-free became fee-based in the early 2000s with the breakdown of central planning, and health care is no exception. Although some services may still be publicly provided, most doctors still have little choice but to prioritize patients who can pay.
Conclusion: Health Care as a Source of Revenue?
All this begs the question of how the Pyongyang General Hospital will operate in practice. Speaking with 38 North, one observer who visited several new high-profile health care facilities in the country over the past few years said that while facility buildings often appeared to be beautifully appointed, it seemed like very few patients were actually receiving treatment, despite claims by officials that a significant proportion of Pyongyang's residents regularly received medical examinations there. Perhaps some departments will be open to the general public cost-free, at least in Pyongyang. But even just to stock the building with the proper equipment, the government will have little choice but to seek private funding. Rodong Sinmun reported late last year about efforts to attract medical tourism, and the state may come to use at least part of the hospital for these efforts.
The hospital, like other health care investments under Kim Jong Un, serves several purposes aside from simply providing health services to the public. Advancing the country's profile in science and technology, as well as increasing financial revenue, are two other purposes of significant importance. Over the medium- to long-run, North Korea will likely move towards an increasingly market-based medical system that will rely on fees and private contributions rather than the state as the main source of funding. Under Kim's tenure, as happened periodically under Kim Jong Il as well, the state has recognized an increasing number of market activities that previously operated in a gray zone. Given the current state of health care provision in the country, the same thing may well happen with this sector.
---
[1]

I am grateful to Peter Ward, as well as two contacts who wish to remain anonymous, for inputs and brainstorming for this article. All mistakes and opinions belong solely to the author.

[2]

Based on conversations with an individual with personal experience of working with the system.
---