Priority Construction Projects Continue to Lose Steam
Recent commercial satellite imagery indicates that once high-priority North Korean construction projects continue to lose steam. Despite the rapid construction previously observed at the Wonsan-Kalma Coastal Tourism Area (Wonsan Beach Resort) and Pyongyang General Hospital, neither was completed on schedule. Both have largely faded out of public discourse since then in deference to other priorities, such as the current 80-day production and post-typhoons reconstruction campaign. Whether or not, or when, new timelines or expectations will be set for these projects is unclear. Moreover, whether they will be included in the forthcoming five-year economic plan (to be announced in January) is equally unclear, as other initiatives, such as the Komdok mining region, have already been identified as new priorities.
Wonsan-Kalma Coastal Tourism Area
Few changes have been observed at the Wonsan-Kalma Coastal Tourism Area since earlier this summer. Construction of the large beach resort, which progressed at a remarkable pace in 2018 and part of 2019, has lagged significantly in 2020 as the prospects for international tourism, especially from China, have stalled for the foreseeable future. Despite visiting the resort four times in 2018 and 2019, Kim Jong Un has not been back on-site since April 2019, when he pushed the deadline for completion to April 2020. That deadline has since passed, with no indications of a revised timeline for completion.
However, work does continue at Wonsan. The most notable development in recent months has taken place at a facility just south of the resort. A previously unidentified seaside complex has been revealed to be the Kalma Beach Aquaculture Farm (갈마 바닷가 양식 사업소).[1] It now appears complete, with new roofing added since October.
Little progress has been observed elsewhere at the resort in recent months, and completion does not appear likely in the near term. This September, North Korean media reported construction workers from Wonsan were sent to Kangwon Province to assist in post-typhoon reconstruction work.[2] In October, a similar situation was reported, with workers redirected to North Hamgyong Province to help with repair efforts.[3]
Figure 1. Kalma Beach Aquaculture Farm appears complete.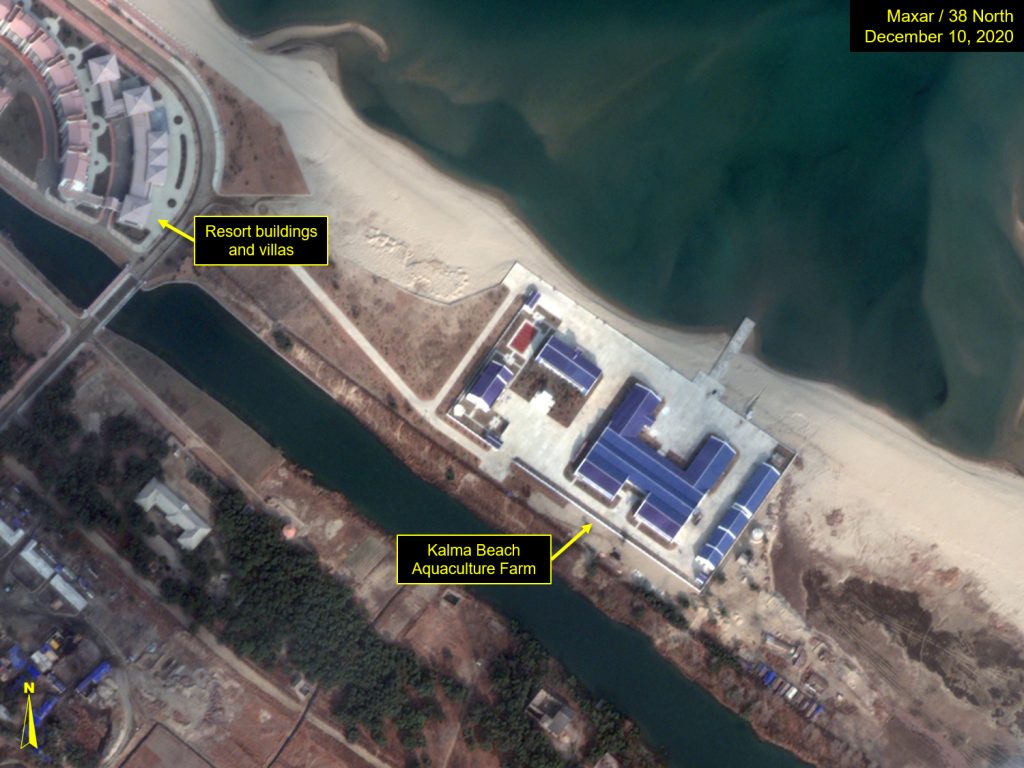 Pyongyang General Hospital
External construction and landscaping work appear to be complete at the new Pyongyang General Hospital. Roads and parking areas around the hospital have been paved, and landscaping beds have been added at the main entrance. Construction of a new building adjacent to the hospital also appears complete.
Kim Jong Un had originally planned for this showcase hospital to open in time for the 75th anniversary of the Workers' Party of Korea in October to present as a gift to the people, but the construction schedule was overly ambitious. While the exterior appears to have been completed in the weeks following the missed deadline, the state of the interior is still unknown. The interior is unlikely close to completion given the hurried construction timeline, the reports of difficulties sourcing medical supplies and equipment and the lack of North Korean state media coverage showing interior views.
Neither Kim Jong Un nor state media have discussed a revised timeline for the hospital's completion. Furthermore, the lack of vehicles and other activity around the hospital suggest it is not yet operating.
Figure 2. Pyongyang General Hospital externally complete, area paved and landscaped.
Satellite images © 2020 Maxar Technologies. All rights reserved. For media licensing options, please contact [email protected].
Other Construction Projects in Pyongyang
Slow progress on the East Pyongyang Shopping Mall project continues with a tower on the north side of the site close to completion. The project sat half-complete for several years, but construction resumed earlier this year.
The mall was originally to be a partnership between the DPRK and Great China International Group, although the current status of the project is not clear.
At the Mirim Parade Training Ground in the eastern part of Pyongyang, where staging and training for large parades are conducted, there has been no apparent progress made on a new, large structure on the northern edge of the facility. The building shares some architectural similarities with the April 25 Hotel on the other end of the facility and appears to be a second on-site facility to accommodate troops while they are training.
The temporary structures set up in its courtyard ahead of the October 10 military parade have been removed, but the courtyard area appears to be unfinished.
Figure 3. East Pyongyang Shopping Mall construction continues.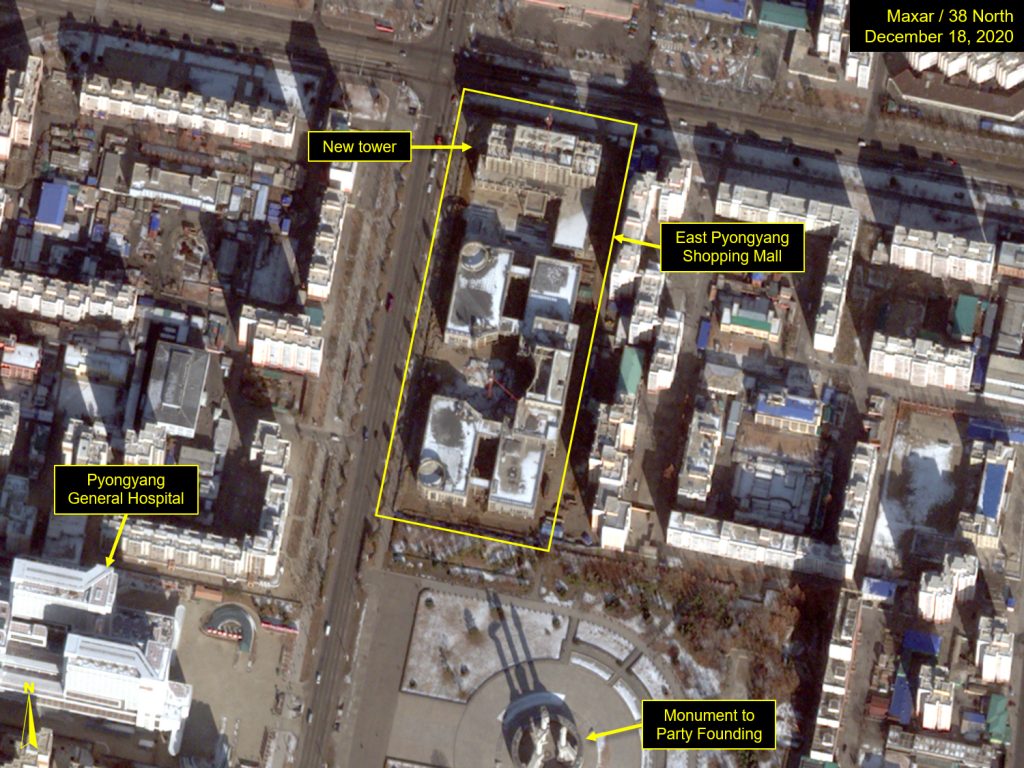 Figure 4. Large structure at Mirim Parade Training Ground appears to be an additional accommodation building.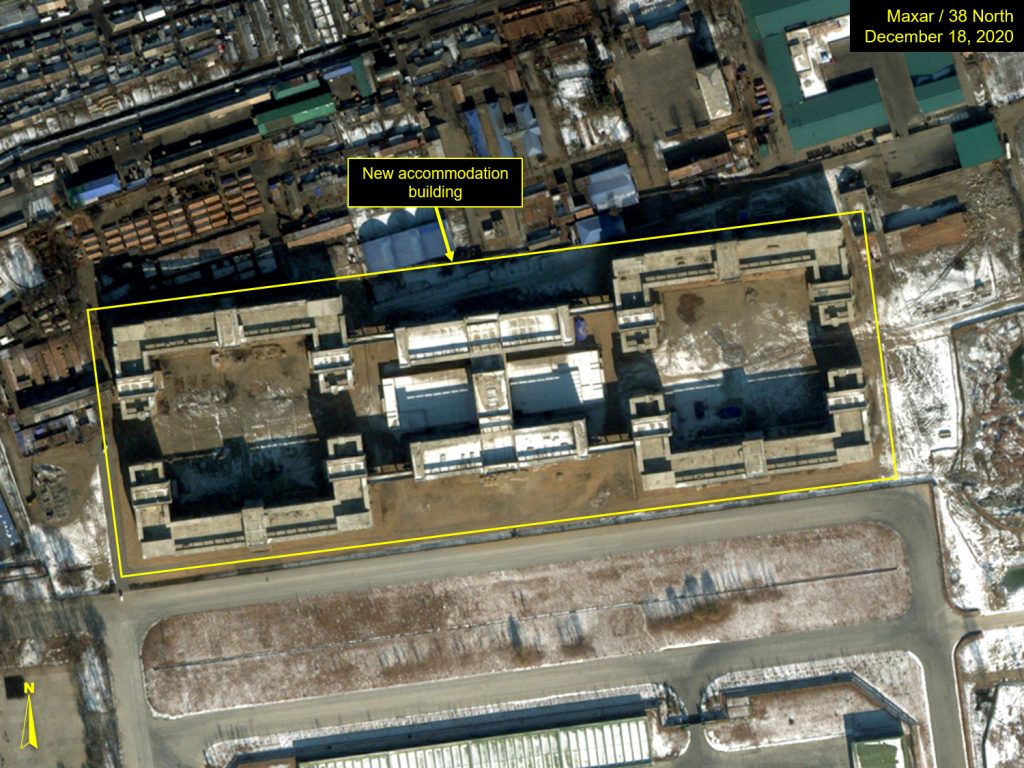 Construction Priorities
One factor contributing to the lack of progress on these major projects has been a refocusing of construction efforts on typhoon-damaged areas. North Korea has built hundreds of homes and apartment buildings in the span of a few months for those who were left homeless. This work has surely diverted construction machinery and personnel from other projects.
But, at least in the case of Wonsan-Kalma, construction slowed even before the typhoons, presumably for a number of reasons, including lack of finishing goods, pandemic lockdowns and waning prospects for tourism in the foreseeable future.
Whether resources will be reissued to either Wonsan or Pyongyang projects once repair and reconstruction efforts conclude is unclear. The upcoming Eighth Party Congress in January may clarify whether these are still priority projects, or if new ones have replaced them.
---
[1]
[2]

"Housing construction promoted in afflicted areas," Voice of Korea, September 29, 2020.

[3]

"Housing construction in damaged areas promoted," Voice of Korea, October 20, 2020.
---