Pyongyang Celebrates 2021, but a Parade Is Still to Come
While there was no New Year's address by Kim Jong Un again this year, both commercial satellite imagery and North Korean media show that thousands of Pyongyang residents filled Kim Il Sung Square on New Year's Eve for a concert to ring in 2021. This is the second year in a row that Kim has skipped his annual New Year's speech—similar to the US State of the Union address—raising questions about whether this tradition may be coming to an end. Meanwhile, on the other side of the Taedong River, preparations have been stepped up for what is expected to be at least one or more parades in the coming days as part of the Eighth Party Congress proceedings.
New Year's Eve Celebration
The New Year's Eve concert is one of only a handful of events broadcast live each year on Korean Central Television (KCTV). This year was no exception, and coverage showed thousands of masked Pyongyangites gathered to welcome 2021 with music and dance.
The TV coverage also confirmed that an object previously identified as the probable stage for a New Year's Eve event was just that, but did little to reveal what is going on behind it inside a shrouded area to the west of the event stage.
Figure 1. The stage seen during a New Year's Eve concert broadcast on state television.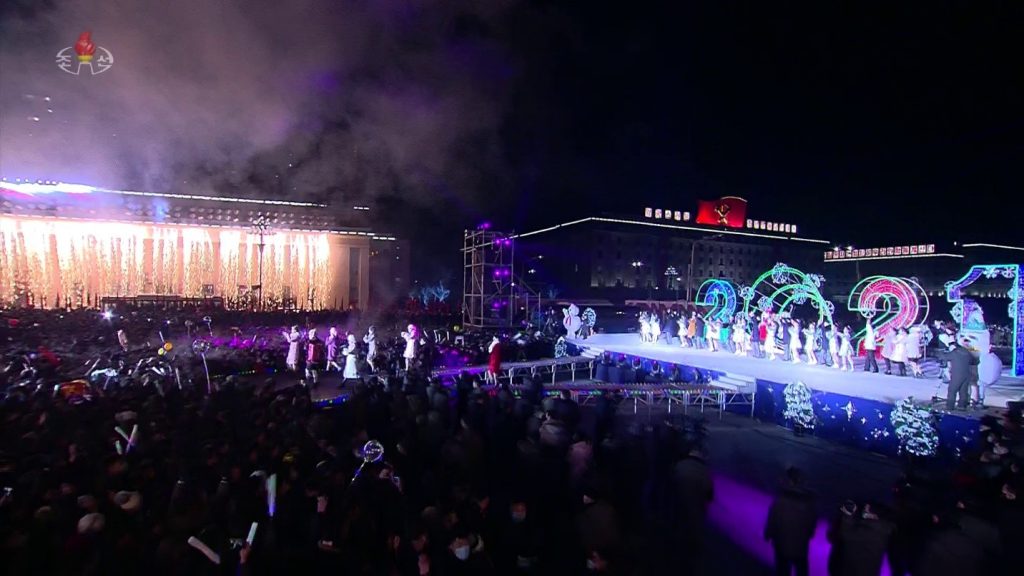 A satellite image taken at 11:21 a.m. on December 31, twelve hours before the televised event was set to begin, showed thousands of people already in the square lined up along either side of the western plaza area. Why people were gathered so early is unclear—there may have been other unpublicized events taking place either before or after the image was captured, ahead of the main New Year's Eve concert. Alternatively, they may have been rehearsing for events related to the upcoming Eighth Party Congress as well, although no formations were observed that would normally be associated with such rehearsals.
TV coverage of the New Year's Eve concert showed a large crowd in front of the stage in the eastern half of the square, and one gathered behind it as well in the western half of the square where people were pictured in the satellite image. The road between the two halves of the square remained open to traffic, and cars and buses could be seen passing between the rear of the stage and the crowd.
When the clock reached about 10 minutes before midnight, the live TV coverage ended and switched to several recorded music videos. It returned seconds before midnight to show a clock in Kim Il Sung Square ticking over to midnight and a flag-raising ceremony. This flag-raising ceremony was new and was followed by fireworks. In 2019 and 2020, the moments after midnight were welcomed with just fireworks.
During the coverage, KCTV took care to avoid capturing a mystery structure that appeared on the western side of Kim Il Sung Square in early December. The structure is surrounded by a high shroud, and only once did it come into view during the TV coverage, but then only to reveal the shroud.
Figure 2. The shroud is seen in the background of this close-up of a Korean Central Television image.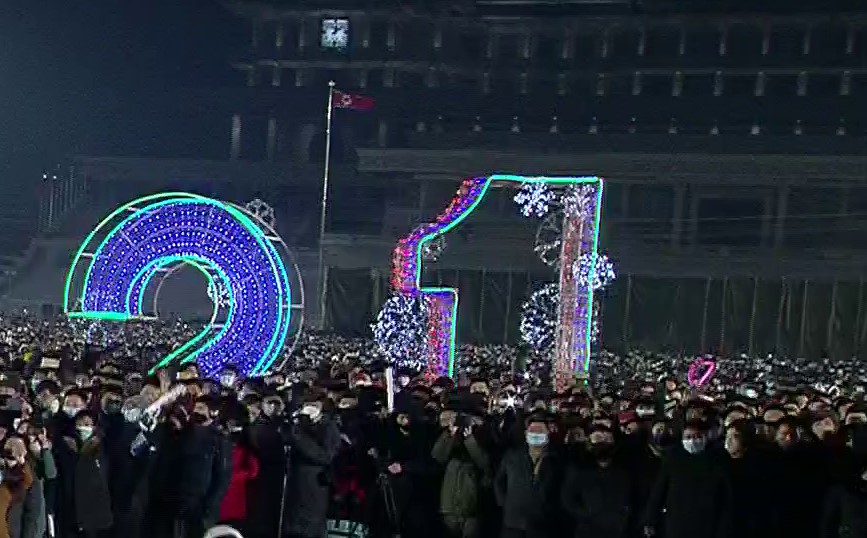 All will likely be revealed during an anticipated parade to mark the Eighth Party Congress, which is expected to get underway in Pyongyang this week. This same area was occupied by a temporary bandstand during the October 10 parade, although erecting a new bandstand would not be treated with such secrecy.
The only apparent change to this structure in the last week has been the removal of a small, blue-roofed hut that was just outside the shrouded area.
By 11:13 a.m. on January 1, the performance stage had already been cleared away, and the people were gone from the square.
Figure 3. Images of Kim Il Sung Square almost 24 hours apart. Thousands of people observed on December 31, 2020; performance stage cleared away on January 1, 2021.
Before: Image Pleiades © CNES 2020, Distribution Airbus DS. Image © 2021 Maxar Technologies. All rights reserved. For media licensing options, please contact [email protected].
The same image showed Pyongyang residents queuing on Mansudae Hill to make their New Year's visits to the giant statues of Kim Il Sung and Kim Jong Il to present flowers. North Koreans across the nation make similar visits to statues in their towns on January 1, and video of those visits makes up a key element of news broadcasts on New Year's Day (and newspaper coverage on January 2).
Figure 4. Pyongyang residents on Mansudae Hill to visit statues of Kim Il Sung and Kim Jong Il.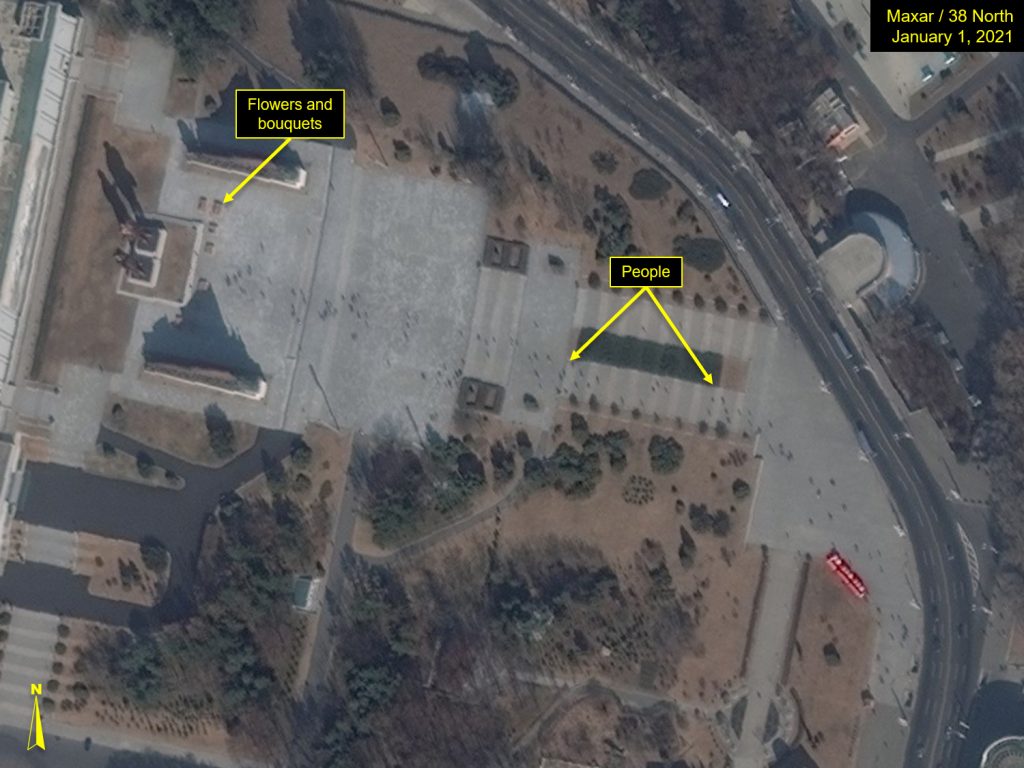 Figure 5. North Koreans visit Mansudae Hill in Pyongyang on January 1, 2021.
Note: Hover over slideshow and click on left/right arrows to navigate.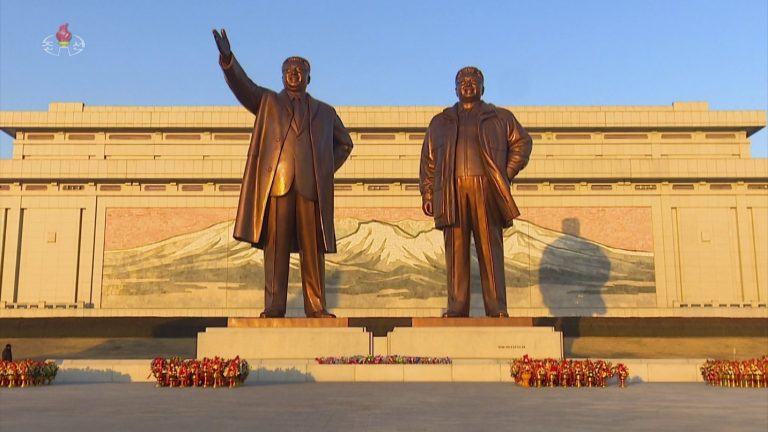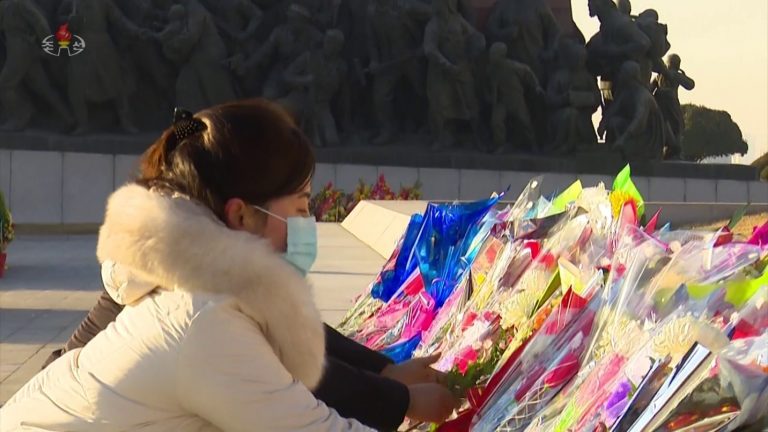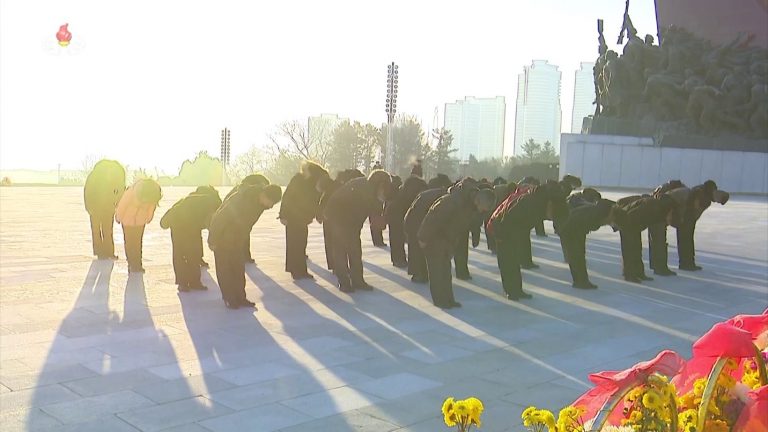 Mirim Parade Training Ground
On the eastern side of Pyongyang at the Mirim Parade Training Ground, preparations for a parade appear to have stepped up a pace.
Figure 6. Over 400 large vehicles parked and several troops in formation at Mirim Parade Training Ground.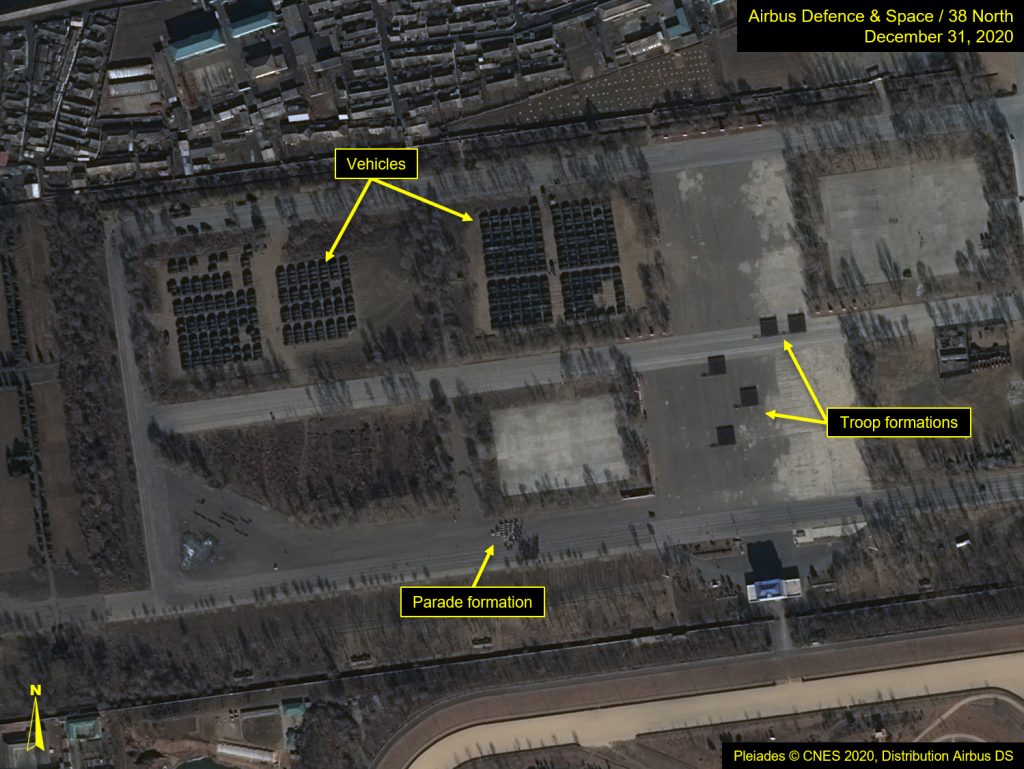 On December 31, there were over 400 large vehicles, likely trucks, parked on the parade ground, which is significantly more activity than what was observed in mid-December. There are also a number of troop formations training along the practice route.
Near the on-site April 25 Hotel, over 100 coaches are parked, and vehicles are also present in the hotel's inner compound.
The activity at the training ground points to a military element to the anticipated parade, however not nearly to the scale as what was seen ahead of the October 10 parade.
Figure 7. Coaches and vehicles parked at April 25 Hotel.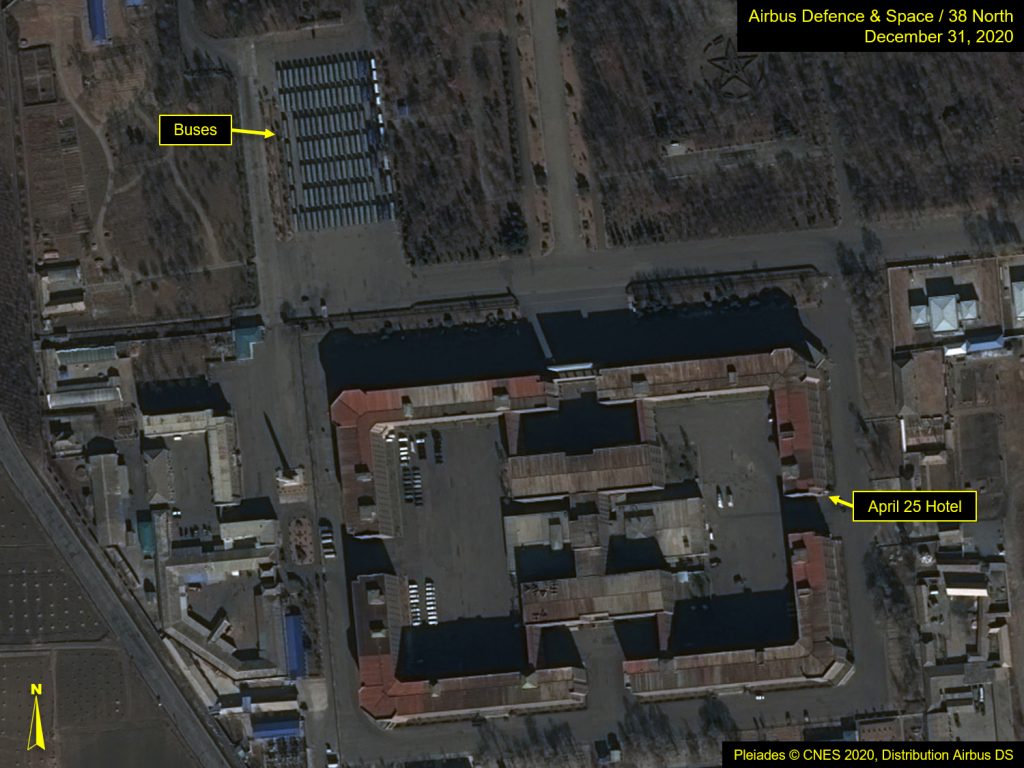 Looking back to the Seventh Party Congress in May 2016, Pyongyang saw two parades. A daytime parade featured thousands of troops and citizens marching, but heavy military hardware was absent. A second torchlight parade took place a day later, featuring Pyongyang residents. It would not be surprising to see this pattern repeated in the coming days.
Figure 8. Pyongyang hosted two parades for the Seventh Party Congress in May 2016.
Note: Hover over slideshow and click on left/right arrows to navigate.