A North Korean Satellite Launch: What to Watch For
It's been six years since North Korea last launched a satellite, but now there are increasing signs that a new launch is in the works.
In the last two weeks, North Korea reported conducting two tests of military reconnaissance satellite technology. Another launch was reported by American and South Korean intelligence to have been conducted on March 16, although it is unclear whether satellite components were also part of that testing. Last week, Kim Jong Un visited the Sohae Satellite Launch Center, the country's showcase space launch facility, and the National Aerospace Development Administration (NADA), giving guidance on further site development.[1]
The country's space program has been largely out of the limelight since launches in 2012 and 2016 successfully put satellites into low Earth orbit, although those satellites failed to function. In January 2021, however, at the Eighth Congress of the Workers' Party of Korea, Kim Jong Un disclosed that the design of a military reconnaissance satellite was complete, and the next step would be launching it.[2]
The Timing
North Korea hasn't said when it plans to launch a satellite, but there is precedent for a launch in the runup to the 110th anniversary of Kim Il Sung's birth (Day of the Sun) on April 15. North Korea often schedules events that can be seen as national triumphs around major anniversaries as part of a propaganda campaign. Moreover, on April 13, 2012, ahead of the 100th anniversary of Kim Il Sung's birth, the country attempted to launch the Kwangmyongsong-3 satellite, although the launch was unsuccessful.
While North Korea doesn't announce missile launches in advance, it has given prior notice of satellite launches in the past. This is usually done through navigation warnings to aviators and mariners submitted to the International Maritime Organization. It is part of North Korea's assertion that its space program is like that of other countries and that it plays by the same rules.
The Space Launch Vehicle
North Korea's three satellite launches in the last decade have used Unha-3 rockets. While it is possible a new launch could use the same Unha-3 rocket, recent actions suggest a more likely alternative.
Unlike normal missile test activity, North Korea did not release photos or video footage of the February 27 or March 6 launches but only reported on the satellite technology tested. However, about a week later, the US Department of Defense said the launches used the North's new intercontinental ballistic missile (ICBM). The Hwasong-17 (화성포-17) ICBM was first unveiled at a military parade in Pyongyang on October 10, 2020, and was seen again at the "Self Defense-2021" expo in Pyongyang in October 2021. This missile is larger than the previous two ICBM designs, the Hwasong-14 and -15, which were flight tested in 2017, and is able to carry heavier payloads, including potentially multiple warheads and presumably, a military reconnaissance satellite.
Figure 1. The Hwasong-17 unveiled at the October 10, 2020 military parade.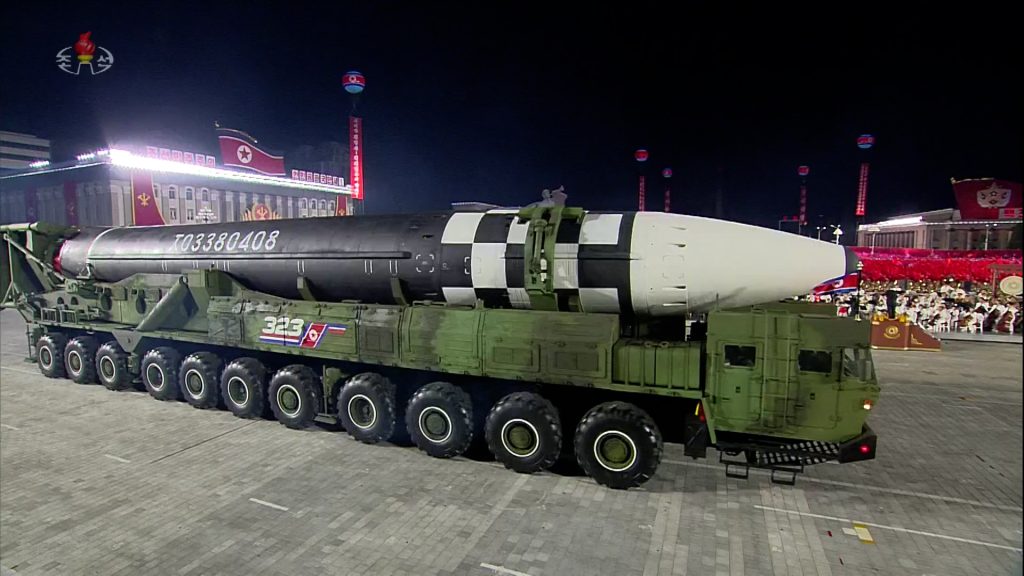 The Satellite
North Korean media has yet to provide any details on the planned "military reconnaissance satellite." In the past, the state has shown off civilian satellites ahead of launch, but military satellites aren't usually revealed by any nation. North Korea might choose to show it anyway, to prove it has a satellite to launch and make the case this isn't just a cover for ICBM testing.
The satellite will likely be placed into a sun-synchronous orbit, which means it will pass over a given point at the same local solar time each day. That's a typical orbit for an observation satellite, but the planned orbit should become clear once launch details are known.
It's unclear what resolution images the satellite will capture, but state media provided a clue in photographs taken during Kim's visit to NADA. On large screens in front of Kim, there appeared to be an image taken during the February 27 test launch. State media censors had blurred the image, but the image appeared to show Anju, a medium-sized town approximately 70 km (45 miles) north of Pyongyang. The resolution is difficult to determine from the blurred image but likely falls into the medium resolution range (see figure below for comparison).
Figure 2. Inside the National Aerospace Development Administration (NADA).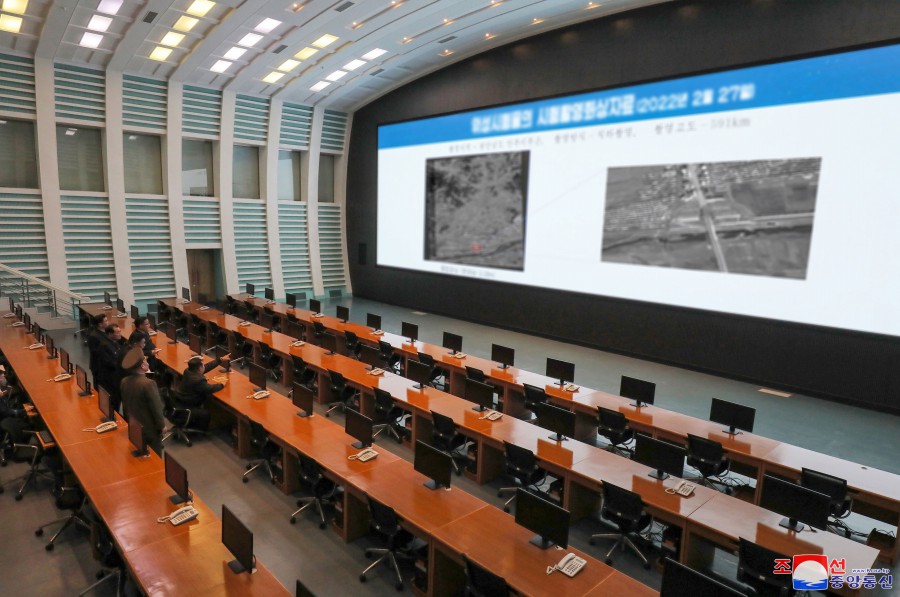 Figure 3. A comparison of the image released by North Korean media (above) with images from Sentinel-2 at 10 m resolution (bottom left), Planet Scope at 3 m resolution (bottom center) and Planet SkySat at 0.5 m resolution (bottom right).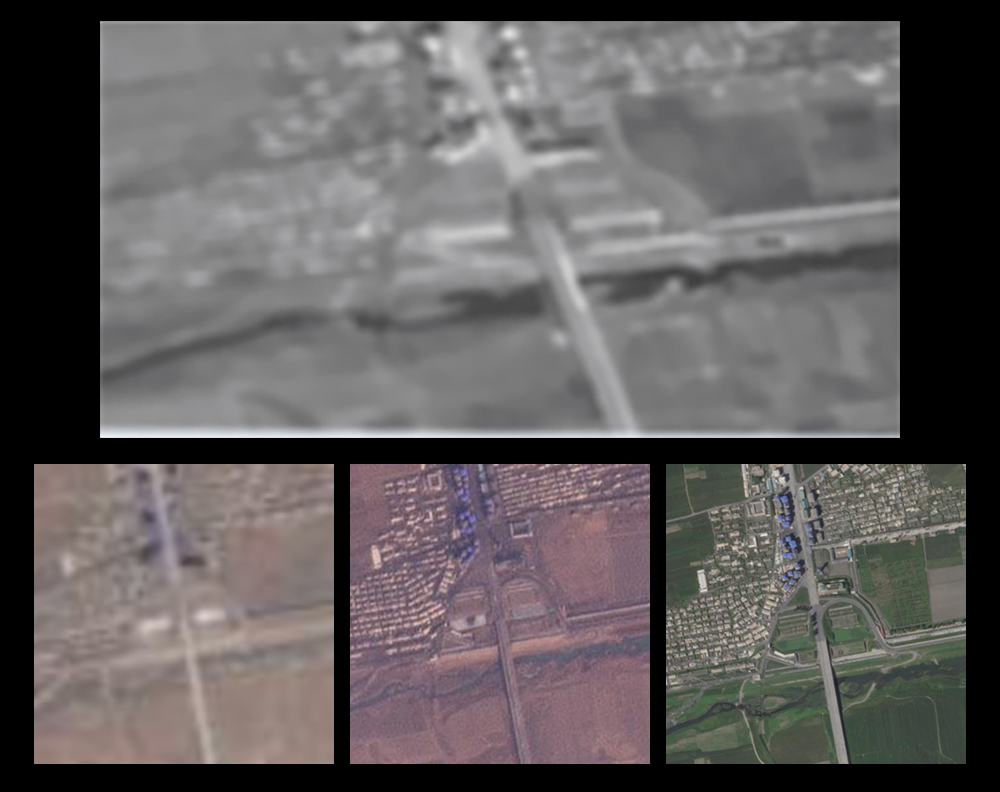 The Launch Site
North Korea's first two space launches, in 1998 and 2009, took place from the Tonghae Satellite Launching Ground (also referred to as Musudan-ri) in the east of the country, but since 2012 all launches have been from the Sohae Satellite Launching Center (Tongchang-ri) on the west coast, and significant improvements have been made at Sohae over the years to increase capabilities at this site. This includes a larger launch tower, processing and checkout buildings on the launch pad, and a direct rail link to the launch pad, making it easier to conceal launch preparation activities. There is also a VIP observation facility and the NADA administration buildings at Sohae, allowing for optimal viewing for the leader and other VIPs.
The site has been largely quiet for the past few years, but changes might be afoot. Kim Jong Un visited Sohae on March 11 and gave instructions for its modernization, including the launch site and support buildings, the engine test stand and a grandstand to observe launches.[3]
Figure 4. Kim Jong Un at the Sohae Satellite Launching Ground on March 11, 2022.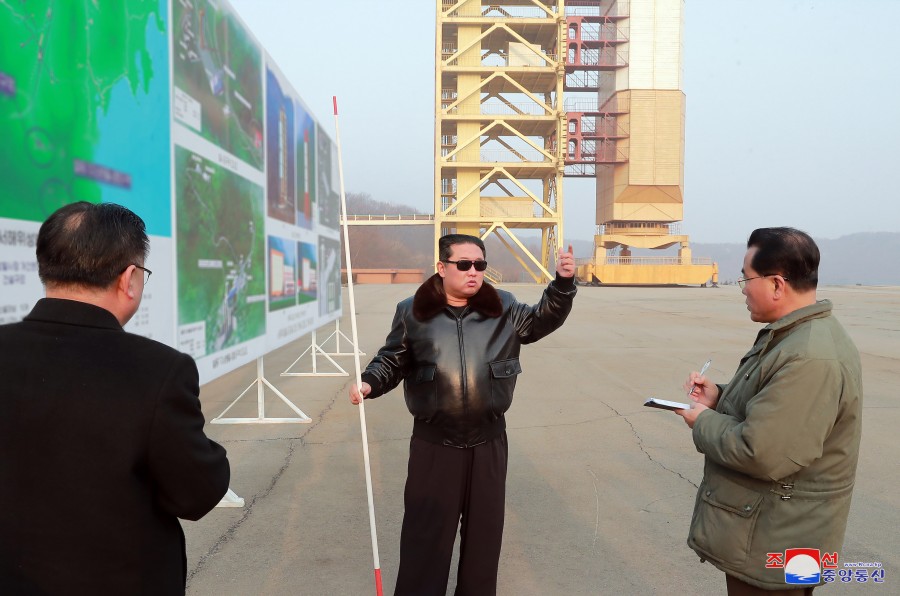 State media said all of this is required so that "various rockets could be launched to carry multi-purpose satellites, including a military reconnaissance satellite, in the future."[4]
But if that statement was referring to the expected upcoming military reconnaissance satellite launch and it is indeed scheduled around April 15, there is no sign of any construction urgency at Sohae. A week after Kim Jong Un's visit, the site is still quiet, with no observable work underway. This could mean the work won't start until after the upcoming launch, the expectations for an imminent launch are wrong, or a different site will be used.
North Korea's recent tests of satellite technology on the Hwasong-17 have taken place from Sunan International Airport near Pyongyang. There is no dedicated satellite launch facility at Sunan, but the Hwasong-17 can be launched off the back of a transporter-erector-launcher (TEL), opening the possibility that Sunan or another site could be used.
The Reaction
Something that is likely to remain unchanged from previous launches is the way North Korea frames the event and how the international community responds.
North Korea takes efforts to make its satellite launches appear like those of civilian space programs elsewhere in the world, especially, as mentioned, with warnings about where the rocket will fly and splash down into the ocean. This is a key difference with its missile launches.
But no matter the framing, the launch will almost certainly be criticized by the US and other nations as nothing more than a test of ICBM technology. The Department of Defense had already aired this complaint in reaction to the two recent tests when it said they were "likely to evaluate this new system before conducting a test at full range in the future, potentially disguised as a space launch."
Brief Timeline of North Korean Space Program
August 31, 1998: Launch of Kwangmyongsong-1 satellite from Tonghae Satellite Launching Ground on a Paektusan-1 rocket. The US said the satellite failed to reach orbit.
April 5, 2009: Launch of Kwangmyongsong-2 satellite from Tonghae Satellite Launching Ground on an Unha-2 rocket. The US and South Korea reported the launch failed, and the rocket and satellite crashed into the ocean.
April 13, 2012: Launch of Kwangmyongsong-3 satellite from Sohae Satellite Launching Center on an Unha-3 rocket. The rocket broke up a minute into flight.
December 12, 2012: Launch of the Kwangmyongsong 3-2 satellite from Sohae Satellite Launching Center on an Unha-3 rocket. The launch successfully placed the satellite in orbit, and North Korea declared it a success, but signals have never been independently observed.
April 1, 2013: The 7th session of the 12th Supreme People's Assembly (SPA) adopted a new law on space development and announced plans to form the National Aerospace Development Administration as the country's space agency.
May 2, 2015: Kim Jong Un visited the newly-built General Satellite Control Centre near Pyongyang.
February 7, 2016: Launch of the Kwangmyongsong-4 satellite from Sohae Satellite Launch Center on an Unha-3 rocket. The rocket delivered the satellite into orbit, but signals were never detected, leading to a conclusion that it had malfunctioned.
January 9, 2021: State media reported Kim Jong Un announced plans to launch a military reconnaissance satellite.
February 27, 2022: Test launch of surveillance satellite technology from Sunan International Airport.
March 5, 2022: Test launch of surveillance satellite technology from Sunan International Airport.
March 9, 2022: Kim Jong Un visited the National Aerospace Development Administration.
March 10, 2022: Kim Jong Un visited the Sohae Satellite Launching Center.
March 16, 2022: North Korea conducted a further rocket test from Sunan International Airport, but it ended in failure, according to reports.
---
---