North Korea's Yongbyon Nuclear Research Center: Upgrades Around the Complex
Recent commercial satellite imagery of the Yongbyon Nuclear Scientific Research Center indicates ongoing operations at the 5 MWe Reactor and Uranium Enrichment Plant (UEP)—the Democratic People's Republic of Korea's (DPRK's) main fissile material production facilities—and improvement or expansion efforts throughout the complex. This includes the continued construction of several new buildings located just south of the Experimental Light Water Reactor (ELWR), the expansion of the dam located near the Uranium Enrichment Plant and complexes, and the return of three specialized railcars to the rail transfer station. Developments at the never-completed 50 MWe Reactor in recent years will be addressed in a separate, forthcoming analysis.
Taken together, these activities suggest a longer-term investment in further developing the country's nuclear weapons program.
Background
In 2018, when inter-Korean and US-DPRK diplomacy was in full swing, operations at Yongbyon had slowed considerably. While there were indications that uranium operations (both conversion and enrichment) continued throughout the diplomatic process, the plutonium production and separation had stopped, and the large site appeared to be in caretaker status.
However, after the failed 2019 Hanoi Summit, North Korea started slowly boosting activities at Yongbyon, which was first reflected by housing construction in Yongbyon City and slowly also on construction of research and development (R&D) facilities in the nuclear center.
It was not until February 2021 that the first indications of plutonium operations resuming were observed. This included reactivation of the Thermal (Steam) Plant associated with the Radiochemical Laboratories (RCL), which is where plutonium reprocessing occurs. That summer, water discharge into the Kuryong River indicated that the 5 MWe Reactor had a new uranium core and was starting to produce plutonium once again.
These days, operations associated with plutonium production and uranium enrichment appear to be ongoing, along with renovations and new construction underway at other R&D facilities.
5 MWe Reactor
Imagery from April 27 through May 14 indicates that the 5 MWe Reactor is still operating, and since late April, there have been a higher-than-normal number of vehicles observed around the reactor and spent fuel storage building—for what purpose is unclear. This includes several cargo trucks and as many as three tractor-trailers. One truck—a blue tank truck—is seen routinely around the reactor and likely contains CO2 coolant for the gas-graphite reactor.
Figure 1. Vehicles observed around 5 MWe Reactor.

Figure 1A. Image Pleiades NEO © Airbus DS 2022. Figure 1b. Satellite image © 2022 Maxar Technologies. All rights reserved. For media licensing options, please contact [email protected].
The ELWR
No new activity is observed at the ELWR, which has yet to start operations.
However, separate from the reactor, construction continues on a small group of buildings directly south of the ELWR just outside the security wall. One building, a high-bay, three-story structure, was erected and completed in late 2021.Two smaller buildings are being built around it. As of May 14, the second building, which stands two stories high, appears to be nearing completion. Interior walls are being installed on the third building. The purpose of this small complex is unknown.
Figure 2. New construction at site south of ELWR on May 14, 2022.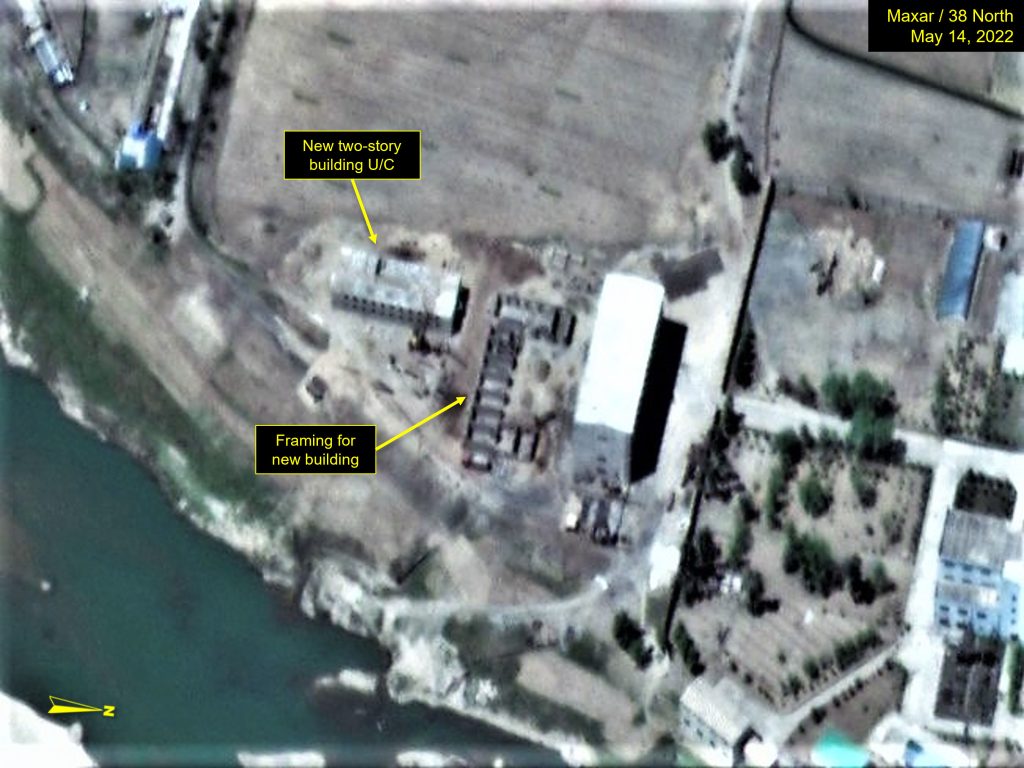 The Uranium Enrichment Facility (UEP)
There were indications that uranium enrichment continued throughout the period of US-DPRK diplomacy (2018-2019), including the occasional emissions coming from the UO2 production building.[1] A few improvements have been made around UEP as well. On the centrifuge halls, the cooling units were removed in August 2021, but progress on replacing them remains unclear.
On the north side of the halls, work on a new large-framed structure began in September 2021 and is steadily progressing. Just before winter, a light-colored covering was placed over the structure, probably of canvas or plastic material. By April 27, the edges of that covering appear to have separated. On May 14, a new, blue roof or covering had replaced it.
Figure 3. New roof or covering on the UEP extension observed on May 14, 2022.

Figure 1A. Image Pleiades NEO © Airbus DS 2022. Figure 1b.Satellite image © 2022 Maxar Technologies. All rights reserved. For media licensing options, please contact [email protected].
There have also been reoccurring visits of three specialized railcars and a white tank car, likely carrying some kind of liquid, at a nearby rail transfer station. These rail cars appear approximately three times a year to either deposit or take away some unknown chemical product. On May 14, they were present once again; their last appearance was in December 2021.
Figure 4. Specialized vehicles observed at rail transfer station.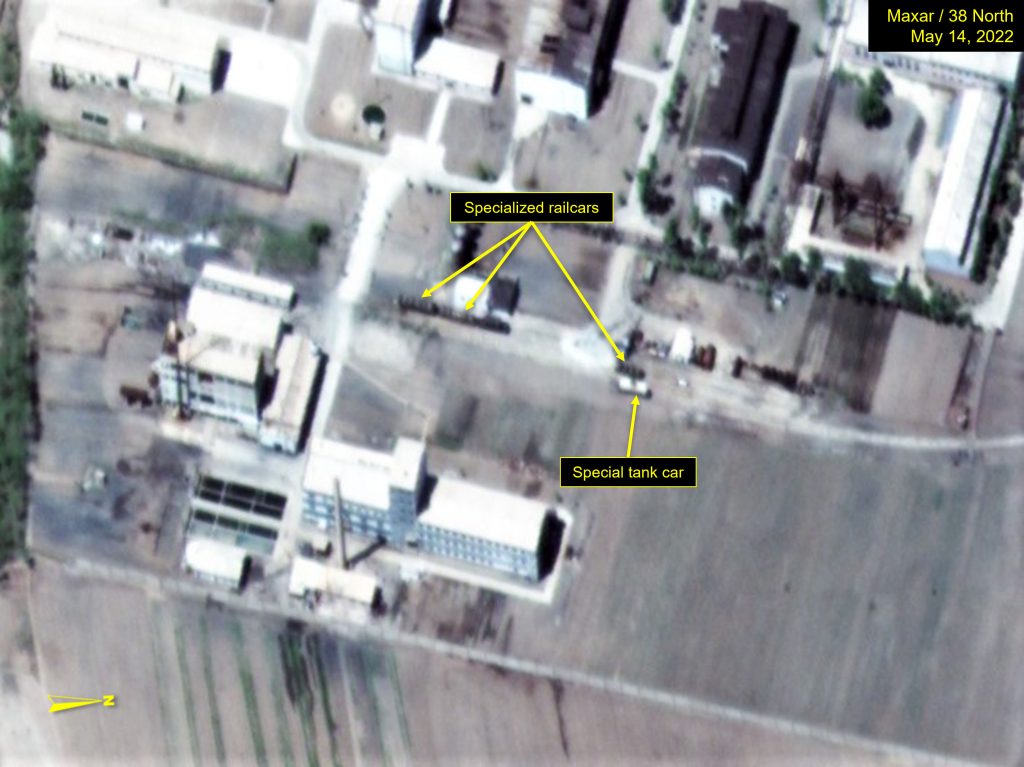 Other Areas
Activity at the RCL's spent fuel reception building is typically minimal. During 2021, there was only one occasion when a vehicle was observed there. However, from January through early March of this year, one vehicle was routinely seen there. After that period, no vehicles were seen until May 7, when two cargo trucks appeared at the facility. Their purpose could not be determined.
Finally, since early 2020, there has been work to better channel the flow of the Kuryong River near the RCL to address seasonal flooding and droughts to ensure a constant supply of water to a pump house located on the east side of the river. This includes the creation of two islands separated by channels that help direct the water flow and support a causeway crossing. While the buildup of these artificial islands continues, imagery from May 14 showed that the dam, collocated with the pump house, is being expanded further to the west, which will create a larger reservoir.
Figure 5. Dam expansion near RCL.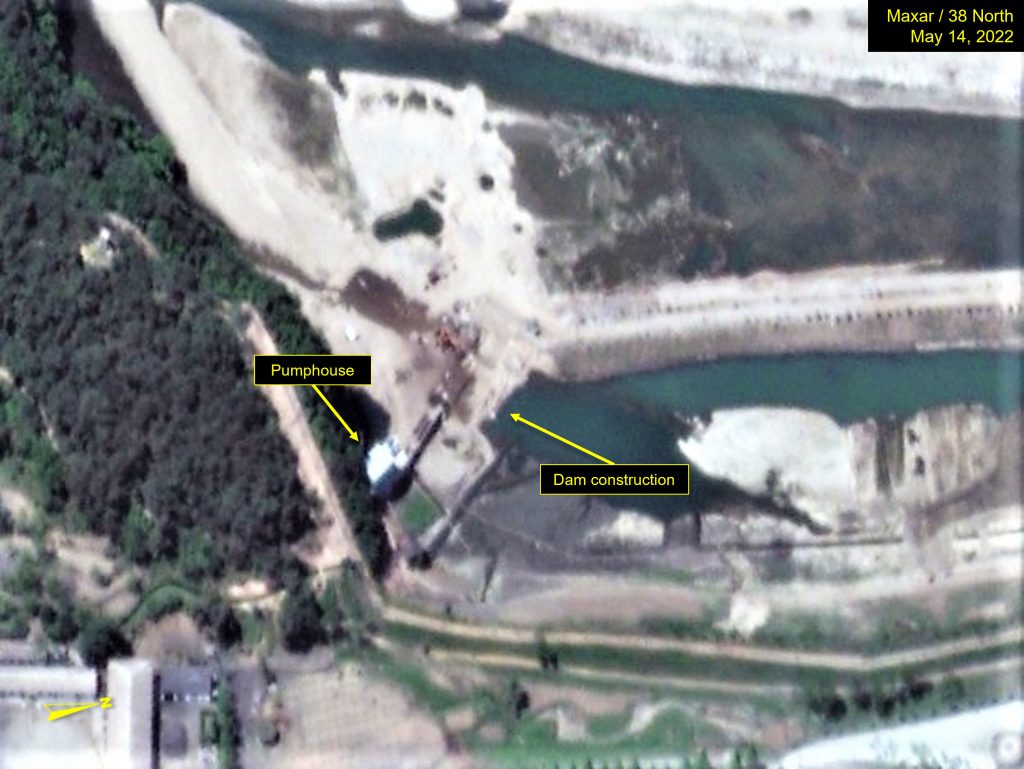 ---
[1]

UO2 production could be an intermediate step in manufacturing fuel for the 5 MWe Reactor or uranium hexafluoride (UF6) for the feed of the UEP, or both. However, the actual manufacturing of both the reactor fuel and UF6 takes place elsewhere.
---