Why the World Should Care About the COVID Outbreak in North Korea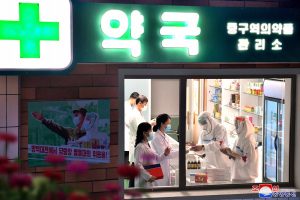 The COVID-19 outbreak in the Democratic People's Republic of Korea (North Korea) is an immediate global concern. The country's healthcare infrastructure, which the Global Health Index has ranked 193rd out of 195, is not equipped to handle a pandemic, especially not one that transmits as quickly as the Omicron variant. Without proper treatments and vaccines, the virus threatens to run rampant in the country. This would create the perfect conditions for new variants to arise, which is a threat to the rest of the world.
Many will rightfully point out here that the US, South Korea and multilateral initiatives like COVID-19 Vaccines Global Access (COVAX) have expressed a willingness to provide COVID aid, which North Korea has not accepted to date. Extending beyond the likely frustrations in Washington and Seoul, it's crucial to underscore that the rapid spread of Omicron and other emerging variants are not just about North Korea—these issues are a global security threat. As such, assistance efforts should be pursued as an urgent common objective. Moreover, it's necessary to understand the recent history of humanitarian cooperation in the country to know why North Koreans may be hesitant to accept aid, and what policy shifts might make them more amenable to receiving assistance.
Fire, Fury and Food­: The Recent Politicization of Aid in North Korea
The failed attempts at diplomacy during the Trump administration may provide the key framework for understanding North Korea's current hesitancy around accepting aid from countries other than its longtime ally, China. By most accounts, the détente between the US and North Korea fell apart in Hanoi when the two sides walked away without a deal. However, diplomacy under the Trump administration had never been consistent, and the manipulation of humanitarian channels undermined negotiations from the beginning.
In the wake of the first historic meeting between Trump and Kim and the signing of the Singapore Joint Statement that promised to "establish new US-DPRK relations," the US began severely restricting nongovernmental humanitarian operations in North Korea and key backchannels, which was a puzzling way to reestablish relations. So, while the US was publicly declaring a new start to its relationship with North Korea, it was shutting down any meaningful engagement behind the scenes.
Initially, closing humanitarian channels was not a stated policy of the administration. Instead, these actions were quietly carried out by the US State Department, which began denying aid workers the special validations needed to travel to North Korea. The US Treasury Department also began significantly delaying aid requests and denying approvals for even simple cooperative activities, such as routine reforestation trainings, which, prior to this period, had helped reduce the overall need for aid by decreasing the impact of flooding.
Even before the Singapore Summit, aid channels were already under significant pressure. United Nations (UN) sanctions resolutions passed in 2017 prohibited the shipment of any metal goods—a decision that created bureaucratic nightmares for aid operations. Shortly after, a backlog of aid shipments accumulated at ports, thereby preventing urgent medical care from being made accessible to the most vulnerable. Surgery patients went without anesthesia, and childhood nutrition programs tapered off due to cumbersome bureaucratic procedures and confusion amongst customs officials. Meanwhile, suppliers and shipping companies became more reluctant to work with aid groups, and banking channels completely collapsed. The UN sanctions stipulations went so far as to cover spoons and paper clips, and on at least 42 occasions, aid shipments were halted mid-transit often for reasons such as containing small metal items like nail clippers.
Compounding matters at the time, the Global Fund to Fight AIDS, Tuberculosis and Malaria abruptly announced in February 2018 that it would stop funding for projects in North Korea. Citing issues related to "risk management," the decision stopped treatments that had reduced malaria by about 72 percent. The Global Fund also contributed a modest but, nonetheless, significant amount in trying to meet the immense needs for tuberculosis (TB) treatment and prevention. The open secret in Washington, however, was that the Global Fund's decision was actually influenced by the Trump administration's "maximum pressure" campaign.
The Trump administration's move to worsen the conditions for aid operations before and immediately after signing the Singapore Joint Statement, at best, sent mixed signals to Pyongyang. Most likely, though, the gradual shutdown of longstanding aid operations cast reasonable doubt in the minds of North Koreans on the US' stated commitment to establishing new relations.
These assaults on global humanitarian and health operations were consistent with the Trump administration's propensity to dismantle global initiatives. While some of these issues were corrected at the UN level, the damage was already done—ordinary people suffered needlessly, established relationships were strained, and already resource-strapped aid operations came under increased pressure.
Similar to Trump's decision to drastically cut disease control cooperation with China, these decisions ultimately put the humanitarian and global health communities on the worst possible footing in the years leading up to a global pandemic. The relatively recent politicization of aid has almost been forgotten in Washington, but it provides essential context for understanding how and why there are currently difficulties in providing global health and humanitarian cooperation in places like North Korea exists.
These nongovernmental aid organizations, which are predominantly faith-based, have longstanding operations in North Korea, such as the one I represent—the American Friends Service Committee, which has been active in North Korea since 1980. However, policymakers seldom appreciate these decades of trust building and on-the-ground experience. While I have heard US officials say to aid groups that they are "the best representation of American values on the ground in North Korea," US policy has posed significant barriers to the work of aid organizations well before COVID.
Herein lies a critical misalignment: The US primarily views aid as a "carrot" to entice North Korea into dialogue, while North Korea seems to view aid as a cooperative activity essential to reestablishing a new relationship.
As viewed through the long history of humanitarian cooperation in North Korea, it is clear that these channels serve critical needs while undergirding diplomatic efforts. However, humanitarian channels can be dangerous and ineffective when used with a "carrot and stick" approach, as the lives of ordinary citizens hang in the balance. Furthermore, this approach politicizes what is an otherwise important bedrock on which to build relations.
Washington's Opportunity
To date, the Biden administration has not changed any Trump-era regulations on aid to North Korea. In fact, the Biden administration has opted to actively reinstate Trump-era travel restrictions even though North Korea's borders remain closed. These regulations could delay aid delegations when the North's borders reopen. It is not surprising, then, that this administration's attempts to speak with their North Korean counterparts have been met with silence. After all, this administration has not differentiated itself from its predecessor in this space—despite its campaign promises
The recent COVID outbreak provides an important opportunity for Biden to adjust critical aspects of humanitarian policies, such as obstructive sanctions regulations and travel restrictions, even before the North Koreans are willing to accept assistance. Consistent with recent changes in policies toward Cuba and Venezuela, the Biden administration now needs to adjust its policy and posture toward North Korea in a way that not only allows, but also encourages humanitarian cooperation. This is now a matter of global and national security. It may also have the welcome side effect of jump-starting dialogue with North Korea.
Congress, too, has a role to play. Given that Congress grants the administration sanctioning authorities, it also has the power to clarify humanitarian exemptions within sanctions regulations. In a keen move of foresight, Senator Edward Markey and Representative Andy Levin introduced the Enhancing North Korea Humanitarian Assistance Act, which would clear many of the unnecessary hurdles for lifesaving assistance.
However, the measure has been stalled amid opposition by key members of Congress, such as House Foreign Affairs Asia Subcommittee Chair Ami Bera. Bera, a medical doctor by training, has expressed support for COVID-19 aid to North Korea, while simultaneously blocking key regulatory fixes that would allow for the efficient delivery of that assistance. These types of contradictions in US policy and posture are no longer acceptable as, in the words of Dr. Kee Park, a global health specialist at Harvard Medical School and seasoned aid worker in North Korea, "we're looking at a major, major catastrophe."
The outbreak in North Korea demands an urgent response and is a crisis that affords the US a low-risk, high-reward opportunity to reinvigorate the most basic and longstanding elements of the US-DPRK relationship—humanitarian cooperation. The alternative is an even more prolonged global pandemic and continued diplomatic deadlock.