Sohae Satellite Launching Station: A Probable New Coastal Launch Pad Taking Form
Recent commercial satellite imagery of North Korea's Sohae Satellite Launching Station indicates construction is progressing rapidly at several of the key facilities within the complex, and a probable new launch pad is being built at the coastal construction site.
A New Launch Pad?
As previously reported, a new construction site located on the east coast approximately one kilometer north-northwest of the new seaport was first observed in imagery from April 30.
At this site, a new large concrete pad—approximately 135 meters by 40 meters—has been built, which could be a new launch pad. At the north end of the pad, there appears to be a possible launch stand and two parallel bars, suggesting where a strongback might be installed to raise a horizontally placed rocket body into a vertical position. Based on this configuration, it is yet unclear whether this pad is meant to accommodate solid or liquid-fueled rockets or both.
For instance, no flame bucket has yet been constructed. However, such a feature would not be required if the launch stand hangs over the pad or if launching a mobile missile from a transporter-erector-launcher (TEL). That said, there is sufficient space to add such a structure as construction continues.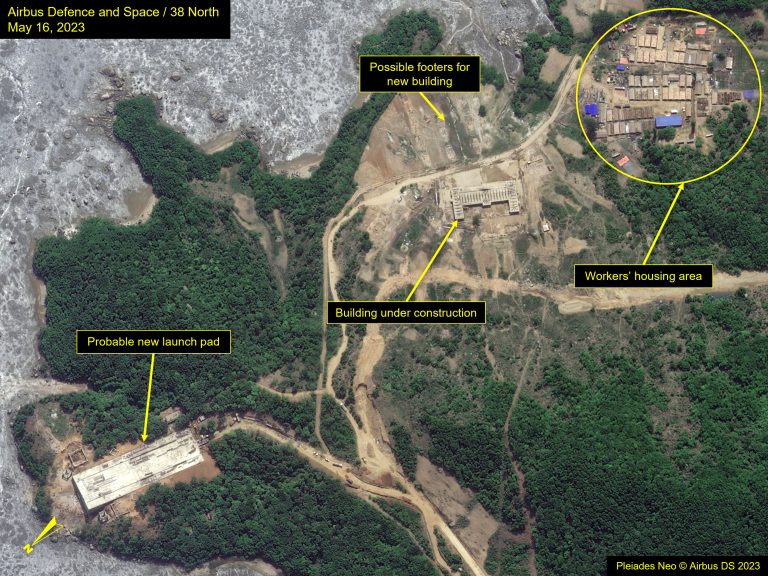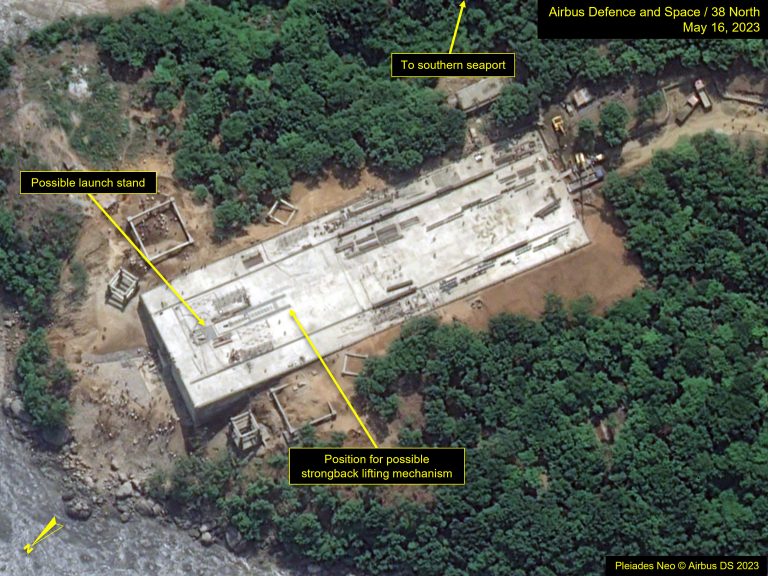 The Satellite Launch Pad
Construction on the main launch pad continues. The reassembly work on the exterior of the rail-mounted transfer structure, which was ongoing on May 12, is now completed. While almost all materials had been removed from the pad just days ago, new materials are now present.
In the May 12 image, a new, larger tower crane had been erected alongside the launch tower, but the former, smaller crane remained in place. It appears the latter has now been removed, and its supporting jib arm is lying on the pad alongside the launch tower. Two lattice sections, a mobile crane and numerous personnel are nearby.
Closer to the final assembly building, stacks of light-toned material and a probable additional mobile crane are present.