The World Economic Forum on East Asia 2012: Burmese Lessons for Korea?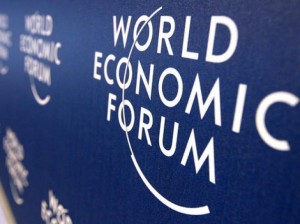 The 21st World Economic Forum (WEF) on East Asia was held in Bangkok, Thailand, from May 30 to June 1, 2012. As a member of its Global Agenda Council on Korea, I participated with the expectation that whenever issues like security or human rights were addressed, the focus would inevitably be on North Korea. I was wrong. Nevertheless, I found that the issues discussed prominently at the WEF Bangkok meeting had a strong relevance for the Korean peninsula.
One of my key takeaways from the WEF Bangkok meeting was ASEAN's growing self-confidence. The motto of the Bangkok meeting was "shaping the region's future through connectivity," and ASEAN took center stage. Founded in 1967 as a Cold War instrument against the spread of Communism in Southeast Asia and long ridiculed for its diversity and ambiguity, ASEAN is now one of the most dynamic attempts at creating greater regional cooperation worldwide. With crisis brimming in the European model, optimism about the future of the ASEAN Economic Community and its ability to achieve a common market by 2015 was high. The Euro crisis seems to have had an almost liberating effect for these markets, shifting the debate away from how European lessons can be applied, towards discussing which ASEAN member's concepts should be further developed.
Concepts and perspectives put forward by top leaders supported the impression that ASEAN has indeed matured. The Vice Premier of Thailand emphasized the need to strengthen domestic demand, moving away from the previous focus on export-led growth, and also implied that stability, rather than growth, would be the new strategy of his government. The Indonesian Minister of Finance suggested a focus on value added measures instead of simply increasing output by extensive means. The Indonesian President later hinted at policies to achieve more integrated economic growth, and confidently announced that ASEAN would contribute to global economic recovery. Resilience to external shocks as a benefit of closer intra-ASEAN cooperation was stressed almost in unison by ASEAN representatives, although this raised concerns among the few non-Asian participants of a "circling of the wagons" and ASEAN becoming more exclusive. The Vietnamese Prime Minister, supported by his colleague from Laos, regarded the widening development gap within ASEAN as one of the group's most serious problems and proposed institutional improvements and cooperation as a way forward. The Prime Minister of Bahrain spoke on behalf of the Gulf Cooperation Council and called ASEAN "a great inspiration."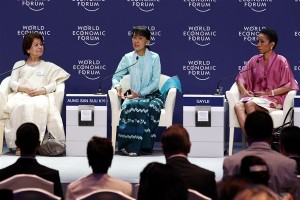 The star of the WEF Bangkok meeting was, without the slightest doubt, the Burmese democracy icon and Nobel Peace Prize laureate Aung San Suu Kyi (she insists on calling her country Burma, not Myanmar). She participated in all three days of the WEF—which is remarkable as this was her first visit abroad in 24 years. Her calm but firm voice, excellent English, impressive personal history, and not least her superior qualities as a speaker won her the hearts of the 600 participants. She stressed broader issues such as the need to abide by the rule of law, but also talked about the need to educate the 40 and 50 year olds in her country. This somewhat lost generation had long fought for democracy but was never given a chance to acquire a sufficient secondary education. This lack of training and skills now prevents them from participating in the building of a new Burma. Funds spent on tertiary education would benefit the old elite and not meet the country's more pressing needs. Instead of "reform," Aung San Suu Kyi preferred the term "improvement." She appealed to ASEAN and to investors to attach conditions to their support: "Don't give soft options to governments." At the same time, she stressed the need for a code of conduct that would control the activities of investors who are ready to flock to resource-rich Burma, and argued that investment in her country must also benefit the Burmese. As Burma is taking over the ASEAN presidency in 2014, all eyes are on the leadership to see whether it will be up to the task.
Regarding the relevance of these and other details of the WEF Bangkok meeting for Korea, I note a number of points. One is that the Korean peninsula received little attention. Not that Korea should be the non-ignorable center of the world. But given South Korea's economic success, developmental model, and peaceful transition towards democracy, combined with North Korea's unique political system, grave humanitarian situation, new leadership, and the myriad of security risks stemming from its nuclear program and the involvement of superpowers in North Korean affairs, one would think there was more than enough justification for interest in Korea at what is, in the end, a forum on East Asia. The fact that the forum took place in Thailand and thus the focus naturally was on Southeast Asia is only part of the explanation. Perhaps another reason why the two Koreas did not feature high on the WEF's agenda this year was the fact that the highest ranking representative of the ROK government was a Vice Minister of Foreign Affairs, while the DPRK, despite our efforts, did not send a delegation at all. Meanwhile, prime ministers and presidents represented countries like Thailand, Indonesia, Vietnam, and Laos. The chief of the World Trade Organization (WTO) attended, and so did the ASEAN Secretary General. That said, Korea was not totally ignored: on at least two occasions, ASEAN leaders mentioned the great popularity that South Korean TV dramas, movies, and pop-culture have in their countries.
Another important lesson I would derive from the WEF Bangkok meeting was how big of an impact a prominent opposition figure can make. The fight against the regime in Burma has a face, as does the movement for Tibet. This is not to say that change without a prominent opposition leader would be impossible; the case of my own home country of East Germany proves the opposite. Or does it? We merely borrowed one from the Soviet Union and made Mikhail Gorbachev our icon. This was much to the embarrassment of Erich Honecker who had distanced himself from Gorbachev's reform policies and was not amused at the excited welcome the Soviet leader received on the occasion of the 40th—and last—anniversary of the German Democratic Republic's foundation in October 1989. Poland had Lech Walesa, Czechoslovakia had Vaclav Havel, South Africa had Nelson Mandela. As the Gorbachev example has shown, the face of reform does not have to come from the opposition; Deng Xiaoping in China is another case. But where is the face of North Korea's opposition, if there is any? Who is its top reformer? So far, the only hope is for Kim Jong Un to become a youthful version of China's Deng.
Furthermore, it was difficult not to notice the self-confidence and growing relevance of ASEAN. As a European, I was particularly struck by the proud announcement of having outgrown the use of European integration as a benchmark. But there was more: a strong joint interest in resolving pressing security issues, migration, poverty, environmental affairs, energy supply, and developmental gaps. This alliance is getting stronger, and it has the potential to make a difference. Burma is a case in point. You could argue that the regime finally succumbed to international sanctions and political pressure, thus suggesting that hardline policies were successful. But I believe that it was also ASEAN's long-term patience and non-interference, and more or less unconditional inclusion that led to results that, as hope for was expressed during the Bangkok forum, are irreversible. In the case of North Korea, this would provide new support to the sunshine policy of the Kim Dae Jung and Roh Moo Hyun administrations (note the new book by Chung-in Moon: The Sunshine Policy. In Defense of Engagement as a Path to Peace in Korea (Seoul: Yonsei University Press)). Burma's example also suggests that a relaxed multilateral environment—which is not at all a proper description of the Six Party Talks, which are explicitly aimed at denuclearizing  North Korea—can be an effective forum of dealing with a problematic case. Let's not forget that North Korea is participating in the ASEAN Regional Forum (ARF). If the Six Party Talks get stuck—could the ARF be a way out?
My last point on Burma is that once a few key demands were met, sanctions were swiftly lifted, and, more importantly, investors are now scrambling to move into this resource-rich country. Its strategic position at the border of China makes it interesting for the US and its allies even beyond economic concerns. The status of North Korea in the eyes of the West is of course different; however, the very fact that such a sudden and pragmatic approach towards a former pariah state is even possible could serve as an indication that something similar could happen elsewhere. So far, I did not believe that even a reliable promise of economic cooperation and investment would be able to override other, domestic stability and external security related concerns of the North Korean leadership. But Kim Jong Un is obviously putting an increased emphasis on the provision of material well-being to his people and trying to build an image as a pragmatic and benevolent down-to-earth leader. If this is coupled with a simultaneous weakening of ideological sources of legitimacy, making economic success more vital for regime survival, the balance might shift towards a greater response to economic incentives in the future.
During the closing session of the WEF in Bangkok, a representative of the Burmese government, on behalf of President U Thein Sein, announced that his country would be willing to host the next WEF on East Asia in 2013. On behalf of the WEF, its founder Klaus Schwab accepted this invitation—one that would have been unthinkable until very recently. And who knows, maybe one day the WEF might hold a meeting in Pyongyang.