Form Controls Content: The Two Koreas Move, Washington Stands Still
With spring around the corner, there is a newfound sense in Seoul that Park Geun-hye and Kim Jong Un have finally begun to try writing a "new chapter" in inter-Korean relations. In stark contrast to these glimmerings of movement on the Korean peninsula, US policy on North Korea shows no signs of life. Last week, as Park and Kim began moving forward—albeit cautiously—Secretary Kerry's visit to the region served as a reminder that US policy is not even drifting… It's stuck in gear, oblivious to the contradiction inherent in supporting inter-Korean reconciliation while encouraging China to get tough on the North, and obstinate in its refusal to talk to Pyongyang despite the poor results of not doing so.
Talks for the Trust's Sake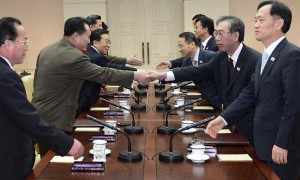 The two Koreas abruptly opened a senior-level dialogue for a marathon session on February 12, 2014, followed by a shorter meeting on February 14. The "deliverables" were an agreement to hold family reunions February 20-25 as scheduled, despite the overlap in dates with US-ROK military exercises, and to desist from slandering one another's leadership, despite the fact that it is harder for the government in the South to control media commentary than in the North. Seoul attempted to manage expectations over this mere "contact," but convened a rare national security meeting on Saturday to debrief and plan next steps. We might not yet hear publicly about the most substantive and sensitive topics broached, but, based on President Park's own principle that "form controls content," we can at least make some preliminary inferences by looking in-depth at the level and timing of the meetings.
The Kim and Park administrations nearly held senior talks in June 2013, but quibbled over how to match delegation levels between South Korea's Ministry of Unification and the North Korean Workers Party's Committee for Peaceful Reunification of the Fatherland. Under intense media scrutiny, the idea was scuttled. This time around, Pyongyang requested secret talks—which might be easier to arrange if South Korea's National Intelligence Service (NIS) played the role of back-channel, like it did in the "good old days" under Park's father, who dispatched his KCIA chief to hold secret talks with Kim Il Sung in Pyongyang which led to the first inter-Korean agreement (the July 4, 1972 Joint Communiqué). But today, Pyongyang sees the NIS as so hell-bent on subversion of the North and ferreting out communist sympathizers in the South that it is not a viable option.[1] The North also views the Unification Ministry as a muddy channel, lacking the authority to negotiate with the full confidence of the president. So, this time around, Pyongyang requested secret direct talks with a representative of the president herself.
Seoul accepted the channel but not the secrecy. The southern head of delegation was Kim Kyou-hyun, transferred to the Blue House just a few weeks before from the Foreign Ministry. Kim spent most of his career dealing with the US-ROK alliance, and joined the Blue House as first deputy head of the president's National Security Council. He is well-qualified and well-positioned as a direct channel to Park, with ties to two strong figures in her foreign policy team, Foreign Minister Yun Byung-se (his former boss and longtime colleague) and National Security Advisor Kim Jang-su (under whom he once served in the Defense Ministry). But Kim is a newcomer to inter-Korean talks. Across from him sat United Front deputy director Won Tong Yon, veteran of inter-Korean dialogue going back to the 1992 joint declaration, whose close involvement in the 2007 inter-Korean summit triggered speculation that Pyongyang was interested in a Kim-Park summit.
While the debate among analysts continues to rage over whether the purge of Jang Song Thaek signifies the enhanced power or severe impotence of Kim Jong Un, either way the conclusion is the same. If Kim has further consolidated power, he may be ready for more decisive interaction with the South. If he is largely a cipher, the same may nonetheless hold true for the real powers in Pyongyang. However, here in the South, President Park may have high approval ratings, including for her approach to North Korea of building trust without weakening deterrence. But there is also a sense that she has not yet really begun implementation of her policy towards Pyongyang, and that the time has come—one year into her single, five-year presidency—to get rolling. In terms of domestic political timing as well as the form and level of talks, last week looks like a watershed of sorts.
Sunshine Policy 2.0?
There is another reason to think something is stirring on the Peninsula. At the same time political talks commenced, the South sent a high-powered economic delegation to the North's special economic zone at Rason, auguring the end of the Seoul's freeze on economic cooperation in place since May 2010, and the start of a third landmark inter-Korean project to join the ranks of the Kaesong Industrial Complex and Mt. Kumgang Tourist Region.
Three industrial giants, who came together in November as the "Korea consortium" on the  project, set off for an on-site inspection of the new rail link from Rason to the Trans-Siberian Railway terminus in the Russian city of Khasan. KORAIL is South Korea's government-owned national railroad company. POSCO is Korea's steel behemoth, built up by Park's father in the 1970s but now privatized. Hyundai Merchant Marine is headed by Hyun Jeong-eun, also head of Hyundai Asan (which operates the inter-Korean Mt. Kumgang Tourist Region, frozen since 2008). Chairwoman Hyun, widow of one of the Hyundai heirs, joined the mourning delegation from Seoul after the death of Kim Jong Il and is one of very few South Koreans who have met Kim Jong Un.
The 18 officials from these three companies represent the highest profile business delegation from the South in years. Their visit also stands in blatant contradiction to the "May 24th sanctions" imposed in 2010 by then-President Lee Myung-bak to freeze economic cooperation in the wake of the sinking of the Cheonan.[2] The Rason feasibility trip, in fact, harkens back to earlier "Sunshine Policy" plans for long-term inter-Korean cooperation, with the Kaesong Industrial Complex as the core of phase one, and joint port development on both coasts as the engine of phase two. Kaesong leverages North Korea's comparative advantage in low-cost labor for light industry manufacturing. Rason makes the most of North Korea's strategic location as a transport node, plugging the Chinese Northeast Provinces and Russian Far East into the Asia Pacific trade network via South Korea's East Sea hub of Busan, the fifth busiest container port in the world. Also lurking in the background is another, big-ticket capital project, building an overland gas pipeline linking Russian supply to South Korean demand. If Moscow, Pyongyang and Seoul could devise a way to manage the political risk, the rail-link and pipeline projects would be game-changers for Eurasian energy and trade, and all three countries would stand to reap huge benefits from its success. In Park's mind, the rail project is part of her Eurasia initiative to spur regional economy synergy, but the implications for inter-Korean relations are profound.
Putting together the political dialogue and economic delegation, the two Koreas seem to be moving from talking to walking. Experts and officials here are hedging their bets, since progress in inter-Korean relations is never smooth. But we do seem to be at an inflection point, where President Park's philosophy of "trustpolitik" and Supreme Leader Kim's rhetoric about "striving for better inter-Korean relations" become reflected in actual policy. Although Park is surrounded by experienced figures, both hawks and doves, she seems to keep her own counsel and have her own ideas, especially on inter-Korean relations. Once she begins to act with resolve things could move quickly if Kim is ready to play ball.
Ceding the Initiative
As it happened, during the lull between inter-Korean rapprochement talks, Secretary of State John Kerry arrived in Seoul. The White House had just announced that President Obama added South Korea to the itinerary for his April visit to Asia, lending a celebratory air to Kerry's visit. But that decision was also no doubt related to the thorn in the side of the US-ROK alliance these days—the wretched state of Korea-Japan relations, a highly sensitive topic that the allies touched upon in public but should have delved into privately.
In remarks to the press by Secretary Kerry and other senior administration officials, both in Seoul and on his next stop in Beijing, North Korea was placed at the top of the agenda. However, the only novelty was rhetorical—"We are embarked in an effort to translate denuclearization from a noun to a verb," one senior official explained. As to what that "translation" means exactly, public statements merely rehashed standard talking points that North Korea must take steps first and China is the key to making that happen. More than once, Secretary Kerry mouthed the Obama Administration mantra on North Korea, "We will not accept talks for the sake of talks."
Ironically, Senator Kerry was once a trenchant critic of the administration's resistance to talking to Pyongyang and reliance on running its offense through Beijing. Kerry argued as Chairman of the Senate Foreign Relations Committee back in 2011:
We simply cannot afford to cede the initiative to North Korea and China because neither country's interests fully coincide with ours. We must get beyond the political talking point that engaging North Korea is somehow 'rewarding bad behavior.' It is not. We will set the time and place and we will negotiate in good faith. Talks will be based on our national security interests and those of our allies.
Fast-forward to 2014, with China continuing to engage the DPRK and South Korea possibly renewing its engagement approach, and yet Secretary Kerry found himself falling back on the "unique and critical role" for China to play in pushing North Korea toward denuclearization by using "all means at its disposal." "No country has a greater potential to influence North Korea's behavior than China," Kerry insisted. This is precisely what most Chinese officials and experts say about the United States. "We cannot wait" on North Korean denuclearization, Kerry told Xi Jinping on Friday, even as US policy still goes by the name "strategic patience."
What would it take to cause the United States to rethink its approach to North Korea, to take initiative, to be willing to sit down and talk to the adversary, to complement conventional deterrence with reciprocal confidence building steps that lower tensions and open room for compromise? A reminder of what a proactive US approach to the Korean peninsula can look like lurked in the shadows of last week's flurry of official visits and talks, in the person of former US Ambassador to South Korea Don Gregg's unofficial visit to Pyongyang. Gregg played a critical role in President George H.W. Bush's bold decisions in 1991, undertaken jointly with South Korea, to remove tactical nuclear weapons from the South and to suspend the annual US-ROK military exercises, known as "Team Spirit."[3] The two Koreas reached their first landmark agreements on reconciliation (the Basic Agreement) and denuclearization (the Joint Declaration), in part, on the basis of those proactive steps. Gregg is optimistic that President Park Geun-hye, whose father he saw in action as Seoul's CIA station chief in the 1970s, can achieve a new breakthrough in inter-Korean relations, and he refuses to give up hope that the Obama administration can fashion a more effective policy as well.
A Dead-End
The two Koreas appear to be inching closer to opening a "new chapter" in their political, social and economic relationship. The Park administration has made it clear that family reunions are just the first step in the trust-building process. The senior talks in the DMZ and economic delegation in Rason hint at what the steps to come could look like should inter-Korean cooperation gain traction: from ramping up aid, trade and investment to ratcheting down military tensions in the West Sea and along the DMZ. Seoul's approach would then start to look an awful lot like Beijing's. Xi Jinping has added some teeth to North Korea policy in order to inhibit destabilization, encourage denuclearization, and send Kim Jong Un a message about showing proper respect to China. But the border remains wide open to commerce and investment, and Beijing continues to insist—as Kerry heard on his recent visit—that the solution to the nuclear issue has to come through peaceful dialogue, with the United States playing the lead role.
The United States is dug into its positions, ignoring the latent contradiction between "welcoming" inter-Korean cooperation while urging China to scale back its engagement with the DPRK. North Korea's nuclear program at Yongbyon is moving forward, there is little prospect of resumption of the Six Party Talks anytime soon, and Kenneth Bae remains in prison. The 19th round of family reunions are still on for this week, and the bi-annual US-ROK military exercises are still scheduled to start the week after. In another rhetorical novelty, US officials like to refute North Korea's "byungjin" policy of simultaneously developing the civilian economy and strengthening the nuclear deterrent by saying, "Byungjin is a dead-end." The same might well be said of US North Korea policy itself.
---
[1] The NIS has been embroiled in controversy over meddling in the 2012 presidential election by having agents use social media to damage the reputation of Park's opponent, Moon Jae-in.
[3] See the forthcoming Bound by Destiny: Donald Gregg, Kim Dae-jung, and Turning Points in the US-ROK Alliance, edited by John Delury and Kang Tae-ho, Seoul: Yonsei University Press, 2014.