Personnel Shifts in the SPA Election: Steady as She Goes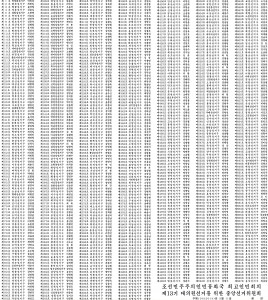 The election of the 13th Supreme People's Assembly on March 9, 2014 did not reveal any major personnel or policy changes in North Korea's unicameral parliament. With an estimated 55 percent new membership,[1] there are signs of generational change in the leadership, but major shifts were either deferred or will come later. The list of members elected also shows that the removal from office and execution of Jang Song Thaek, contrary to expectations, has not yet resulted in a significant purge. On the other hand, Kim Jong Un may have slowed the pace of dismissals, demotions and criminal punishments lest it cause a political system overload.
The Old Guard Still Stands
The list of deputies includes at least three members of the 88th Sniper Brigade, the Soviet-trained unit to which the late DPRK President and founder Kim Il Sung belonged in 1945. These deputies, now in their 90s, are Ri Ul Sol, Hwang Sun Hui and Kim Chol Man. In the cases of Ri and Hwang, they served as surrogate parents to the late leader Kim Jong Il and his sister Kim Kyong Hui. This continues the national respect[2] accorded anti-Japanese fighters. Their renewed membership is an attempt to demonstrate consensus among the DPRK's elders (and heroes) in supporting Kim Jong Un's leadership, as this cohort also had personal ties to Kim Jong Il's eldest son, Kim Jong Nam, and particularly Ri Ul Sol who treated Jong Nam as a grandson.
Kim Jong Un's aunt, Kim Kyong Hui, appears to have been re-elected to the SPA. Although some Pyongyang watchers in South Korea have questioned if another woman[3] with the same name has been elected in place of Madame Kim. In the members' lists from 2003 and 2009, the leader's aunt was listed in the third position; during those years no other person with that name was elected to the SPA. This could mean her constituency number has merely changed to number 285, similar to other officials of the Kim Jong Il era.
Several senior elite members have retained their positions since Kim Jong Un's accession in 2012. These officials include Kim Ki Nam (Korean Workers' Party (KWP) Secretary of Propaganda and Agitation), Choe Tae Bok (KWP Secretary of Science and Education) and Kang Nung Su (DPRK Vice Premier). This means the bargain Kim Jong Il made with the old guard during his own transition in the 1990s—whereby elder officials retain their positions until death—still applies to a select group[4] of senior officials. Given frequent personnel changes during the last two years, Kim Jong Un and his aides are probably maintaining some modicum of continuity. There is an even a chance that Kim Kyong Hui retains a degree of influence over personnel and policy decisions undertaken by her nephew. Kim, Choe and Kang have very close personal and political ties to Kim Kyong Hui.
During 2012 and 2013 there was an unusual number of personnel shuffles in the high command of the Korean People's Army (KPA). The list of members shows that two of these officials Vice Marshal Kim Jong Gak (who served as Minister of the People's Armed Forces (PAF) from April 2012 to November 2012) and Gen. Kim Kyok Sik (who served as Minister of the PAF from November 2012 to May 2013, then Chief of the KPA General Staff from May 2013 to August 2013) will return to the SPA. In contrast, Col. Gen. Hyon Yong Chol, who served as Chief of the General Staff from July 2012 to May 2013, was not re-elected despite having been a member of the 12th SPA elected in 2009.
Others Fall by the Wayside
With regard to other senior officials and elders from the Kim Jong Il era, several senior military officials regularly seen with the late leader, and who held positions under Kim Jong Un, will not return to the SPA. These include Gen. Ri Myong Su, Gen. Pak Jae Gyong and Vice Marshal Hyon Chol Hae.[5] This might be contrasted with the cohort of holdovers from the Kim Il Sung and Kim Jong Il eras, who remain on the SPA and are of advanced age. It is probable in the cases of Pak and Hyon[6] that they've largely withdrawn[7] from DPRK political culture to allow Kim Jong Un to consolidate his authority over military affairs. Since Gen. Ri Myong Su[8] had close ties to Jang Song Thaek and served under Jang as the Minister of People's Security, he may have been part of the purge sweeping officials tied to Jang. There have even been rumors that Ri has been arrested and even executed.
No Signs Yet of a Jang Purge
The SPA election provides a mixed picture as to the effect of Jang Song Thaek's purge.[9] Analysts have noted the absence of Mun Kyong Dok, the leading party official in Pyongyang, and Ro Song Sil,[10] head of the women's union. A protege of Jang's, Mun however was not a member of the 12th Supreme People's Assembly in 2009. Ro was removed from her position at a meeting of the women's union held in February 2014.
Concerning officials linked to Jang, as well as Choe Ryong Hae (recently rumored to be under arrest), who appear on the member list; it is likely candidates for the SPA were determined in early February while the central party was still conducting active assessments of senior and mid-level officials in the party, state and army. They appear safe for the time being but this does not preclude the dismissal or arrest of officials linked to Jang or Choe at a future date. It is not uncommon for SPA deputies to attend the first session and gradually fade from view. The best example was Jang himself and his widow Kim Kyong Hui who were both elected to the 11th SPA in 2003, attended the first session and related events, then subsequently disappeared shortly thereafter for a period of three years.
One of the most notable absences on the list of 13th SPA members is Paek Se Bong, the last known chairman of the powerful Second Economic Committee (SEC) and chief operating officer of the manufacturing of conventional weapons and WMDs.[11] This corroborates reporting from sources inside the country and stories in defector media that Paek was removed from office during 2013. It is not clear whether he has died, was dismissed or merely retired. Some media sources have claimed that Jang Song Thaek's dismissal and execution were, in part, tied to Paek's leaving the SEC and his attempt to gain control of the WMD and space programs shortly thereafter. (This was also included in the extensive list of charges leveled against Mr. Jang at the Political Bureau meeting and State Security tribunal in December 2013.)
Plenary of Central Committee to Follow?
At least three officials who held the position (or equivalent) of Party Central Committee Department Director are not listed as members of the 13th SPA. All central party directors (and many deputy directors) appear on the 13th SPA member list so these three officials are presumed to have been removed from office or have a questionable status. Paek Kye Ryong who was appointed Director of the KWP Light Industry Department in March 2013 does not appear to be a member. Kim Jong Im, who was appointed Director of the KWP Party History Institute in December 2009, is also no longer a member. Yun U Chol, appointed editor of the party's newspaper Rodong Sinmun in March 2013, was replaced in December 2013 and is no longer a member either.
In order to fill these vacancies in the central party (and other vacancies in the Party Central Committee and its Political Bureau), a plenary meeting of the Party Central Committee will probably convene ahead of April's session of the 13th SPA in late March or early April. In 2013, the Party Central Committee held a plenary meeting one day ahead of the 7th session of the 12th SPA.[12] If a Central Committee plenary meeting is held in 2014, it will mean that Kim Jong Un has reverted to a practice of the Kim Il Sung era in which the Central Committee met ahead of an SPA session. Moreover, we can expect to see more clues as to future directions in key personnel and important policies.
---