North Korea's Nuclear and Rocket Test Sites: Activity Continues but No Sign of Test Preparations
Summary
Recent commercial satellite imagery of North Korea's nuclear and rocket test sites indicates that while activities continue, there is no evidence to suggest preparations for impending nuclear or long-range rocket tests.
Excavation continues on a new tunnel in the West Portal area of the Punggye-ri Nuclear Test Site, but there is little or no activity at other key parts of the facility.
Construction continues at the gantry and launch pad at the Sohae Satellite Launching Station (Tongchang-ri) where two launches of the Unha rocket were conducted in 2012. Work will not likely be complete for several months.
There is no test-related activity at the Tonghae Satellite Launching Ground (Musudan-ri), which was last used for testing in 2009. However, a large amount of building material has arrived indicating construction will soon resume on the new assembly building.
While there are no signs of impending tests, activities at the three facilities indicate that Pyongyang is increasing its ability to conduct future tests. In the case of Punggye-ri, the North is expanding the number of tunnels available for future nuclear tests. In the case of its rocket launch sites, construction at Sohae and Tonghae is intended to enable those facilities to handle larger rockets, and possibly mobile missiles, in the future.
Punggye-ri Nuclear Test Site
Commercial satellite imagery from March 2, 2014 indicates that fresh spoil has been excavated from the new tunnel entrance that Pyongyang has been excavating since mid-2013. Since early February, the North Koreans have extended the mining cart track, and new spoil that appears grey has been deposited over the snow cover. Mining carts are visible on the tracks and probable vehicles are seen on the road in the vicinity of the new tunnel entrance. There is no apparent activity at the Central Support Area or the Southern Portal where two tunnels appear complete. In short, there are no indicators that a new test will be conducted in the next few months.
Figure 1. Excavation continues at the West Portal.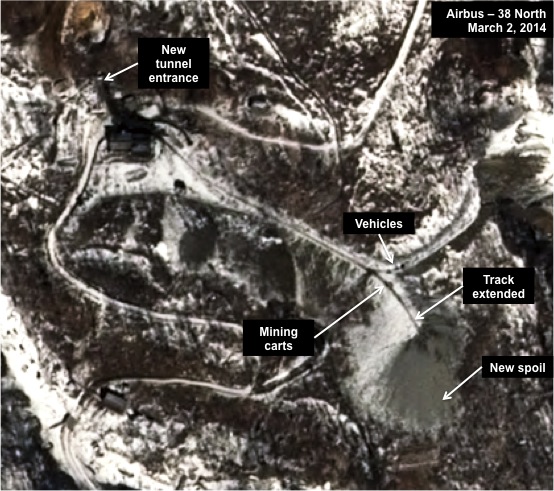 Sohae Satellite Launching Station (Tongchang-ri)
Imagery from March 6, 2014 indicates that modifications continue to the gantry tower and launch pad, which were used to launch the Unha rocket in 2012, to prepare them to handle larger space launch vehicles. The structures comprising the upper two work platforms that will be added to the gantry tower meant to increase its height are visible on the pad near the gantry. They have been laid out in 5 rows of 4 pieces each since January 2014. The crane on top of the gantry will be used to move these pieces into place. Construction is also progressing on a wider road leading to the modified pad along with what appears a widening of the pad. Work may continue for several months, ruling out the possibility that there will be a long-range rocket launch during that timeframe.
Figure 2. Construction continues on the Sohae Launch Pad.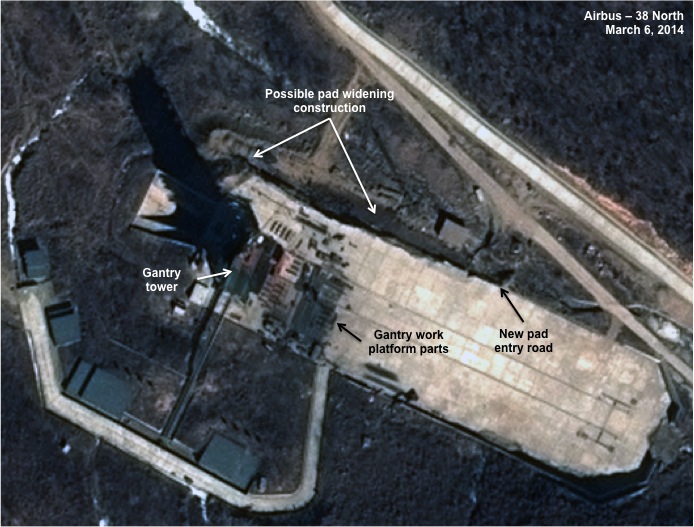 In addition to construction at the existing pad, there is renewed activity at the site further north, which could be intended to launch mobile missiles. (Since construction is still in an early phase, it is not possible to make a final judgment on the purpose of this site.)
Figure 3. Resumption of construction at the possible mobile missile launch pad.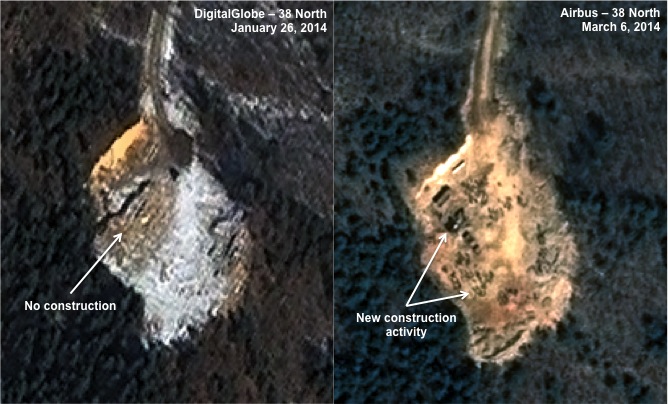 Tonghae Satellite Launching Ground (Musudan-ri)
Imagery from March8, 2014 indicates that there is no activity at the existing launch pad. At facilities that have been under construction, on and off for two years, the new launch control building is now externally complete. Moreover, there are nearly 20 stacks of supplies adjacent to the new assembly building where no work has occurred since October 2013, indicating that construction may soon start again soon at this site.
Figure 4. Renewed construction activities.