Imports to North Korea Still Arriving, but Face Weeks in Quarantine
Recent commercial satellite imagery indicates freight continues to arrive at the Uiju quarantine facility (formerly the Uiju Airfield) near North Korea's northern border with China, and a large amount is currently stored pending release into the country. North Korea's main container port at Nampho is also busy, and a large number of ships sit at anchor, likely undergoing quarantine and waiting to enter. Together, this activity indicates North Korea is open to imports despite a recent jump in COVID-19 cases in China.
Uiju Quarantine Facility
On April 3, railcars were observed at the loading platforms, and approximately 960 groupings of cargo were spread throughout the facility. They sit on and alongside what was the runway and taxiway at the former airfield and are neatly organized in rows with spacing to allow access and ventilation between them. They appear to be covered in tarpaulins or possibly shrink wrapped.
Figure 1. Overview of Uiju quarantine facility on April 3, 2022.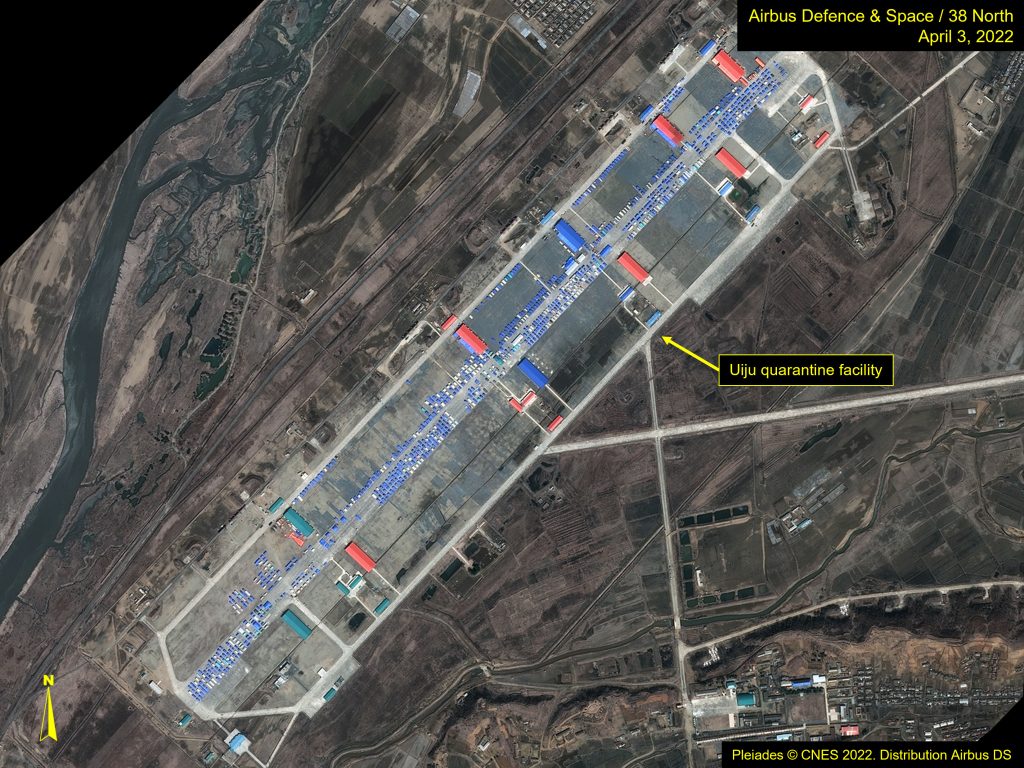 38 North previously reported that the facility appears to be subdivided into five distinct zones, each with its own rail platform for offloading goods and a pair of warehouse-like structures. It appears that the goods are trucked from the platform to the northernmost warehouse in each zone, processed and then set outside for a period of time.
What happens next is unclear, but the layout of the site suggests the southernmost warehouses may be related to departure processing. After all, it would not make sense to take "clean" goods out through the path taken by "dirty" goods. However, to date, large amounts of goods do not appear to have left the facility, so it is difficult to determine this stage of the operation.
Figure 2. Distinct zones visible at Uiju quarantine facility.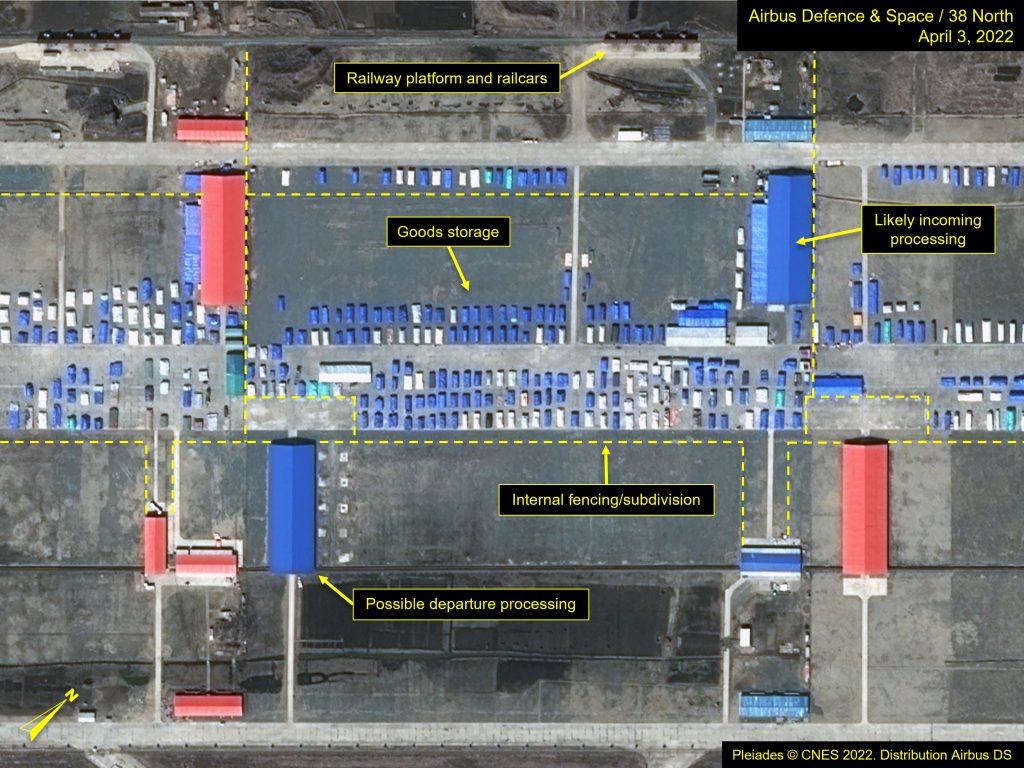 Throughout the facility, the cargo is divided into distinct groupings, which are then covered or wrapped in different colored covers. The majority are blue, with several white batches as well. The distribution of white batches amongst the blue produces patterns that can be seen in satellite imagery.
Previously, we noted these groupings appeared unmoved between images taken on January 21 and February 22.
Comparing the January 21 image to the latest April 3 image, some of that freight has been moved, but almost all appear to be in the same position. One such example is a grouping of blue, white, green and red batches that is in the same position in both images.
Figure 3. Identical group of goods visible on January 21, 2022 and April 3, 2022.

Image © 2022 Planet Labs, PBC cc-by-nc-sa 4.0. Image Pleiades © CNES 2022, Distribution Airbus DS. For media licensing options, please contact [email protected].
It's impossible to say whether these are the same goods or whether goods have been moved and coincidentally replaced with similar colored batches, but if it is a coincidence, then it is repeated multiple times across the facility.
Comparing a February 22 image with the April 3 image, all but two of 90 groupings appear to be of similar sizes and shapes and in identical positions in both images.
Figure 4. Groups of goods in identical positions on February 22, 2022 and April 3, 2022.
Image © 2022 Planet Labs, PBC cc-by-nc-sa 4.0. Image Pleiades © CNES 2022, Distribution Airbus DS. For media licensing options, please contact [email protected].
If this is the same cargo, it means North Korea has opted for a considerable quarantine period for incoming goods. The freight first observed on January 21 has been there for 11 weeks; what was first observed on February 22 has been there for at least six weeks.
Based on the imagery available, it is unclear whether any cargo has left the facility to date.
Since North Korea resumed rail imports of goods in January, the COVID-19 situation in China has gotten worse with the onset of the Omicron strain. Some parts of Shenyang, the provincial capital of neighboring Liaoning Province, have been locked down due to COVID cases. Despite this, freight volumes continue to rise at the quarantine facility, indicating that goods continue to enter the country.
Nampho Port
North Korea's largest container port continues to be busy with significant quantities of freight on the dockside and in storage areas at the site. Because most of it is containerized and the site in general is much busier than the Uiju quarantine facility, it's more difficult to track quarantine patterns at the port. But unlike Uiju, the goods do not appear to sit in the same place for weeks on end.
Figure 5. Nampho Port on April 4, 2022.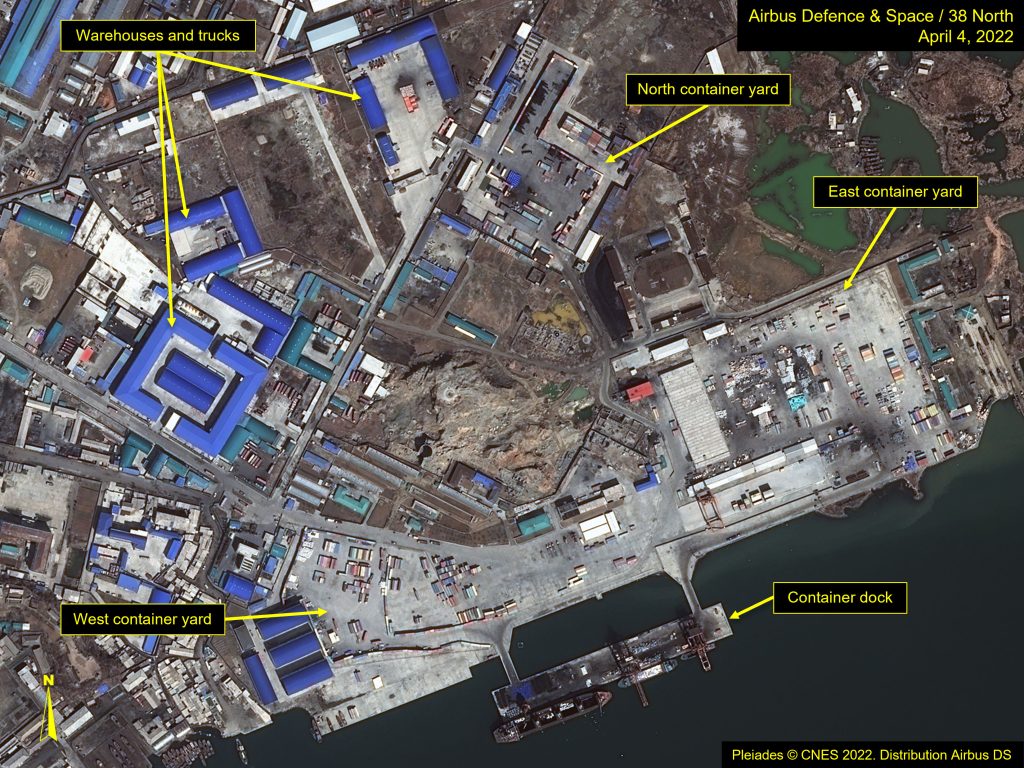 There is a difference between sea and land freight. Cargo arriving at Uiju has been in China until only hours before it arrives and is unloaded. Sea freight has already been effectively quarantined in the ship's hold for several days while en route to North Korea from wherever its point of origin may be. Additionally, ships appear to be being held outside the entrance to Nampho Port for days and possibly weeks before being allowed to unload.
Figure 6. Cargo ships visible outside entrance to Nampho Port on April 7, 2022.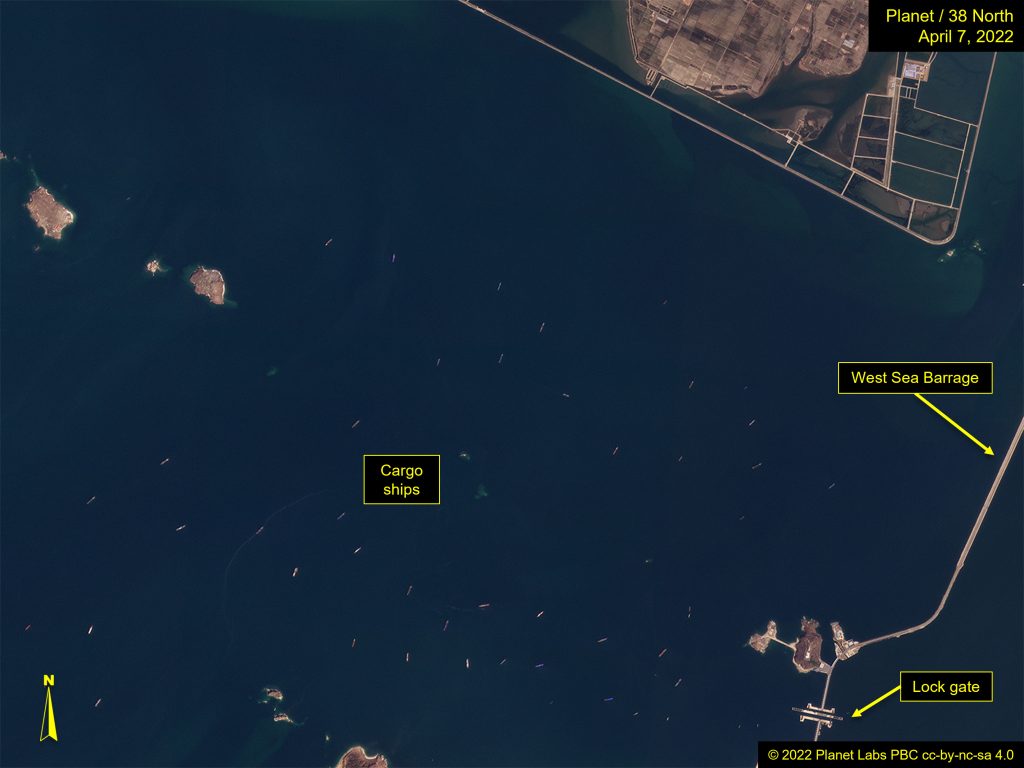 In the western container yard, the wall made of containers is still present, controlling access to a large area of the yard. Inside this area, containers and some loose freight is stored. At Nampho, it appears much of the cargo is unloaded from containers and packed into trucks in the container yard to be transported to its final destination. In the most recent image, eight trucks are visible, and some are engaged in loading or unloading freight from containers.
At the neighboring container dock, three ships are present, including one container ship. Loose cargo is present on the dockside, and the ship appears to be being loaded or unloaded.
Figure 7. Ships and loose goods present at western container yard on April 4, 2022.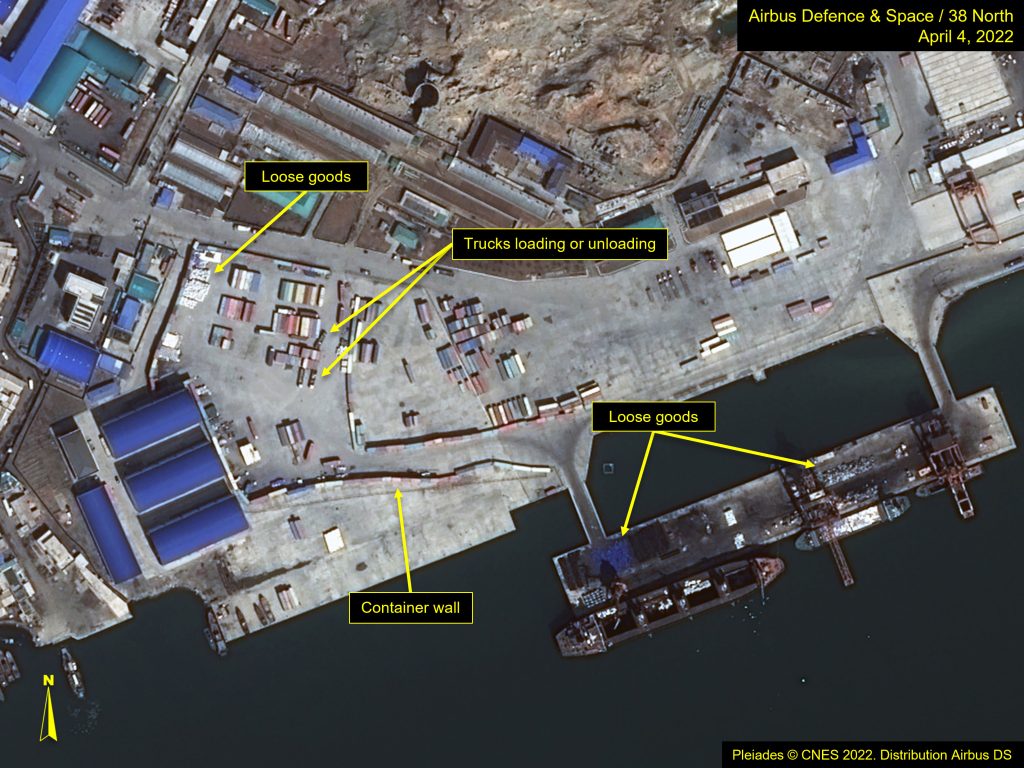 In the eastern container yard, a much larger amount of loose cargo is sitting alongside containers. The volume appears slightly less than what was observed in late January.
Figure 8. Loose goods visible at eastern container yard on April 4, 2022.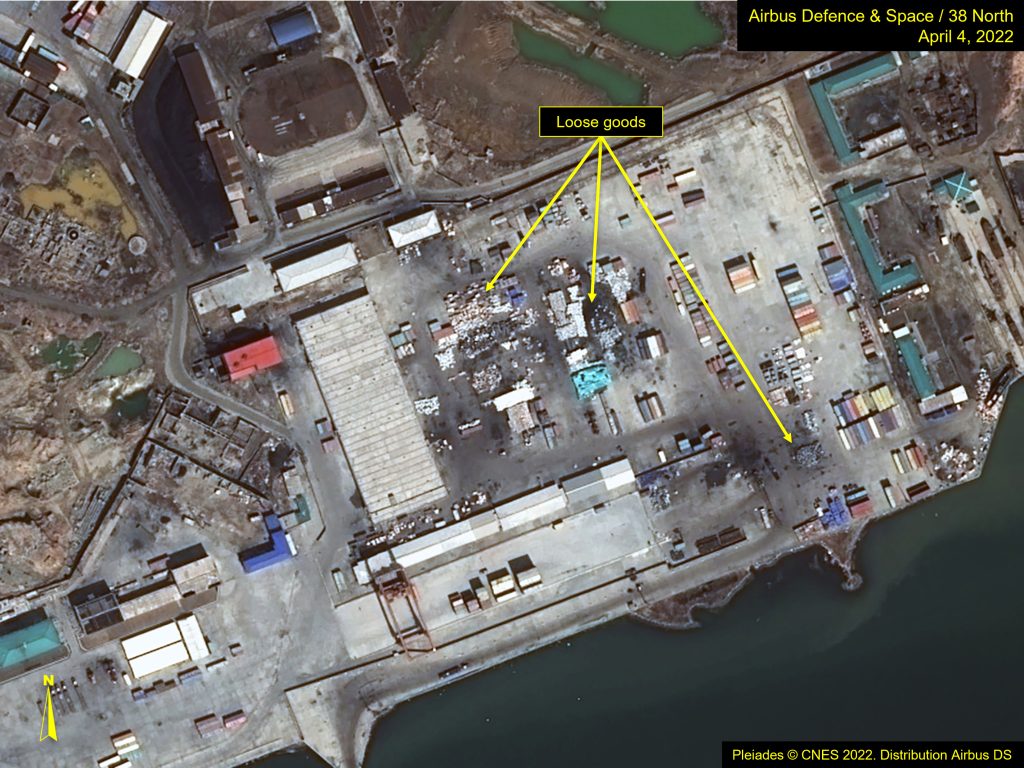 A container wall is still present in the northern container yard, and several trucks are visible. Some are involved in loading or unloading operations. Additionally, a small amount of loose cargo can be seen in two adjacent facilities.
Figure 9. Loading/unloading operations visible at northern container yard on April 4, 2022.