The Two Koreas: So Near, So Far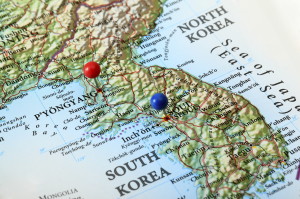 There are times when nothing much can happen between the Koreas. This is not one of them.
Since I last wrote here about South-North relations a month ago, there have been several fresh developments. While no one denies that North Korea's belligerent unpredictability is the main problem, the feeling is spreading that South Korea is not doing as much as it could, or should, to break the current stalemate. Calls are increasingly heard, in Seoul and beyond, for a rethink and reset in inter-Korean relations. Such voices are growing in number and weight.
In a rare display of bipartisanship, on September 21 two lawmakers of the ROK's liberal main opposition party, the New Politics Alliance for Democracy (NPAD), reached out to President Park Geun-hye's conservative ruling Saenuri party. Shim Jae-kwon and Kim Sunggon want a joint push to repeal the sanctions on the North which Seoul imposed in 2010 after the sinking of the corvette Cheonan (46 died; Pyongyang still denies responsibility) in March of that year. Called the 'May 24 measures' after the date of their promulgation, these sanctions ban all Southern trade with or investment in North Korea—with one massive exception: the Kaesong Industrial Complex (KIC), now the last remaining functional North-South joint venture (JV).
Four years on, Shim and Kim argue, these sanctions have failed to achieve their goal—which was to make Pyongyang 'fess up. Instead, they have themselves become an obstacle to better North-South ties. Conversely, ending them "would be the starting point for normalizing inter-Korean relations and would contribute to the joint prosperity of all Northeast Asian nations."
Granted, such views from the political left of center aren't so surprising. In 2012's presidential election the liberal candidate Moon Jae-in, far from endorsing sanctions, actually called for an economic union with North Korea. Forty-eight percent of voters supported Moon, but Park narrowly won with 51.5 percent.
Conservatives for Change
What's different now is that NPAD outreach finds answers from the conservative camp. The Sim-Kim initiative came after they and other members of the ROK National Assembly's Foreign Affairs and Unification Committee (FAUC) visited Russian and Chinese borderlands abutting the Rason economic zone in northeastern DPRK on September 18-20. Their itinerary included visiting a US$177 million logistics center being jointly built in Hunchun, China by South Korean chaebol (conglomerates) Hyundai and the steelmaker Posco; and the border railhead in Khasan, Russia. The same two chaebol plus state-owned KoRail are set to buy half of Russian Railways' 70 percent share in a JV with the DPRK's Rason Economic and Trade Zone—which includes Rajin, Asia's northernmost year-round ice-free port—to upgrade rail and harbor facilities.
Serious business? Posco certainly thinks so. Serious and exempt from the May 24 sanctions, undermining their effectiveness, as two Saenuri FAUC members admitted. Kim Tae-ho gasped: "Amazing changes are taking place at the northern tip of the Korean peninsula … Looking around the Rajin-Khasan project site, I felt very sorry about the May 24 measures." Meanwhile the committee's influential chairman, Yoo Ki-june, already called on August 27 for the sanctions to be lifted "for reduction of tension and dialogue between the two Koreas." Yoo also urged a resumption of Southern tours to Mount Kumgang, suspended since 2008.
Now another establishment heavyweight has entered the lists. US readers will know Hong Seok-hyun as a former ROK Ambassador in Washington, and for the annual forum he co-hosts with the Center for Strategic and International Studies (CSIS), of which he's a trustee. A man of many talents, with degrees in both engineering and economics, and an influential scion of one of South Korea's best-connected families—Lee Kun-hee, chairman of the Samsung group, is his brother-in-law—above all, Hong can be called South Korea's top media mogul: as chairman of JoongAng Media Network and publisher of one of Seoul's leading daily papers, the center-right JoongAng Ilbo, for the past 20 years since 1994.
So it's quite an event for someone with such impeccable elite credentials to roundly declare in the Huffington Post (both the US and Korean editions): "Existing policy towards North Korea isn't working: on the nuclear issue, human rights and much else. We need to try another tack, more long-term and imaginative." Those in the know swiftly grasped the importance of such an intervention. The influential Nelson Report insider newsletter was quick to pick this up: on September 23, despite much other East Asia-US news that day, it reprinted the entire article.
Hong's main message is straightforward, and positive. As his title puts it: "To Reunify Korea, Start From Kaesong." Despite all the bad between North and South, the KIC is still there to remind us of what could be and that win-win can work. In its first decade, the zone turned out goods worth $2.3 billion, albeit far less than originally envisaged if the zone had expanded as planned: by 2012 it was supposed to have 500,000 workers, not the actual 50,000.
Hong calls on both Koreas to "recover that early ambition." Where others find only threat, he sees opportunity in "North Korea's educated but underemployed workforce, vast amounts of underutilized land and worn-out infrastructure and plant." Citing China-Taiwan as a precedent for how security fears need not preclude pragmatic business ties, he notes that Kim Jong Un is creating new special economic zones but "will find few takers." Yet Kim also has no wish to become yet more dependent on China. Ergo: "South Korea is his only realistic option."
For its part, the ROK has a unique responsibility as North Koreans are compatriots. With Russia and even Japan making fresh overtures to the DPRK, this is no time for Seoul to dither on the sidelines. Hong concludes that "the challenge for President Park Geun-hye is not only to deal South Korea back into the Northern game, but to take—and keep—the lead role."
Missing the Boat
What effect is any of this having on actual ROK policy? Sadly, little is discernible so far. And meanwhile, two important potential opportunities for dialogue and progress have been frittered away.
One is the Asian Games in Incheon, now heading into the final straight: they end on October 4. Despite earlier rows and fears that North Korea might pull out, the DPRK sent a full team of athletes—but no cheerleaders—and at this writing, ranks a creditable 5th in the medals table. It also sent its most senior sports officials, including a newly appointed sports minister, Kim Yong Hun, said to be close to Kim Jong Un. KCNA reported Minister Kim's departure on September 16—it coyly refrained from saying where exactly he was headed—and he was pictured waving at the opening ceremony three days later.
But has he met anyone senior? Nothing has been reported. That could be a good sign if it means secret talks (often the best kind) are taking place. But somehow I doubt if this is the case. On September 18, Unification Minister Ryoo Kihl-jae visited the athletes' village and ran into Kim's deputy Jang Su Myong, who heads the DPRK National Olympic Committee, en route to a restaurant. They shook hands and exchanged greetings, "but there were no special comments" according to MOU. Oddly, no local journalists were allowed to cover Ryoo's visit. This all seems a terrible waste of a once-only opportunity. No one from Kim Jong Un's circle has ever come South before, so why not seize the chance at least for a bit of socializing? When Ryoo devised Park's 'trustpolitik,' did he really intend such timidity?
The second missed boat was last week in New York. Late September is, of course, the season when potentates from around the planet converge on the Big Apple for the UN General Assembly (UNGA). This year, both Koreas sent top-level representatives. On September 23, President Park made a keynote speech at the UN Climate Summit, chaired by Secretary-General Ban Ki-moon, whom she told that Seoul is still waiting for Pyongyang to respond to its offer of high-level talks, made in August. Ban replied that "opening up the North's heart by cooperating on smaller sectors step by step would be a good idea."
Ban is, of course, himself a former ROK Foreign Minister. Meanwhile, the current Foreign Minister, Yun Byung-se, attended a different UN meeting: the first-ever ministerial forum on DPRK human rights issues to be held alongside the UNGA. Also there was US Secretary of State John Kerry, whose passionate speech was widely reported. Appalling as Pyongyang's abuses are, strategically it is not obvious how prioritizing this area, among the many other concerns which the Kim regime raises, will advance inter-Korean dialogue or engagement.
Meeting, and Not Meeting
But Yun wasn't the only Korean foreign minister in New York last week. Ri Su Yong was there as well. Formerly known as Ri Chol—under which name he spent three decades based in Switzerland, inter alia looking after Kim Jong Il's bank accounts and supervising his sons' education—Ri is the most high-powered foreign minister the DPRK has had in years, and the first FM it has dispatched to the UNGA since 1999. Nor did he just jet in to give his speech on September 27, but arrived a week in advance; giving plenty of time for meetings. Surely a man whom both the ROK and US governments might deem it a good idea to meet with, even if discreetly?
Not so. New York during UNGA fortnight must also resemble a Feydeau play. While some folks take the chance to meet, others strive almost farcically to avoid bumping into each other. Ri had wanted to attend the human rights session, but was apparently barred. (It was organized by the US rather than the UN, or else he could have attended as of right.) I'm not clear how this squares with other reports that Yun was ready to meet Ri if North Korea was prepared to discuss human rights. But the overall lesson is clear. There were no meetings, either out of misguided so-called principle or because each side implied it was the other which didn't want to. Result: None. As with the Asiad, another much-needed and timely opportunity to at least establish some form of contact was squandered. What kind of diplomacy is this?
Or worse than squandered. In her speech at the UNGA, President Park ranged widely, but on peninsula issues she was uncompromising. The Seoul daily Hankyoreh, admittedly not Park's number one fan, fretted that her tone could only worsen inter-Korean ties. (Worse, by random seat assignation, the DPRK ambassador was in the front row directly in front of the podium; so Park was talking straight at him when she lambasted the North on everything from nukes to human rights.) The Hankyoreh proved all too prescient. On September 27, the Policy Department of the North's National Defence Commission (NDC: the top DPRK executive organ, ranking above the Cabinet) issued a furious broadside. Returning to levels of invective not seen since May, the NDC called the ROK President "a modern-type sycophant and … the worst traitor for all ages" and "an indecent woman reeking off nasty smell" (sic). The Committee for the Peaceful Reunification of Korea (CPRK) went further, deplorably calling Park a "political prostitute" but ending with an arresting metaphor which hints at the debate in Pyongyang over how to categorize and handle this most enigmatic of Southern leaders. Park's "UN trip fully proved that the one taking her under one's wing would face misfortune only. The DPRK will never pardon Park Geun Hye for her recent confrontation behavior" (emphasis added).
While, as ever, there is no excuse for foul abuse, this was not random vituperation but anger which cited its reasons, whether or not one accepts them. KCNA on September 28 cited Minju Choson, the daily paper of the DPRK Cabinet, as noting this "is the first time that the south Korean puppet president let loose a flurry of invectives against the DPRK over its nuclear issue and 'human rights' issue at the UN General Assembly session. This is an unpardonable treacherous act of declaring all-out confrontation with the DPRK."
One might conclude that all is lost for now. Yet the DPRK, despite its avowed monolithic unity, does not speak with one voice. Foreign Minister Ri's UNGA speech (available here), while giving no ground on Pyongyang's core positions, was much more moderate in tone. Moreover, he brought an unprecedented hand-written letter from Kim Jong Un to Ban Ki-moon. Its content was not disclosed, but this prompted speculation that Ban—seen as a potential contender to succeed Park as ROK President once his UN term of office ends—might have his longstanding wish to visit Pyongyang granted. That could open fresh avenues.
In sum: The UNGA and Asiad were sadly wasted opportunities. As I've said before, I share Pyongyang's puzzlement as to what Park Geun-hye really wants. Did she not grasp, or care, how hardline her UN speech would seem to the North? Also, can't she hear the clock ticking? Already her single five year presidential term is almost one-third gone. If not now, when and how does Park plan to start treating Pyongyang as a potential partner rather than a problem, and show the bold long-term vision needed to deal Seoul back into the North Korea game?