China's Trade With North Korea Rises Slightly in January and February, Amid Partial Border Openings
On Sunday, China's Customs Bureau reported a slight uptick in officially documented trade with the Democratic People's Republic of Korea (DPRK) in January and February 2022.[1] Chinese exports of $57 and $59 million respectively compare with almost no trade during the same months of 2021. This has led to some exaggerated claims in the media about what's going on in China-DPRK trade these days. However, even with these increases, trade is still about 80 percent less than what it was prior to North Korea's pandemic border closure in 2020. Moreover, Chinese imports of North Korean goods—$18 million and $2 million respectively—remain paltry.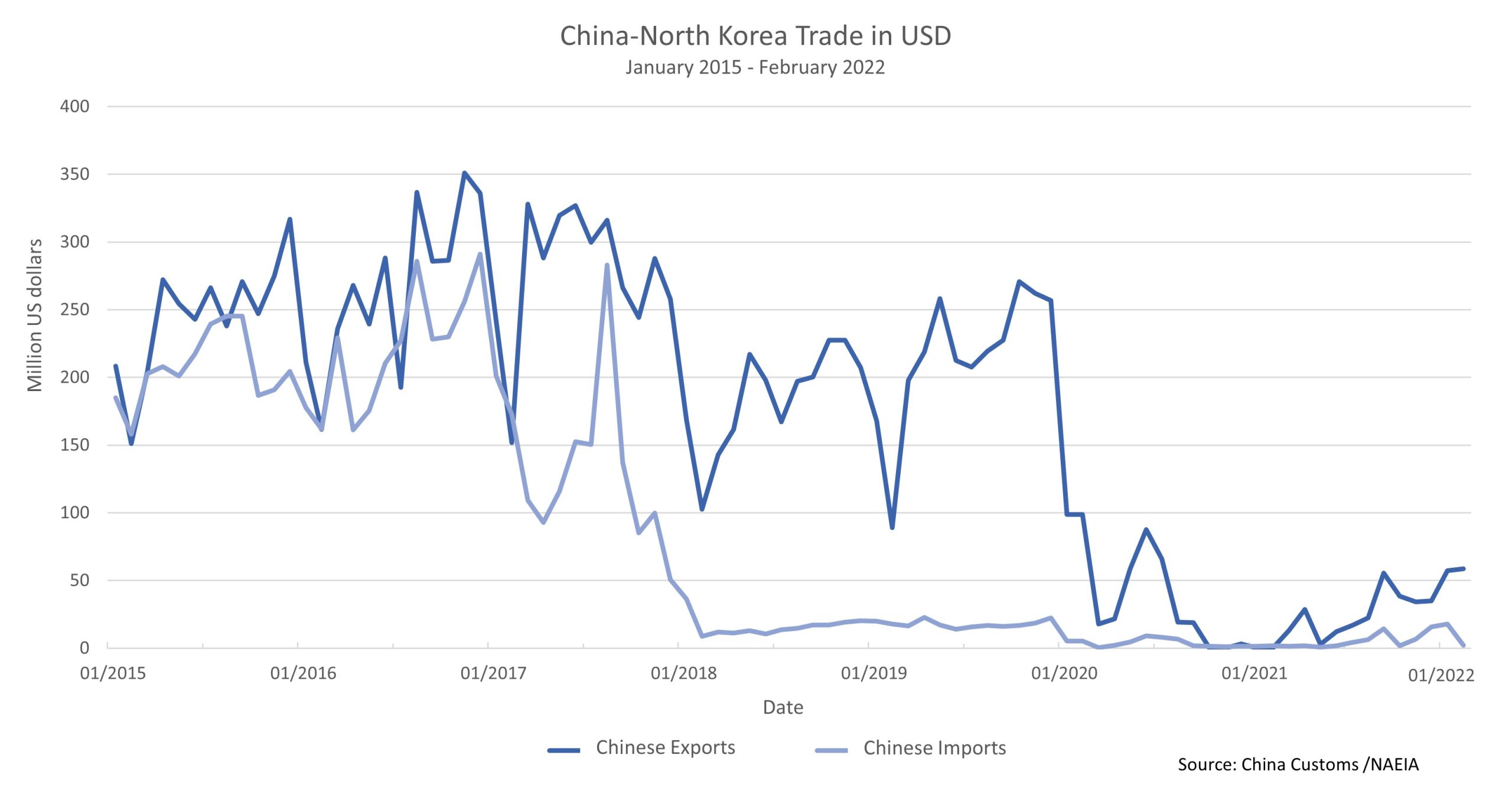 The commodity composition of Chinese exports to North Korea appears to comport with United Nations Security Council (UNSC) sanctions obligations, although there are longstanding and widespread reports of sanction-breaking "smuggling" activities. The official data indicates exports are largely comprised of consumer goods and industrial and agricultural inputs; nothing in the way of capital or investment goods, such as machinery and transportation equipment, are included. One of the highest volume of export goods is plastic sheeting, which is for agricultural use, and processed foods such as soybean oil, but there are no shipments recorded of staples such as rice and corn. Long-delayed pharmaceuticals shipments also jumped to about $10 million for the two months.
The composition of Chinese imports—that is, North Korean exports—includes ores, mineral fuels and local cross-border electricity, all in very small amounts.
The small amount of trade in February is somewhat surprising, given at least a temporary opening of rail traffic across the border in late January. News reports indicate trains are occasionally passing the border but not on a regular schedule, and new outbreaks of the coronavirus in next door Jilin Province may cause further interruptions.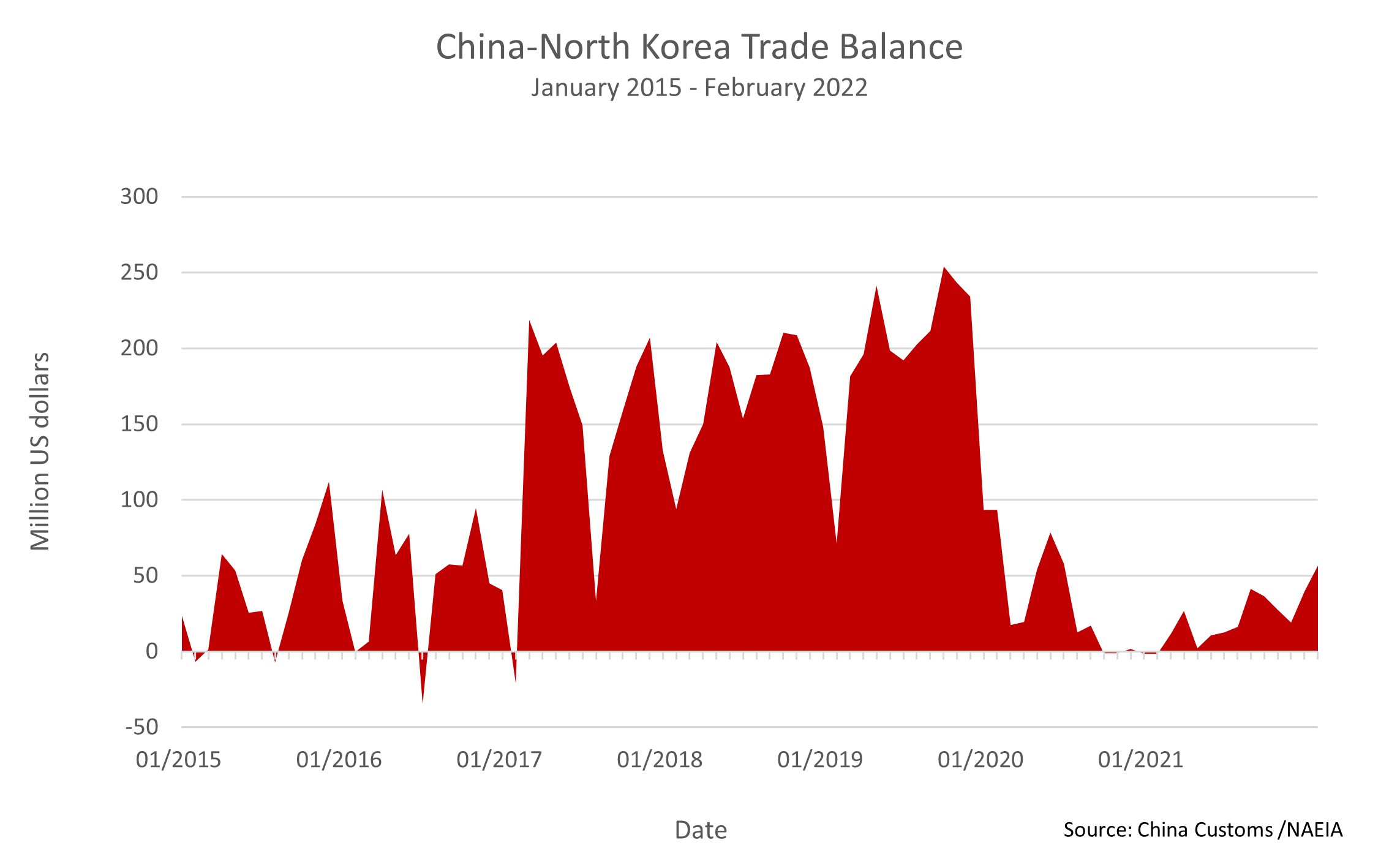 Restrictions on North Korean exports of its big money earners—coal, iron ore and various nonferrous metals products—have likely led to a shortage of foreign exchange, constraining the country's ability to import at greater volume. However, these goods are all currently in high demand in China and carry very high prices, inviting smuggling or requiring a change in Chinese policy.
Interestingly, there has been little in the way of new unsanctioned Chinese imports from North Korea. Prior to the North's border closure in January 2020, Pyongyang was making some headway in exporting to China such items as beauty products, assembled watches and footwear, but these have largely stopped.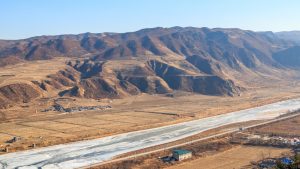 In terms of the food situation, North Korea had a decent harvest in 2021, despite flood damage and expected low yields. While grain stocks are reportedly low, the absence of cereal imports so far for 2022 may cause trouble later in the year. The lack of machinery and other capital goods imports also bodes poorly for the general economy, which desperately needs investment to revitalize old factories and raise productivity. Investment is also deterred since the regime appears to have resorted to severe fiscal and monetary policies to protect the won from devaluation and has repressed market activity. The won has declined slightly as the border reopened but remains much stronger against the US dollar and Chinese yuan than prior to the 2020 closures.
The impact of the Ukraine-Russia war and the stiff global sanctions being imposed on Russia, along with rapidly deteriorating US-China relations, on the North Korean economy is yet to be seen. With Russia joining North Korea in the small but growing cohort of severely sanctioned countries, one might expect Moscow to break ranks with the rest of the UNSC and restore normal trade with Pyongyang. But it is not clear how much would be gained for either country. Russia, unlike China, has little need for North Korean products, and it needs hard currency for its own exports, something North Korea has little of. The many North Korean workers in eastern Russia, moreover, may lose out in a general Russian recession and cause a reduction in foreign exchange remittances from Russia to North Korea. One gain might be sales to Russia of North Korean-produced munitions and missiles if the war becomes protracted, an odd reversal of cold war era exchanges. Beijing, in contrast, if it can be persuaded by Moscow to join such a pact of sanctioned countries, has a far more complementary and mutually beneficial economic relationship with North Korea and could either officially or via lack of enforcement effectively negate the United Nations sanctions on its own. At least as of February, however, this does not appear to be taking place.
---
[1]

The January data is delayed for a month since the Bureau in recent years has omitted a separate January release due to seasonality issues.
---