Post-missile Launch Activity at Sunan International Airport
On March 16, North Korea reportedly attempted to launch a Hwasong-17 intercontinental ballistic missile (ICBM) from the Sunan International Airport in Pyongyang, but it failed shortly after liftoff, at a distance of approximately 20 miles. This is the third launch from this airfield in the past two weeks. US intelligence announced that the first two—on February 27 and March 5—also used the Hwasong-17 ICBM, although North Korea claimed those launches were intended to test reconnaissance satellite components.
Commercial satellite imagery from March 17, just a day after the reported failed launch, showed approximately 50 vehicles positioned at both parallel runways at the Sunan International Airport and the infield in between them. No mobile transporter-erector-launcher (TEL) for the missile launch was present. No burn scars were noticeable on either runway or in the infield, although such marks were observed after previous launches. The presence of so many vehicles is unusual to what would be expected after a missile test from this or any launch location. It is likely they are involved in post-test clean-up efforts, such as clearing contaminated brush from the infield.
Figure 1. Several vehicles present at the Sunan International Airport on March 17, 2022.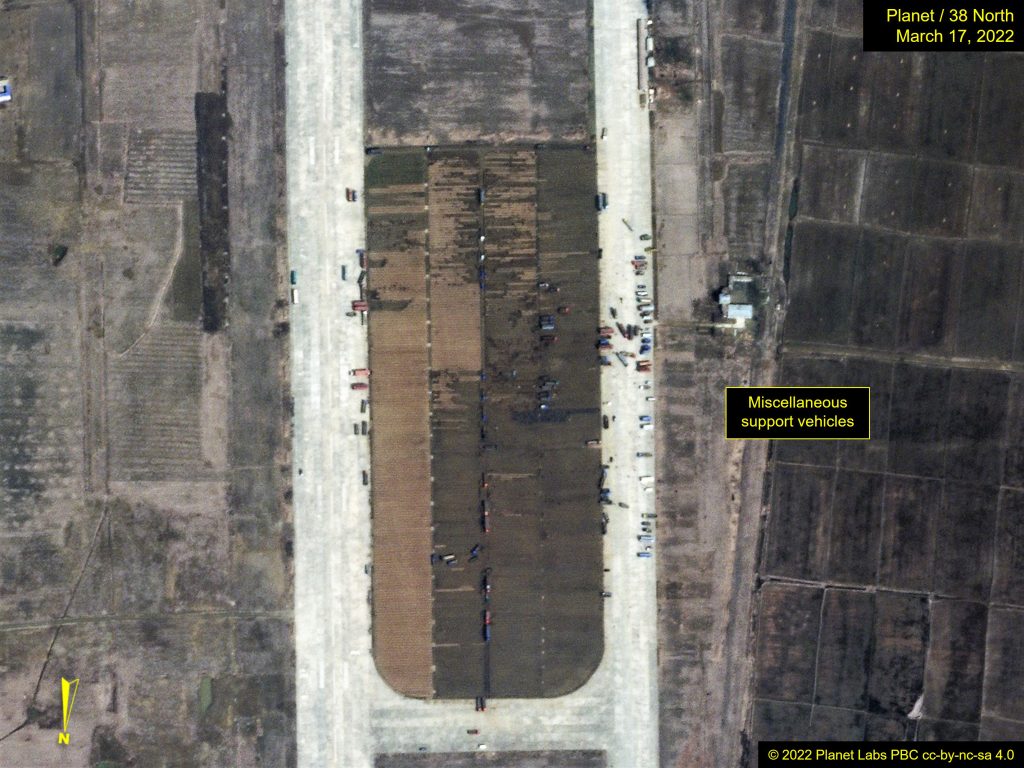 Official reports suggest the launch was a "scaled-down" test of the new Hwasong-17 ICBM. The Hwasong-17 is North's largest known ICBM, which was first unveiled during a military parade in October 2020 and featured at a military exhibit in 2021 but had yet to be flight tested until this year.
Sunan International Airport is comprised of two airfields laid out north and south of each other and connected by a bridge over the Pothong River. The north airfield is not in use for commercial flights but has served as a missile launch location. The south airfield is active and supports the majority of the country's commercial aircraft. However, due to the pandemic, there has been very little air traffic to this airport since the country closed its border in January 2020.
Figure 2. Overview of the Sunan International Airport on March 17, 2022.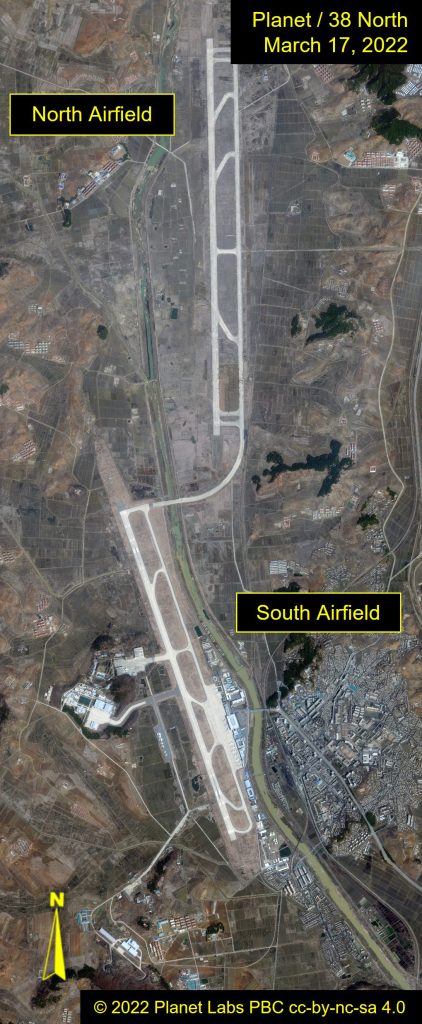 The Sil-li Ballistic Missile Support Facility at the southwest end of the south airfield likely serves as a base for launch activities. Co-located with that facility is an underground weapon storage facility.